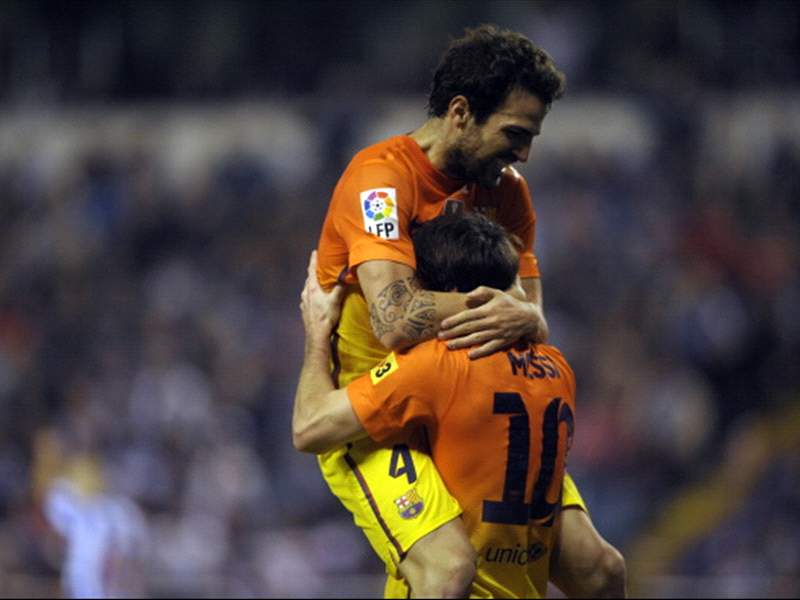 Barcelona's Cesc Fabregas has revealed that he wants to play Arsenal in the Champions League round of 16.
The Spain international spent eight years with the London outfit and became club captain in late 2008 before returning to his boyhood club, Barcelona, in the summer of 2011.
With the group stage of the Champions League having now concluded, Arsenal is one team that the Catalan giants could be paired with in the first knockout round, and Fabregas has not hidden his desire for a return trip to the Emirates stadium.
"I think at this stage of the competition, all teams are difficult, but I would be thrilled, for love and affinity, if I could face Arsenal back in London and face all the people that I have played with for so many years. It would be a very special tie for me," he told reporters.
Fabregas also revealed how his team feared the worst for team-mate Lionel Messi, after the Argentine was stretchered off the field on Wednesday night during Barcelona's draw with Benfica.
Messi is just one short of Gerd Muller's record for the most goals scored in a calendar year.
And, despite bruising his left knee, Fabregas will not be surprised to see the striker on the field quickly, perhaps even this Sunday, when the league leaders meet Betis in the Primera Division.
"Knowing him, Leo will want to play this Sunday. Today, [Thursday] in the dressing room he was already asking if he could play," He continued.
"For us and for the whole football world, it is a joy that he is still ok. We got a little scared because he is a player who rarely goes to the ground and thank God it was nothing.
"He is fundamental to us, and if he is not the best player ever to play for Barcelona, he is one of the best at least."