Just a little over a week ago prior to the Champions League quarter-final first-leg clash with Tottenham, there was a sense of panic at Real Madrid following the team's injury crisis and shock home defeat to Sporting Gijon in La Liga.
The absences of Karim Benzema, Cristiano Ronaldo and Marcelo, the lack of fitness of Gonzalo Higuain, who had only just return from a long injury lay-off, and the unconvincing form of Emmanuel Adebayor at the time left many of their fans wondering if they would have enough firepower to raze Spurs at the Bernabeu.
But after comprehensively thumping the English side 4-0 and following it up with a stunning 3-0 win at the ever-ferocious San Mames against Athletic Bilbao, coach Jose Mourinho suddenly has a headache of a different kind.
Benzema and Higuain have returned, Adebayor has discovered his scoring touch, and with Ronaldo also back from injury and all too certain to lead and inspire Madrid's attack, Mou now has to choose the right striker at the right time for the right occasion in a potential quartet of clashes with Barcelona in a space of less than three weeks.
Benz, Higuain and Ade have all made their cases heard to the 'Special One' at one point or another during the season why they should be the man to spearhead the Blancos attack. While all three are worthy candidates, they have their own shortcomings at this point in time.
KARIM BENZEMA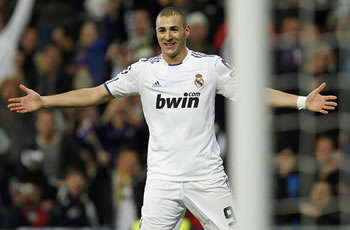 Champions League
7 games - 6 goals - 1 assists
La Liga
26 games - 10 goals - 5 assists

Copa del Rey
7 games - 5 goals - 2 assists
TOTAL
40 games - 21 goals - 8 assists
Why he should start:
::
Benzema was in red-hot form for Los Blancos before the international break, where he picked up a supposedly minor thigh injury. He has finally adapted to Madrid's style of football, and he should still be brimming with confidence despite not playing a competitive club game since March 19.
Why he shouldn't start:
::
Unknown fitness levels after returning from injury. May not be ready for a big game, especially against Barcelona where often being a hundred per cent alone isn't enough.
Last five appearances:

(Mar 19) 2-1 vs Atletico
(Mar 16) 3-0 vs Lyon
(Mar 12) 2-0 vs Hercules
(Mar 06) 3-1 vs Racing
(Mar 03) 7-0 vs Malaga
GONZALO HIGUAIN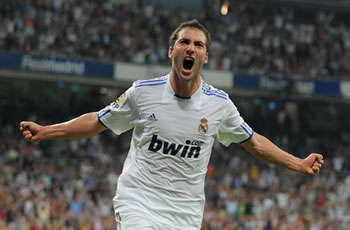 Champions League
5 games - 3 goals - 0 assists
La Liga
14 games - 7 goals - 3 assists
Copa del Rey
2 games - 1 goals - 0 assists
TOTAL
21 games - 11 goals - 3 assists
Why he should start:
::
Higuain's pace and off-the-ball movement will give Mourinho more options in attack and allow Madrid to play with conviction on the break. They are two qualities that neither Benzema nor Adebayor possess, hence why los Blancos never looked as lethal in counter-attacks during 'El Pipita's absence.
Why he shouldn't start:
::
Still lacking match sharpness and yet to score in his three appearances since his return. In the same boat as Benzema, but he has accrued more minutes than the Frenchman since their respective returns from injury.
Last five appearances:
(Apr 09) 3-0 vs Athletic
(Apr 05) 4-0 vs Tottenham
(Apr 02) 0-1 vs Sporting
(Nov 20) 5-1 Athletic
(Nov 14) 1-0 vs Sporting
EMMANUEL ADEBAYOR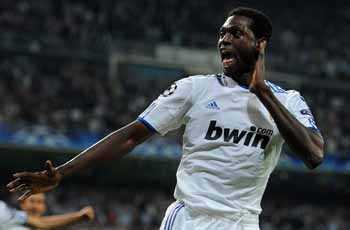 Champions League
3 games - 2 goals - 0 assists
La Liga
10 games - 2 goals - 3 assists
Copa del Rey
1 games - 1 goals - 0 assists
TOTAL
14 games - 5 goals - 0 assists
Why he should start:
::
The Togolese has been injected with a sudden rush of confidence after he became an overnight hero in the royal half of the Spanish capital following his brace against Spurs last week. He is capable of causing real havoc for the Barcelona defence with his physique and his height.
Why he shouldn't start:
::
He doesn't have the experience in Clasico encounters. He may be familiar with the atmosphere of local derbies during his time at Arsenal and Manchester City, but Madrid-Barca is a completely different beast and we've seen how it can affect even the best.
Last five appearances:
(Apr 05) 4-0 vs Tottenham
(Apr 02) 0-1 vs Sporting
(Mar 19) 2-1 vs Atletico
(Mar 16) 3-0 vs Lyon
(Mar 12) 2-0 vs Hercules