The spotlight falls on another European referee on Tuesday night as
Manchester United
and
Chelsea
get set to lock horns in the second leg of their
Champions League
quarter-final at Old Trafford.
Sir Alex Ferguson's side lead the tie 1-0 thanks to Wayne Rooney's goal, but last week's match did not pass without controversy as Chelsea felt harshly treated after the referee, Alberto Undiano Mallenco, failed to point to the spot after it seemed Patrice Evra had brought down Ramires in the box in the dying moments of the game.
The incident dominated the post-match reaction with many pundits chastising the Spanish official for his decision.
Now it's time for Portuguese official Olegario Benquerenca, no stranger to controversy himself, to take control of a fixture that has seen its fair share of major incidents this season.
Goal.com
gives you the lowdown on the man in the middle in what promises to be another fiery contest between the two sides.

Following in his father's footsteps
For Olegario Benquerenca, refereeing runs in the family.
Born in 1969 in Leiria, Portugal, Benquerenca grew up with an interest in politics but football played a huge part in his life as his father was a referee.
After looking at a career in politics, in the end he decided to follow in his father's footsteps and try his hand at officiating.
He quickly worked his way up through the ranks to take charge of games in Portugal's top flight in 1995 at the age of 26 and in 2001 he became a Fifa referee.
His profile began to grow as he started to take charge of Uefa Cup matches and Champions League qualifiers before finally making his debut in the group stage of the competition in 2005.
Benquerenca has officiated 25 matches in Europe's premier club competition, including last season's controversial semi-final first leg between Inter and Barcelona.
Last year he took charge of three matches at the 2010 World Cup, including the quarter-final between Ghana and Uruguay.
Outside of football he has a successful career in insurance.
The Special One's favourite referee?
Benquerenca faced accusations of being Jose Mourinho's pal last year after the Champions League semi-final first leg between Inter and Barcelona.
Barcelona claimed he failed to spot a foul in the build up to Maicon's goal and that Diego Milito was offside for his strike in Inter's 3-1 win.
Pep Guardiola's side were also denied what looked like a clear penalty when Dani Alves was brought down in the box by Wesley Sneijder but the official saw things differently and booked the Brazilian full-back for diving.
The Catalans were furious with the outcome and after the match the Portuguese referee was also accused by a Spanish radio station of having a 10-year friendship with Jose Mourinho and that the pair co-owned a restaurant called O Menino in his home town of Leiria. However, these claims have never been proven.
But when a clip surfaced of Benquerenca on a talent contest on a TV show in Portugal singing 'Soy de Milao' ('I am from Milan'), the conspiracy theories went into overdrive.
Barca rage | Keita can't hide his frustration after his side's 3-1 defeat at San Siro
After Inter's first-leg win Barcelona defender Gerard Pique could not hide his disappointment at the referee's performance.
He said: "I have seen it on TV and you can see that Milito's goal was offside and Maicon's came after a foul on [Lionel] Messi.
"We had no help from the referees. The second leg has to have an impartial referee.
"Inter knew us very well, they dominated the match and they knew how to stop our game."
Some more digging by the Spanish press also found that in 2004 Benquerenca disallowed a clear goal in a Portuguese league match between Benfica and Porto which earned him the nickname of 'The Thief' in Portugal.
Benfica thought they had scored a perfectly good goal through Petit after the ball appeared to have crossed the goal line but Benquerenca did not award it and Porto went on to win 1-0.
Porto, managed by a certain Mr Jose Mourinho...
Reputation enhanced in South Africa
Last summer Benquerenca was given the honour of being selected as his county's representative at the World Cup.
The official took charge of two group stage matches; Japan v Cameroon and Nigeria v South Korea, before officiating the memorable quarter-final between Ghana and Uruguay.
In what was one of the most exciting matches of the tournament, Benquerenca was deemed to have got all of the key decisions right.
The most important of these came in the final minute of extra-time with the sides locked at 2-2.
Ghana went on the attack and had a golden opportunity to progress to the semi-final when from a late corner Dominic Adiyiah's had a shot blocked on the line by Suarez's legs.
He managed to head the rebound goalwards but this time the striker cleared the ball off the line with his hands.
With the help of his linesman, Benquerenca correctly pointed to the spot and brandished a straight red card for Suarez.
In the end, Asamoah Gyan missed the penalty and Uruguay went on to win the match on penalties, but no-one could criticise the referee for the part he played.
Benquerenca was regarded to have enhanced his reputation throughout the competition as a top class referee.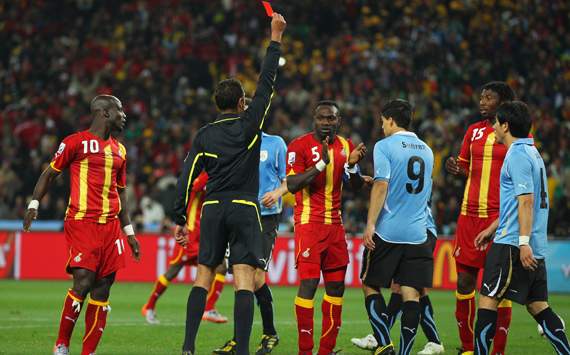 Straight red | Benquerenca gives Suarez his marching orders at the World Cup

Staying calm in tragic circumstances
When Benquerenca took charge of a match between Vitoria de Guimaraes and Benfica, their was nothing that could have prepared anybody for what was about to happen.
Miklos Feher was a talented young Hungarian footballer who had already built up a reputation in Portugal as a player with huge potential.
But tragedy struck during the match when he died of a cardiac arrest minutes from the final whistle.
In injury time, Benquerenca showed him a yellow card for a foul but suddenly Feher bent over in pain and fell to the ground.
The referee stayed calm and immediately called for the medical staff to come on the pitch and he was rushed to hospital after treatment.
Benquerenca, speaking about the incident, said: "It's incredible that something like this happens.
"I immediately knew something was very wrong when he fell on the pitch and all I could do was call the medical crews."
It is not an incident that a referee expects to be put in, but Benquerenca was praised for his actions in the circumstances and his quick response to the situation.
A referee who does not stand for any back chat
Auxerre defender Jean-Pascal Mignot has first hand experience of Benquerenca's no nonsense style when it comes to players giving him back chat.
As Mignot was warming up along the touchline in his side's 2-1 defeat to Ajax in the Champions League group stages this season, he may have thought he was well out of the ear shot of the referee and decided to criticise Benquerenca for what he thought was a poor decision.
The Portuguese referee, who has handed out 279 yellow cards in 64 international matches, did not take too kindly to being berated and he dished out a caution to the unused substitute.
This decision caused the 29-year-old defender's to give Benquerenca yet another volley of abuse, and once again he spoke out of turn to the man in charge again.
Benquerenca wasted no time in dishing out a second yellow card and Mignot was given his marching orders without spending a single second on the pitch.
Tuesday night's substitutes, you have been warned.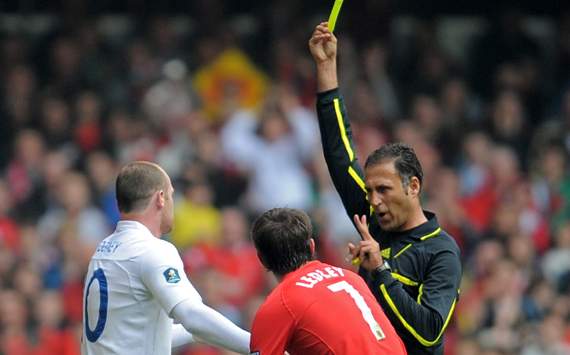 Wayne warning | Benquerenca cautions Rooney during the Wales v England match
He gave Carrick his marching orders...
With 64 international matches under his belt, Benquerenca is not short of big match experience.
He will be known to most of the England internationals in the colours of Manchester United and Chelsea as he was the man who took control of England's Euro 2012 qualifier against Wales in Cardiff last month.
In what was a feisty clash, he branded seven yellow cards, including one for Wayne Rooney's late lunge on Joe Ledley. But in a match between two British sides, the referee kept his cool and more importantly control of the match.
Michael Carrick will also have to be on his best behaviour after he received his marching orders from Benquerenca in last season's clash with AC Milan.
The midfielder was sent off in injury time after picking up two yellow cards in his side's 3-2 win at San Siro.
But Chelsea haven't had any problems with the referee, who has dished out four red cards in the Portuguese league and two in the Champions League this season.
He took charge of Chelsea's 1-0 win over Juventus in the 2008-09 season but the match passed without controversy and the he only produced his yellow card on four occasions during the match.