Barcelona all but secured a mouth-watering meeting with perennial rivals Real Madrid in the semi-final of the Champions League thanks to a comprehensive 5-1 win over Shakhtar Donetsk on Wednesday evening, but despite their dominance, defensive frailties remain apparent, and the presence of captain and leader Carles Puyol is required in order to reorganise their fragile back four.

Puyol hasn't featured since January 22 as he combats a knee problem that has escalated from a minor niggle into a season-threatening concern. The 32-year-old has appeared on the cusp of a comeback on several occasions, only for his period of inactivity to be further extended. In the 15 matches he has missed (10 in La Liga, three in Europe, and two in the Copa del Rey) his team have forged on in their relentless Triplete hunt, and it would appear that the impact of his absence has been minimal.

However, teams are creating chances against the Blaugrana, more so than when Puyol is orchestrating the back four, but are failing to convert them at key moments in matches. Victor Valdes can accept a degree of credit, but poor finishing has also played its part - gaps are appearing that aren't being fully exploiting by the opposition, and Puyol's absence can be seen a major contributory factor to Barca's normally stingy defence becoming more accommodating to attackers.

Villarreal squandered three guilt-edged openings in Saturday's league match at El Madrigal, while Sevilla should have defeated the Catalan giants at the Ramon Sanchez Pizjuan earlier last month. Then there is Arsenal, who almost exploited casual defending to provide a final-minute knockout in the previous round in Europe.

And against Shakhtar, Barca should have been made to pay during a distinctly disjointed opening half hour. Pep Guardiola had voiced his concern beforehand at the attacking prowess of the Ukrainian side, and early on his fears looked thoroughly legitimate. Despite falling behind to Andres Iniesta's second minute goal, the Brazilian quartet of Jadson, Luiz Adriano, Douglas Costa and Willian forced the Spanish champions to endure an uncertain spell.

Luiz Adriano, in particular, used his pace to upset the unconventional pairing of Gerard Pique and Sergio Busquets, and had he shown more composure on two separate occasions, he could have netted a game-changing goal.

As it was, his touch was poor when clear on the left of the area, then with only Victor Valdes to beat, the dynamic attacker woefully prodded his shot past the post. Alves' short back pass moments later almost allowed Willian to lob home from long range, and Barca were far from the overpowering influence that many had expected. Shakhtar's wastefulness had handed them a reprieve.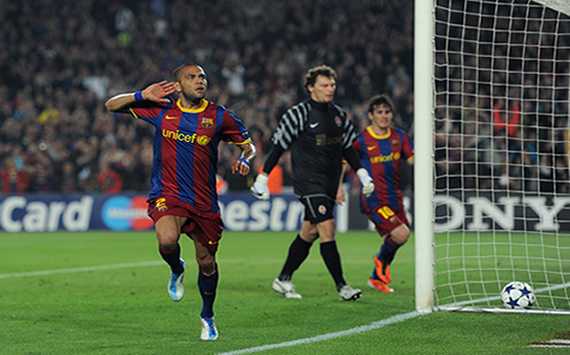 Five-star | Barca collected a commanding win, but Shakhtar had their moments
Tournament experience and a gulf in class overall eventually told, and Guardiola's side will take their place in the last four, barring the most monumental of reversals in the Donbass Arena next week. To the casual observer, a thumping, five-star performance from the favourites represents business as usual, and despite Pep's caution, they were able to formulate the necessary lead to negate the need for a stressful journey east, just as Goal.com had suggested pre-match.

But as the business end of the Champions edges within range, you feel that the calibre of striker Barca will face are unlikely to be so forgiving. Real Madrid have been waiting patiently since their hammering at the Camp Nou in November, counting the minutes until they can strike back at the higher power that has European football under their spell. The offensive talent available to Jose Mourinho are all, to a player, in ominous form, and will prey on defensive uncertainly with ruthless efficiency.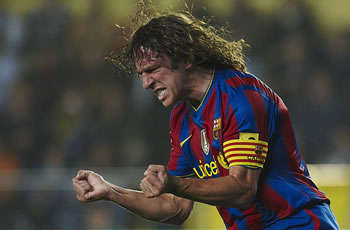 Despite Barca's dominance, defensive frailties remain apparent, and they require the presence of captain and leader Carles Puyol in order to reorganise their fragile
back four.
The notion that Barca have been riding their luck in recent weeks is unshakable, and it is not just the presence of Sergio Busquets at centre half that is the problem. The defensive midfielder has proven himself an admirable stand-in in the stead of Puyol, and the unfortunate absence of Eric Abidal, in what is a relatively new and unfamiliar adjustment. There is a general unease surrounding Gerard Pique, who has the tendency to suffer a drop in concentration on occasion. He needs his experienced partner to ensure he is forever alert, and overall the former Manchester United man's displays suggest that he covets the security and calming presence of Puyol beside him.
Puyol may lack an element of refinement in a team positively bristling with ability on the ball, but his uncompromising approach comes with in-built organisational skills that when at full capacity make Barca a well-oiled unit across the back, but when removed from the equation are conspicuous in their absence.
Full-backs Alves and Adriano both suffered momentary lapses against Shakhtar and almost cost their side dearly. Puyol simply doesn't allow for such errors on his watch, and if Barcelona are to complete a second Triplete within the space of three seasons, having their captain back among their ranks could prove a necessity.

Follow Goal.com on

. Get the latest football news direct... Check out Goal.com's

page; be part of the best football fan community in the world!