It's 'Groundhog Day' in the Champions League on Tuesday as Lyon and Real Madrid prepare for another classic rematch... their seventh meeting in less than six years.
Will history repeat itself? Can Les Gones preserve their unbeaten record against Madrid and extend the Spanish giants' misery in their quest for
La Decima
? Or will Jose Mourino help Los Blancos put an end to their Champions League last 16 curse?

Goal.com
examines some of the fascinating personal battles that will take place at the Stade Gerland on Tuesday.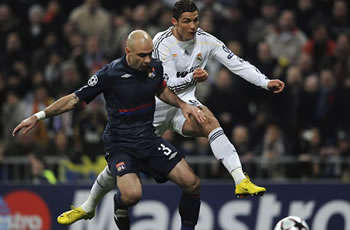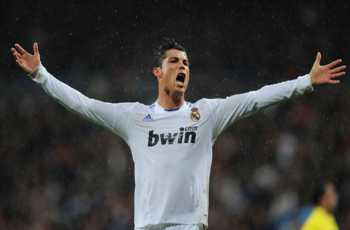 Brazil
Nationality
Portugal
33 Age 26
Central Defender Position Forward/Winger
228
Castrol Ranking
2
Defensive hardman Cris was one of the key figures who helped Lyon overcome Madrid over two legs in last season's round of 16 clash, expertly marshalling his defence to frustrate the Blancos' attacking machine. Although he won't come face to face directly with a roaming Ronaldo, it is up to the veteran Brazilian centre-back to make sure the €94 million man isn't afforded time and space when he does cut into the middle of the box.
CR7 was the only Madrid player who managed to get the better of Cris in last year's fixture, scoring his side's only goal in 180 minutes of football. Despite a determined performance, the Portuguese still ended up in front of his TV set come the quarter-finals. Ronaldo has become less individualistic and more of a team player under Jose Mourinho, but there's no question that his side will still be looking to him for inspiration.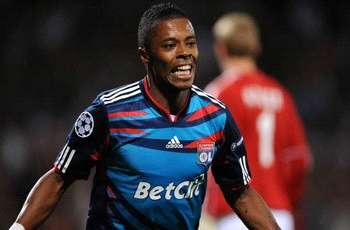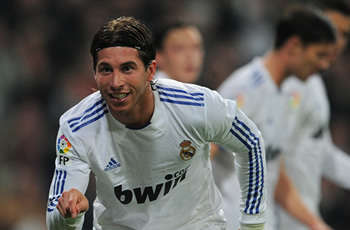 Brazil
Nationality
Spain
27 Age 24
Winger Position Right-back
104
Castrol Ranking
18
On paper, this promises to be the most fascinating face-off during the encounter in what is expected to be a duel of punch and counter-punch. Bastos has become one of the most sought after wing-backs in world football, and his ability to attack as well as help out in defence makes him a hot commodity. That and his killer left foot. Will he be doing more defending than attacking?
That depends on the mood Sergio Ramos is in. The right back is renowned for his attacking qualities, although he does have a habit of neglecting his defensive duties. But if he is in irresistible form throughout the game, marauding from byline to byline, he could force Bastos to be pinned back inside his own half. Attack could be the best form of defence for one of these two men.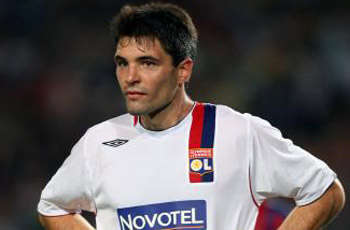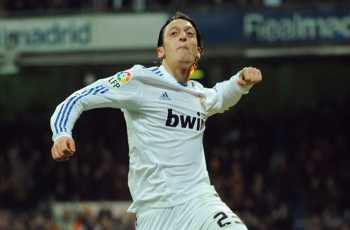 France
Nationality
Germany
27 Age 22
Defensive Midfielder Position Attacking Midfielder
317
Castrol Ranking
42
Lyon's first line of defence will be Toulalan. Like Cris, the defensive midfielder was the unsung hero in the OL side that stifled Madrid's creativity last season. Toulalan is an archetypal no frills destroyer, quietly going about his business of breaking up the other team's attacking ventures with the simple process of tackle and pass the ball. But he will have more than just tackling to do against Oezil.
The German is a crafty playmaker, one who drifts out wide, drops deep, and ghosts into open spaces inside the opposition box. Not only will Toulalan have his hands full tracking young Mesut, but he will have to contend with his speed, dexterity and trickery on the ball. And unlike past Madrid playmakers, Oezil isn't afraid of getting his hands dirty by winning the ball on his own.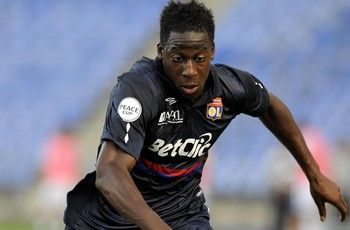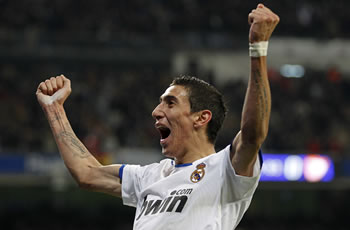 France
Nationality
Argentina
23 Age 23
Left-back Position Winger
349
Castrol Ranking
72
This could be the clash that determines the game, and indeed the fixture. Angel Di Maria has been in blistering form in recent weeks, and he's also had the most rest of all his team-mates. If Oezil and Ronaldo fail to lift their side, the Argentine wing wizard will be ready to step in and dazzle.

The person in charge of keeping the Madrid winger quiet is Aly Cissokho. The explosive left-back will be familiar with his adversary, having gone up against Di Maria's Benfica while playing for Porto and Vitoria Setubal in Portugal for a brief stint. Between this scrap and the collision between Bastos and Sergio Ramos, the left side of the pitch will be pivotal.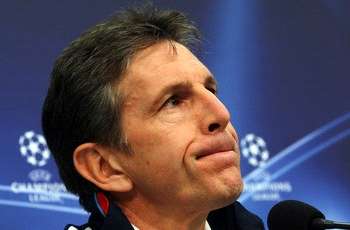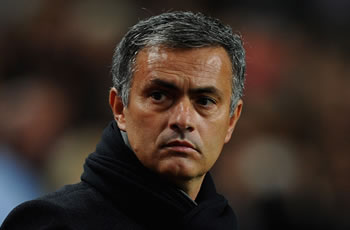 France
Nationality
Portugal
49 Age 48
Coach Position Coach
N/A
Castrol Ranking
N/A
Puel completely outfoxed and outsmarted Manuel Pellegrini last season, setting his team up astutely to absorb wave after wave of pressure over 180 minutes and hit Madrid on the counter-attack. It is unlikely that the 49-year-old will divert too far away from his tactics from last term, even though Lyon have been in insatiable scoring form, bagging eight goals in their last two games.
If anything, Puel will be even more cautious this time around, as he will come face to face with the master tactician himself, the 'Special One'. Mourinho will be wary of making the same mistakes that his predecessors commited in the past six meetings, none of which Madrid managed to win. Jose will still send his troops out to attack and win the game, but he won't be as reckless with his team's defensive approach.