Didier Drogba has become one of the most revered strikers in world football during his time with English outfit Chelsea, for whom he has scored almost 100 Premier League goals in a spell that has lasted little more than six years.
But at 21 years old, Drogba didn't even have a professional deal. As his career exploded, he stopped off at a number of staging posts, the most important of which was arguably Olympique de Marseille, a team the Blues ironically come face to face with in the Champions League this week.
The 32-year-old spent only one year at Stade Velodrome with les Phoceens, but this 12-month period has not been forgotten by fans of the Provence giants, and evidently OM have not been cast from Drogba's heart as he has frequently declared his love for the present Ligue 1 champions.
A spell at Guingamp proved to be the catalyst for the rise of Drogba as his contribution of 17 goals in 34 games during a top flight campaign in which the Bretons, also boasting Florent Malouda in their ranks, finished an impressive seventh. In need of a hero after a decade without a trophy, Marseille turned to the African striker.
Drogba wasn't able to deliver the silverware that every Marseille fan craved, but he came mightily close in a spectacular year that led to his £24 million switch to Chelsea.
It only took the striker a couple of Ligue 1 matches to get off the mark for Alain Perrin's side, notching in a 2-1 loss to Racing Club de Lens, though defeats over the course of the campaign would prove to be almost as rare as Drogba not finding the net.
Not quite the physical beast he is today, the striker's style was still very similar to what it is now, if a little more raw. Perhaps what most distinguished him in France was his sheer power in the air. Able to outdo defenders in getting to crosses he seemingly had no right to, the Abidjan-born forward displayed a tremendous propensity to execute a textbook downward header into the bottom corner of any net or simply thump the ball high past the goalkeeper.
But by no means was Drogba simply a target man in the box. He was capable of scoring all kinds of goals: sniffing out poor back passes for simple finishes, striking spectacular volleys at outrageous speeds and driving past defenders to knock the ball by the goalkeeper with his now trademark power.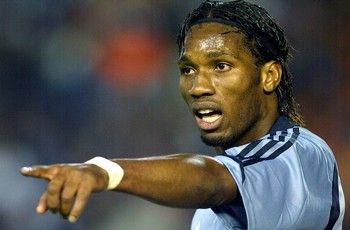 In total, 21 goals were plundered domestically, 19 of which came in the league. Such a tally would have piqued the interest of many a club, but it was his performances in the UEFA Cup that really caught the imagination, both of the OM fans and of the wider footballing world.
The 2003-04 UEFA Cup was in many ways Drogba's showpiece as he played the pivotal role in les Phoceens reaching the final, where they would ultimately go down 2-0 against Spanish champions Valencia. After scoring five times in the Champions League, 'the Drog' scored six of OM's eight goals once in the silver medal competition, including a decisive brace against Newcastle United in the semi-finals.
Displaying the raw pace and power that made him such a difficult prospect to police in France, the Cote d'Ivoire star would bully the defences of Liverpool, Newcastle and Inter to such an extent that he had proven almost beyond all doubt that he could succeed in the Premier League.
A summer move to Chelsea ended the player's short-lived dreamy affair with OM, but not before Drogba had permanently captured the hearts of the passionate fans at the club perhaps more vehemently supported than any other in France.
Since Drogba's departure, groups of fans have more than once considered raising money to buy back the man they see as their star. A 'Drogbathon' was just one plan to get the 32-year-old back playing at the Velodrome, but as time passes it is becoming increasingly accepted that the ultimate OM cult hero of the last decade will not again be donning a Marseille strip in a competitive encounter.
Now a more complete player than he was nearly 10 years ago, fans of les Phoceens will have to wait until Chelsea's visit to Stade Velodrome later in the Champions League campaign to catch a glimpse of their hero facing their team as Drogba is banned from Tuesday's encounter. Doubtless they will watch on both revering and fearing the striker who has done so much damage at Stade Velodrome in the past.