Predictions, predictions. We've roped in
Goal.com
's European team of editors to give us their insight into the mouthwatering Champions League final between the league champions of Germany and Italy. Bayern Munich versus Inter, Louis versus Jose, Robben versus Sneijder. You get the picture, it's the biggest show in town.
To coincide with
Goal.com
's
partnership
with
Titan Bet
we've given each editor €5 to place on the match outcome and rest assured we'll be tracking their progress in our follow-up special on Sunday.
Tomorrow our rest of the world editors are given their opportunity but for now sit back and enjoy the view from Europe.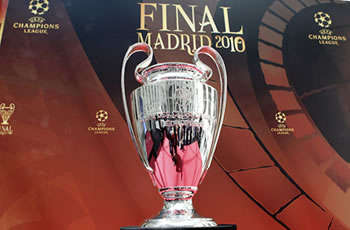 Ewan Macdonald, Goal.com International Chief Editor
"Jose Mourinho is the best in the world at isolating his opponent's weak spots. That ability, coupled with the devastating form of the likes of Diego Milito, will make the difference. Both teams can put on an attacking masterclass - Arjen Robben being one of the world's best right now - but the key difference is at centre-back. Inter's back pairing is strong while Bayern's represent a soft underbelly for the Special One to pinpoint. Louis van Gaal will struggle to find such a target in the Nerazzurri."
Prediction:
Bayern 1-3 Inter
Odds on 3-1 Inter victory with Titan Bet:
17.0 (16/1) Ewan's possible winnings:
€85
Peter Staunton, Goal.com International World Editor

"Louis van Gaal is an attacking coach first and foremost and will want to take the game to Inter in light of his relatively weak back-line. For their part, Inter will seek to put pressure on a defence that struggles to keep teams out for 90 minutes. Arjen Robben will be a key man and can be a difference maker. Inter have their own magicians too though, specifically Wesley Sneijder and Diego Milito. I expect a cut and thrust match with plenty of chances. However, Bayern, with Ivica Olic, possess a varied goal threat; He'll score the winner."
Prediction:
Bayern 3-2 Inter
Odds on 3-2 Bayern victory with Titan Bet:
41.0 (40/1) Peter's possible winnings:
€205
Sergio Chesi, Goal.com Italy
"These matches are made for decisive players. Inter has a lot of champions who can influence the final: Milito, Eto'o, Sneijder, Balotelli... Bayern have only one on their side, Arjen Robben, and in this Champions League Inter already demonstrated their ability to cage the most dangerous opposition players, making them harmless (as happened with Messi and Drogba). They have solid defence and great offensive potential and for these reasons Inter are favourites."
Prediction:
Bayern 1-2 Inter
Odds on Inter 2-1 win with Titan Bet:
9.50 (17/2) Sergio's possible winnings:
€47.50
Nils Reschke, Goal.com Germany Chief Editor
"Inter sent out their assistant coach to Berlin to watch the German cup final so Mourinho shouldn't repeat the tactical errors Werder Bremen made. Bremen played very defensive, let Bayern play the game – and lost in a disappointing way, 4-0. If Inter also choose the more defensive style – and I guess, they will – this will be a victory for Bayern Munich. It's not only Robben who makes the difference. The only risk will be the Bayern defenders Martin Demichelis and Daniel van Buyten, who have sometimes played very strong one game, but in the next match very badly. If they have a good day – and they will – there is no chance for Inter. So this time not Robben but Ivica Olic will be the match winner, scoring the only goal in a boring (I apprehend) final."
Prediction:
Bayern 1-0 Inter
Odds on 1-0 Bayern victory with Titan Bet: 9.0 (8/1) Nils' possible winnings:
€45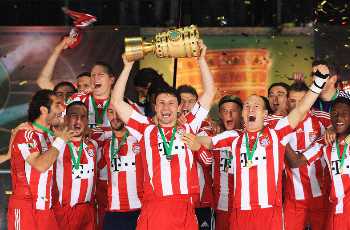 Bayern are
3.20 (11/2)
to beat Inter on Saturday

Fabrizio Ponciroli, Goal.com Italy

"I think it will be a very tough game. Physically, Bayern can compare with Inter but Inter have more class and more quality in midfield. I believe that these areas will be decisive. I do not think this game will be exciting and I reckon the referee will be decisive...
I think that Sneijder will be the man of the match and will score in the second half with a free-kick."
Prediction:
Bayern 0-1 Inter
Odds on 1-0 Inter victory with Titan Bet:
6.0 (5/1) Fabrizio's possible winnings:
€30

Wout Stravers, Goal.com Netherlands Chief Editor
"There will be nothing to hide for both trainers, as they know each other very well. Beside a clash of the two biggest Dutch players (Sneijder, Robben), it is also a clash of cultures. Bayern are a team which have to attack, always and everywhere. The little brother of Barcelona. Inter are the team that can switch their style of play, like they did in Camp Nou. The key of the game is in the midfield, where former rivals Sneijder (ex-Ajax) and Van Bommel (ex-PSV) will meet. The individual class of some of the key players will be enough for at least two goals, but in the end I am expecting a somewhat disappointing final, which Inter will win after penalties."
Prediction:
Bayern 1-1 Inter (Inter to win on penalties)
Odds on 1-1 draw with Titan Bet:
6.50 (11/2)Odds on Inter to win on penalties with Titan Bet: 11.0 (10/1)
Wout's possible winnings on 1-1 draw:
€32.50
Wout's possible winnings on penalty shoot out:
€55
Carlo Garganese, Goal.com International Serie A Editor
"Bayern are weak at centre-back, and I just can't see Demichelis and Van Buyten being able to cope with the world's best striker on current form, Diego Milito, not to mention the other attacking talent Jose Mourinho can count on at any time during the game such as Samuel Eto'o, Mario Balotelli and Goran Pandev. Down the other end of the field, providing Javier Zanetti does a 'Messi' job on Arjen Robben, Lucio and Walter Samuel should be able to shut out whatever else Bayern throw at them both aerially and on the floor."
Prediction:
Bayern 0-2 Inter
Odds on 2-0 Inter victory with Titan Bet: 10.0 (9/1) Carlo's possible winnings:
€50
Ceyhun Bayel, Goal.com Turkey
"Inter have the Milito, Pandev and Eto'o triple which is my favorite in Europe. These forwards and Cambiasso and Sneijder in midfield will bring the cup to Milan. Bayern's midfield and defensive line is not enough to stop Inter. When we look at Bayern's squad we have Olic and Robben as keys for this final. The absence of Ribery will be very important for Bayern, because he can take initiative and create free areas for Olic to become more dangerous. With respect to these points, my prediction is a 3-1 Inter win with goals from Milito, Sneijder, Eto'o – Olic for Bayern.
"
Prediction:
Bayern 1-3 Inter
Odds on 3-1 Inter victory with Titan Bet:
17.0 (16/1) Ceyhun's possible winnings:
€85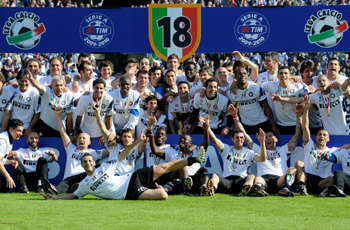 Inter are
2.15 (23/20)
to win the Champions League

Francois Duchateau, Goal.com Germany

"During the battle for the treble Louis van Gaal will have to find a solution to break the best defence he has played against this year. It's the beauty against the beast: While the Dutch coach wants to win in style, the Nerazzurri focus on the result and are tactically so well educated. A quite early free-kick from Wesley Sneijder will bring the lead for the Italians, who can show their world class defence and play their game. But Robben in the form of his life, and will bring Munich back into the game right after changing the sides, in his typical way, coming from the right side into the middle and hitting with a punchy shot into the net. But nothing makes Mourinho and his squad nervous, and Diego Milito will score cleverly the important and winning goal as he did against Siena."
Prediction:
Bayern 1-2 Inter
Odds on Inter 2-1 win with Titan Bet:
9.50 (17/2) Francois's possible winnings:
€47.50

Alexandre Walraevens, Goal.com France
"I predict that the task will be a lot harder for Bayern than OL in the semi-final of the Champions League. Mourinho has one player who is outstanding at the moment and his name is Milito. I really think the danger is Milito. Inter have proven that they can beat the best (FC Barcelona) and I do not see them failing at the end. Mourinho wants nothing more than to prove to the Madrid chiefs that he is the best coach in the world and that HE can make the difference. Bayern have no Ribery and I see Robben as the only threat. Bayern's defence, being very slow, will suffer with Eto'o and Milito up front. For me the key to the game is the capacity of Bayern to move very quickly on the counter-attack because Inter will have the possession of the ball. At the end I see Inter winning 2-0 with two goals from Milito."
Prediction:
Inter 2-0 Bayern
Odds on 2-0 Inter win with Titan Bet: 10.0 (9/1)Alexandre's possible winnings:
€50
Sergio Aguilera, Goal.com Spain
"The final match to be played in the beautiful Spanish capital will present two opposite ways of understanding football and how to apply tactics in a match. Jose Mourinho will try to suffocate the creativity of Bayern players in an attempt to impose his defensive concept of playing. It worked out for him just fine against Barcelona, but things may be different this time around. Inter will not be able to play with "the bus parked on the goal-line", as the saying goes in Spain - just like Mourinho did in Camp Nou – however, Inter will be forced to make a step forward and apply a more offensive strategy, since Arjen Robben will use his magic from the early stages of the match. This will turn out to be Inter's doom. Robben, the Dutch wizard, will counteract the efforts of Milito and Eto'o to lead Bayern to victory."
Prediction:
Bayern 3-2 Inter
Odds on 3-2 Bayern win with Titan Bet: 41.0 (40/1) Sergio's potential winnings:
€205
David Mole, Goal.com's Betting & Odds Expert

"Bayern will be missing Ribery and he represents a huge loss, not least because it will allow Mourinho to focus his defensive resources on combating his former employee Arjen Robben. I expect Mourinho to nullify Robben and to completely nullify the game and for that reason I am backing 0-0 - I expect to be counting my money during extra time!"

Prediction: Bayern 0-0 Inter
Odds on goalless draw with Titan Bet:
8.0 (7/1)David's potential winnings:
€40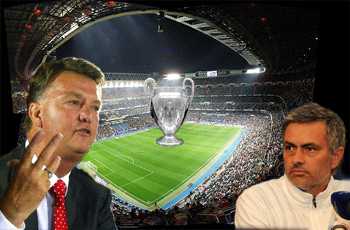 * Ask The Bookie - How To Get Started With Football Betting
A comprehensive list of markets for the Champions League final are available on the Titan Bet website. Click here to place a bet on European football's biggest match of the season.
Odds correct at time of publication. Predictions are based on current form and information and cannot be guaranteed. Goal.com encourages all readers who bet to do so sensibly.
Agree with the choices from our editors? Why not make a match prediction below and we'll print the best of them in our special on Saturday.