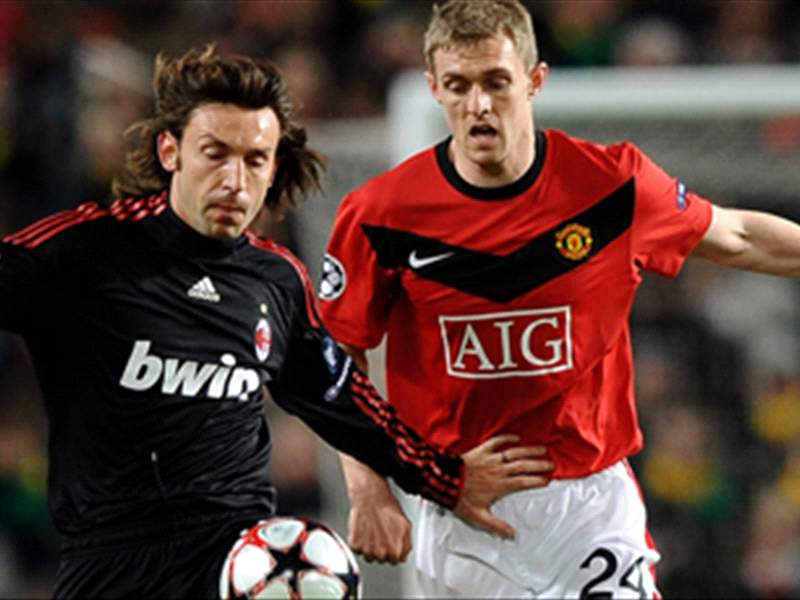 MANCHESTER UNITED
Van der Sar: 7 -
Didn't have much to do tonight but saved well from David Beckham's shot in the second half. Also made a few other saves on rare occasions.
Neville: 7 -
Didn't look particularly consistent on crosses but his pass for Wayne Rooney's first goal was world class. Also, he didn't allow Ronaldinho much space or time on the ball and kept him at bay more or less.
Ferdinand: 7 -
Looked strong and capable at the back and didn't allow the Milan strikers to get behind him.
Vidic: 7 -
Like Ferdinand, he wasn't really tested tonight as Milan miserably failed in the midfield. But he made some interventions and challenges.
Evra: 7 -
Didn't make too many forays into the Milan penalty area but appeared strong defensively and helped build attack from the back.
Fletcher: 8 -
Was again a work-horse in the midfield. He worked tirelessly and made important link-ups in the attacking area too. His late goal was nothing more than he deserved.

Scholes: 7 -
The Manchester United veteran didn't have the most exuberant of nights but he did set up Park Ji-Sung for United's third goal. His passes forced Milan to chase shadows.
Park: 7.5 -
Certainly not the most technical of players, but tonight Park was excellent. He scored a goal, helped build several attacks, chased down the balls deep, helped in the defence. An all-round performance from one of Asia's most celebrated players.
Valencia: 6 -
Didn't look very creative or threatening, had an average game overall.
Rooney: 8.5 -
Rooney scored a great centre-forward's goal as he smartly and somewhat bullishly headed in Neville's cross in the early stages. His second was laid on a plate for him but still no one can take anything away from him.
Nani: 7 -
Put in a good and solid performance tonight and gave a wonderful, world class through ball for Rooney's second goal.
Substitutes:

Dimitar Berbatov: 6 -
Didn't do much and didn't appear very prominent.
Rafael: 7 -
The Brazilian youngster is certainly the future as he crafted in an excellent cross for Darren Fletcher late on in the second half.
Gibson: 6.5 -
Looked aggressive and energetic after coming on and took a good shot that could have seared into the Milan net.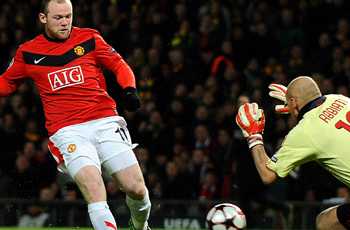 MILAN

Abbiati: 6 -
His defenders left him at the mercy of the United attackline but he still made a couple of good saves at Old Trafford tonight.
Abate: 4 -
Looked terribly out of place and his weakness at right-back was exposed tonight by United's stronger and quicker players.
Bonera: 3 -
Perhaps it would have been better if Milan had played with ten men instead of him on the pitch. Bonera was supposed to be Alessandro Nesta's replacement for tonight but he was appallingly awful.
Thiago Silva: 5 -
The Brazilian too looked far from good and lost the ball cheaply on too many occasions.
Jankulovski: 5.5 -
Tried to create things from the back but left space for the United players to exploit. He is past his prime and that was exposed tonight.
Flamini: 5 -
Looked slow, awkward, out of sync and clueless. The Frenchman doesn't start very regularly and based on tonight's performance you can understand why.
Pirlo: 5 -
His range and vision went missing tonight and although the Italian did pick up his team-mates on a few occasions, he couldn't really place that killer ball or that long range pass that he is so famous for.
Ambrosini: 5 -
Like the rest of the Milan midfield, had a terrible time. Ambrosini has been one of the best and most consistent players for Milan this campaign but tonight he looked rusty and wasteful.
Huntelaar: 6 -
Had a great chance in the first half and looked more mobile than several of his team-mates. The Dutchman also dropped deep into his own half at times to collect the ball and start build attacks.
Boriello: 6 -
Like Huntelaar he was starved of service and tried to make most of what he was offered.
Ronaldinho: 6 -
The Brazilian wasn't afforded much space or time on the ball by Gary Neville, who smothered him on occasions but he was the only Milan player who looked creative. However, Ronaldinho didn't help much in the defence and also got himself blocked at times.

Substitutes:
Seedorf: 6.5 -
Had a positive impact in the initial stages of the second half when he had just come on as he injected pace into a pedestrian Milan side. However, the former Real Madrid midfielder lost himself towards the end.
Beckham: 7 -
His rating might appear a bit high but he was the most committed and enthusiastic Milan player for the final 25 or so minutes of the game. This was Beckham's return to Old Trafford as a non-Manchester United player and he did extremely well on the night, helping his defenders, battling for the ball in the midfield and whipping crosses in. Beckham floated in an inviting cross late in the game that Inzaghi just missed.
Inzaghi: 5.5 -
Should have buried a delicious Beckham cross in the end, although it wouldn't have counted for anything.
Become a fan of Goal.com International on

Facebook

! Just click onto

Facebook

.com/Goal to join the beautiful game's leading fan community...