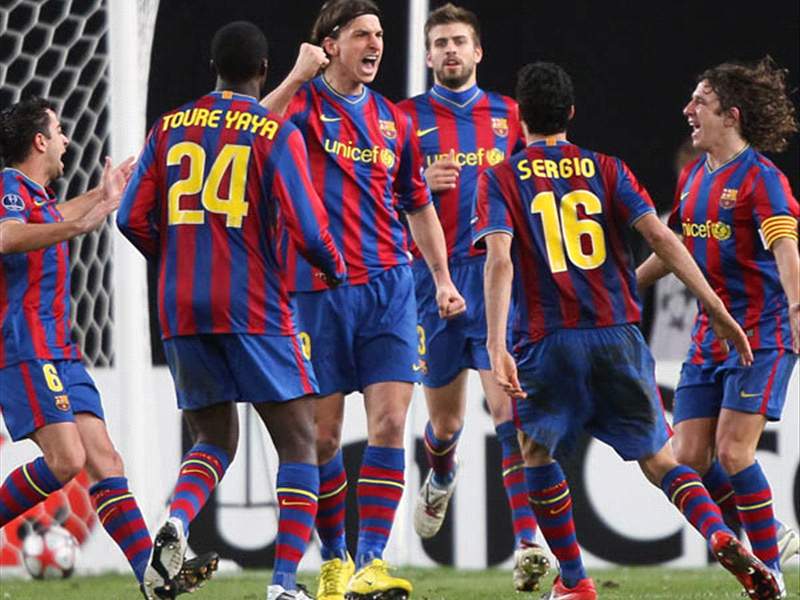 STUTTGART

Lehmann: 3 - A loon. He had nothing to do in the first half other than saving Messi's shot, which he only barely succeeded in doing. While he did well to save Ibrahimovic's first shot (just before the equaliser) in the second half, he totally missed a cross later on, and nearly took Puyol's head off with a silly flying kick.

Celozzi: 5 - Didn't make any game-changing errors, but he could have done much better in possession. Still, Iniesta and Henry were rather quiet, so he must have done something right.

Tasci: 7 - Nothing but clean defensive work from the German international. Generally speaking, he kept a very close eye on Ibrahimovic, and was one of the main reasons why Barca had such a tough time breaking the hosts' defence.

Delpierre: 6 - Will be kicking himself for heading the ball on for the offside Pique in the play leading up to Barcelona's equaliser. Aside from that monumental error, Delpierre put in a great shift.

Molinaro: 6.5 - Great link-up play with Hleb in the first half. The Juventus loanee's technical quality was a breath of fresh air, and at times he proved to be a nightmare for Puyol. Unable to do much in the second half, but he kept Barca's most dangerous flank rather quiet throughout.

Gebhart: 6.5 - Great technical play up the right side and limitless energy saw the 20-year-old keep Barca quiet on his flank. His cross for Cacau's goal was inch-perfect.

Traesch: 5 - Was the weakest link among a superior Stuttgart side in the first half. Was substituted on 58 minutes after failing to make a real impact.

Khedira: 7 - True to his reputation, a real work-horse in central midfield. Bossed around Yaya Toure like a child, and was a real threat going forward. While his late foul on Messi was an abomination unto the football gods, it was at least enough to save a draw.

Hleb: 6 - Along with Molinaro, he forced Puyol on his heels for long spells. The Belarusian's dribbling and technical abilities were always difficult to contain, although he will be disappointed after failing to make a bigger impact on the result.

Cacau: 7 - Carried his weekend form into today's match. Fearless, he attacked with pace and could have scored more than once in the first half. His header for the opener was perfect, and did justice for an equally impressive cross. In the second half, he dropped back to provide much-needed defensive cover.

Pogrebnyak: 6 - Once called a 'sleeping giant', today we caught a glimpse of what he is capable of. The towering Russian's strength was difficult for the Barca defence to contain, and he linked with Cacau to great effect. Had a chance for glory in the first half, but Valdes made a good save.

Subs:

Marica: 5 - A couple of bright signs late, but strikers are paid for scoring goals, something he could not do.

Kuzmanovic: 5 - Hardly an improvement on Traesch, but he was decent defensively. Should have done better with his late free kick.

Rudy: N/A

BARCELONA

Valdes: 7 - Much more impressive than his counterpart. He had little to deal with in the second half, but was always available when needed. Calmly took care of all the easy work, and authoritatively ran out to deny Pogrebnyak.

Puyol: 6.5 - As usual, the captain was on hand to make game-changing challenges. The defensive all-rounder stopped Khedira in the first half, tackled Marica in the closing minutes, and put in a number of other important challenges. Later in the game, he made space for Messi by bombing up the right flank.

Marquez: 3 - He should have never, ever been pushed off the ball by Hleb, but was. Often overpowered and out-paced by Stuttgart's attack, the Mexican defender was replaced on 59 minutes.

Pique: 7 - Had a poor first half, but a rock-solid second, save for his careless booking late in the game. When Barca needed a goal, he went forward, held off Khedira, and set up Ibrahimovic for the equaliser.

Maxwell: 7 - Probably his team's best defender over the first 45 minutes, the Brazilian was troublesome going forward and kept Gebhart at bay.

Busquets: 6 - Clearly not comfortable in the Xavi/Iniesta role, but much better after the break, when he moved into a central holding role.

Toure: 3 - Outplayed in the first half, and rightfully substituted. A forgettable performance.

Xavi: 6.5 - Knows exactly where to go and what to do. When Barca needed a goal, he moved into a role outside the penalty area and was a central pivot for the attack. When attention was needed deep, he backed up Busquets and Yaya Toure. Recovered from a poor first half with a much better second period.

Messi: 6.5 - The only man who looked like scoring in the first half, Messi was a bit unfortunate not to net the opener shortly before the break. As usual, the diminutive Argentine was a catalyst for his team's attack, and found spaces despite often being double-teamed. Loses points for misplacing many passes in the first half.

Ibrahimovic: 6.5 - An encouraging match. Took his goal well and should have had another, but was denied by Molinaro's arm. Service to him was lacking, however.

Iniesta: 6 - Did next to nothing until Henry came on, but once he dropped back to partner Xavi, Barca were much, much better with the ball. Would have earned a much higher rating had he shown up in the first half.

Subs:

Henry: 4.5 - A ghost in Barca's attack, his only contribution was to allow Iniesta to drop back into his natural role.

Milito: 6.5 - Didn't have much to take care of, but was much more convincing than Marquez.