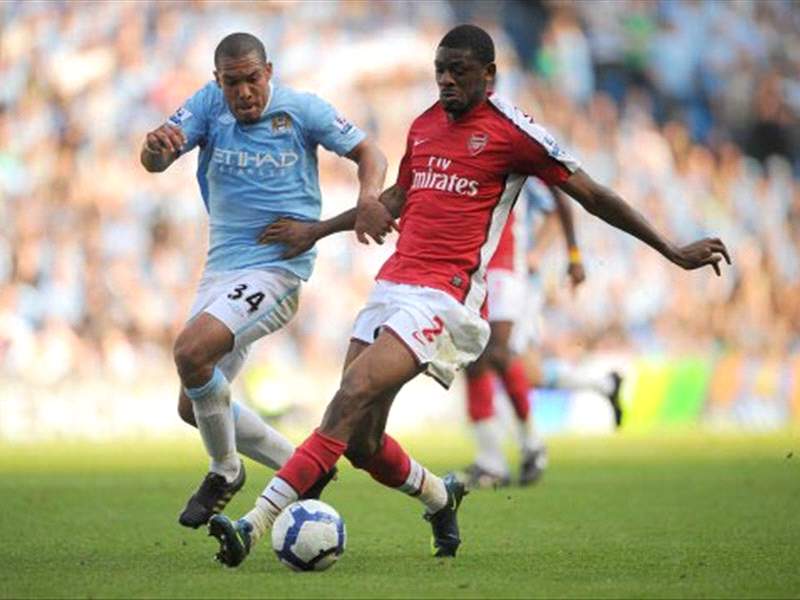 Wednesday, 2 December 2009, Kick-off: 19:45 GMT

City of Manchester Stadium, Manchester


City's expensive superstars or Arsenal's highly promising starlets?
After a summer of heavy transfer market spending,
Manchester City
's season was launched under a fair wind that saw them cruise to five straight wins, but recently the Citizens have been in the doldrums, becalmed in a sea of draws.
Mark Hughes' side have been involved in a remarkable seven successive stalemates in the Premier League, a run of great consistency but frustrating unfulfilment that has seen their top-four ambitions drifting in the wake of the pace-setters.
Hughes is under mounting pressure to deliver, and while usurping one of the 'Big Four' was a key target this season, putting any piece of silverware in City's long-disused trophy cupboard is also a priority.
Progress in the League Cup will therefore be afforded high importance, and Hughes will regard a home tie in the quarter-finals as the perfect opportunity to end the worrying sequence of draws with a morale-boosting victory, and at the same time reward City's expectant fans and owners with a place in the last four of a cup competition they last won in 1975-76, and whose semi-finals they last contested in 1980-81.
The fact that the tie is against wounded Arsenal - whom the Citizens defeated 4-2 at Eastlands, amid much controversy, back in September - will add spice to the occasion.
The Gunners, along with Liverpool, are targets for those challengers - City, Aston Villa and Tottenham Hotspur - with top-four aspirations; but the League Cup is a competition used by Arsene Wenger in parallel to, rather than as an extension of, his first-team's endeavours in the Premier League and Champions League. So City can expect to face a radically different starting XI from the one that played them in September.
That prospect gives Wednesday's tie an intriguing aspect, especially in view of Arsenal's recent results. Following a 13-match unbeaten run, calamitous injuries to top striker Robin van Persie and promising left-back Kieran Gibbs, plus consecutive league defeats at Sunderland and, demoralisingly, at home to Chelsea, have seemingly transformed the Gunners' season from one of impressive achievement to imminent crisis.
But whatever the outcome at the City of Manchester Stadium this week, where Hughes is likely to field a full-strength side and Wenger to adhere to his policy of giving youngsters and fringe players the chance to impress, the game should be seen as a sideshow as far as Arsenal are concerned.
That's because their home game against Stoke City on Saturday, with points at stake, has now assumed much the greater importance. Should his youngsters be eliminated from the League Cup, it will be a further disappointment for the club in a troubled couple of weeks, but only a minor one; failing to secure all three points in convincing style against the Potters at the weekend would be far more damaging to their season.
On the other hand, City really need to get back to winning ways, with questions being asked about the calibre of Hughes' stewardship after such a hefty outlay in the transfer market. Players like ex-Gunners Emmanuel Adebayor and Kolo Toure will be expected to produce emphatic performances against their former employers and help drag City out of their rut of incessant draws.
Their one positive result in the last two months was in a 5-1 League Cup home victory over Championship strugglers Scunthorpe United, and they may see that - and Arsenal's current problems - as an encouraging sign.
Another good omen for City is that manager Hughes collected League Cup winners' medals with three different clubs. He enjoyed playing success in this competition with Manchester United in 1992, Chelsea in 1998 and Blackburn Rovers in 2002.
Yet it could be argued that if Arsenal go into the game with their youngsters to the fore, they will do so as underdogs, with little pressure, which will shift the burden of expectation squarely onto their hosts. How will City cope with that?

FORM GUIDE

Manchester City
28 Nov (Premier League) v Hull City (H) DREW 1-1
21 Nov (Premier League) v Liverpool (A) DREW 2-2
07 Nov (Premier League) v Burnley (H) DREW 3-3
01 Nov (Premier League) v Birmingham City (A) DREW 0-0
28 Oct (League Cup) v Scunthorpe Utd (H) WON 5-1
25 Oct (Premier League) v Fulham (H) DREW 2-2

Arsenal
29 Nov (Premier League) v Chelsea (H) LOST 0-3
24 Nov (Champions League) v Standard Liege (H) WON 2-0
21 Nov (Premier League) v Sunderland (A) LOST 0-1
07 Nov (Premier League) v Wolverhampton W (A) WON 4-1
04 Nov (Champions League) v AZ (H) WON 4-1
31 Oct (Premier League) v Tottenham Hotspur (H) WON 3-0
TEAM NEWSManchester City
In contrast to his counterpart Arsene Wenger, City boss Mark Hughes has seen most of his expensively-put together squad return to full fitness in recent weeks. With Robinho, Vincent Kompany and Micah Richards now fit again, City are able to field a full-strength side against the Gunners.
Last starting XI (v Hull):
Given, Richards, Bridge, Lescott, Toure, Ireland, Wright-Phillips, De Jong, Robinho (Bellamy 75), Adebayor (Santa Cruz 67), Tevez.
Substitutes not used: Taylor, Onuoha, Kompany, Johnson, Weiss.Last starting XI in Carling Cup (v Scunthorpe):
Given, Zabaleta, Sylvinho, Lescott, Kompany, Ireland (Weiss 59), Wright-Phillips, Barry (Johnson 72), De Jong, Santa Cruz, Tevez (Mwaruwari 79).
Substitutes not used: Taylor, Richards, Bridge, Bellamy.
Arsenal
While first-team regulars such as Robin van Persie, Gael Clichy, Abou Diaby and Nicklas Bendtner may have been unlikely selections for a League Cup tie, their respective injuries make them unavailable anyway.
Resources are stretched at the Emirates, meaning that reserve team captain and imposing central defender Kyle Bartley, 18, and defensive midfielder Craig Eastmond, who turns 19 next week, are in the squad.
Phillipe Senderos and Mikael Silvestre could provide some experience in defence, but youngsters Jack Wilshere (17), Sanchez Watt (18) and Aaron Ramsey (18) are likely to feature prominently.
Last starting XI (v Chelsea): Almunia, Sagna, Vermaelen, Gallas, Traore, Fabregas, Nasri (Rosicky 65), Denilson, Song (Walcott 46), Arshavin, Eduardo (Vela 57).
Substitutes not used: Fabianski, Silvestre, Eboue, Ramsey.Last starting XI in Carling Cup (v Liverpool):
Fabianski, Senderos, Silvestre, Gibbs, Eastmond (Randall 75), Gilbert, Nasri, Ramsey, Merida (Coquelin 87), Eduardo, Bendtner (Watt 76).
Substitutes not used: Szczesny, Bartley, Frimpong, Sunu.
PLAYERS TO WATCH

Manchester City

Emmanuel Adebayor
will certainly not be rested against his old club, insisted Hughes this week, so the Togolese striker will have the opportunity to inflict further misery on his erstwhile colleagues. Having got off to a flying start at Eastlands, Adebayor's stamp on Van Persie and provocative goal celebration in the 4-2 win over the Gunners in September earned him heavy criticism, a fine and a ban.
His goal in that match was his fourth in five appearances, but since then he has also been injured and managed only one more goal - albeit a towering header against Liverpool. He will be keen to avoid controversy but make a goalscoring impact on Wednesday, and send a more muted but nevertheless unambiguous message to the travelling Arsenal fans.
Arsenal

Aaron Ramsey
continues to make impressive progress under Wenger's tutelage, though there is a school of thought that the talented young Welsh midfielder is seen as a long-term successor to, rather than regular team-mate of, Cesc Fabregas. That would be a shame, as both should be accommodated in the first-team when circumstances permit.
In the meantime, Ramsey can take centre-stage in Cesc's absence from League Cup duties, and as he showed against Liverpool in the last round, he is more than capable of rising to the challenge. Previously Cardiff City's youngest-ever debutant at 16 years 124 days, Ramsey turned down Manchester United to join Arsenal and it is clear why Wenger and Sir Alex Ferguson rate him so highly, not least in his performances for the Wales senior team.
PREDICTION
Wenger used to be accused of devaluing the League Cup by fielding under-strength sides, but his young teams have now reached the quarter-finals for seven successive seasons, progressing to the semi-finals on four occasions and the final once.
Critics continue to berate Wenger for not winning a trophy since 2005, and pundits insist that his youngsters need to lift a trophy if they are to gain credibility by turning potential into tangible success. If they can overcome the tough challenge of a full-strength Manchester City side at Eastlands and reach a record 14th semi-final in this competition, the chance of silverware will edge tantalisingly closer.
However, after so many draws it is easy to forget that Manchester City's solitary defeat in 16 games this season was the Manchester derby in September, when they were unlucky to lose a thriller at Old Trafford by 4-3. One thing is certain: Wednesday's game can't be another draw; if the teams are all-square after extra-time the tie will be decided by penalties.
Arsenal's last away win in the League Cup was a 3-2 extra-time victory over Hughes' Blackburn in a December 2007 quarter-final tie; their adventure last season was ended in the north-west at Burnley's Turf Moor.
City and the Gunners have met 173 times before in all competitions, with the Citizens winning 44, Arsenal 91 and 38 games being drawn. And in the League Cup alone, Arsenal have a 100 per cent record over City, winning five out of five.
On this occasion City's more experienced team probably have the edge, though if the youngsters are on song, who knows?

Manchester City 2-1 ArsenalGraham Lister, Goal.com UK