On Monday, Paraguay coach Gerardo Martino named his 31-man preliminary squad for the Copa America. The team will train daily at the high performance centre in Ypane until June 24, when the group will be cut to 23 players for the tournament in Argentina. One star who failed to make the list was Oscar Cardozo as the Benfica striker was left out in the cold by Martino.
It comes as a huge surprise to the player, who has featured in the last two major international tournaments and was voted Paraguayan Footballer of the Year in 2007 and 2009. He recently experienced more personal success at Benfica, becoming the all-time foreign top scorer and notching his 100th goal in four seasons at the club. His performances have led to rumours he is on the verge of a big money move to Dynamo Kiev this summer.
At international level meanwhile, the 28-year-old is now suffering one of the lowest points of his career. "I don't know, the truth is I don't know," he said to local Paraguayan radio when asked why he was left out. He did, however, deny any reports of a slight to his national coach, stating: "the boss Martino never called me… it is untrue that I asked to only train for two weeks."
It seems unlikely that Cardozo would have shown any disrespect to Martino, he has never had a disruptive character. What is more likely is that Martino is just looking for new options as Cardozo himself admitted: "The boss said there are better forwards than me right now."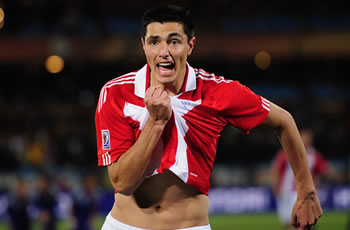 The forwards he is referring to are the European-based quartet of Roque Santa Cruz (Manchester City), Nelson Haedo Valdez (Hercules), Lucas Barrios (Borussia Dortmund) and Federico Santander (Toulouse). Santander is the most likely benefactor from Cardozo's surprise omission. He scored his first senior international goal on his 20th birthday last week in a 2-0 victory over Bolivia having previously starred for Paraguay at U-20 level.
It may seem odd that Santander has been considered following an average season for Toulouse, where he scored just five times in 23 games. Yet Martino hopes that he can flourish on the international scene; much like Santa Cruz, who is now just one goal away from becoming joint top scorer for Paraguay despite struggling at club level for the past three seasons.
Cardozo on the other hand has never found his feet on the world stage, his international record is just five strikes in 38 appearances and his World Cup quarter-final penalty miss against Spain is still fresh in the memory. The conclusion is that Martino's patience has run out for the talented yet frustrating figure as he looks to try something new to bring Paraguay Copa America success for the first time since 1979.