Please note the below is satirical...

The Italy World Cup team returned to Malpensa Airport in Milan this afternoon amid chaotic scenes.
Hundreds of supporters and members of the public hurled abuse and rotten fruit at players and staff following the humiliating exit in the group stages yesterday after the 3-2 defeat to Slovakia in Johannesburg.
The ring-leaders of the mob were none other than Antonio Cassano, Fabrizio Miccoli and Mario Balotelli – all controversially snubbed from the World Cup squad despite their undoubted superiority to those taken instead of them.
Cassano was equipped with a punnet of tomatoes and landed a perfect long shot into the left top corner of coach Marcello Lippi's glasses, juice spurting everywhere. Alberto Gilardino attempted to throw one of the tomatoes back, but missed all 876 people in the crowd.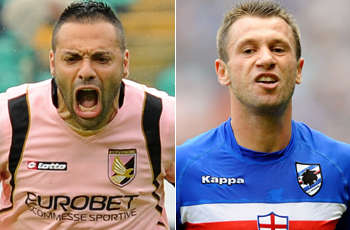 Ringleaders: Miccoli & Cassano

Talentino then whipped out a water gun, spraying it all over Lippi and the player adjacent to him Simone Pepe…"use this water to clean my boots, I told you that's all your good for," he sniped at his former Roma lackey.
Lippi wiped the dew off his lenses, to which Miccoli remarked: "The last time you cleaned your glasses was before Fabio Grosso's last penalty in Berlin. You've been blind ever since."
The Palermo hero, on crutches after serious injury, then challenged the Italy team to a game against 10 randoms he met in hospital. The outpatients took an early lead after an eight-year old girl threw a daisy at Riccardo Montolivo, who flinched and turned his back, then she beat Gianluca Zambrotta for pace. But, the Azzurri earned a 1-1 draw from a penalty when Fabio Quagliarella was tripped by a walking stick and grabbed his face.
The Queen of England was also surprisingly present. "I missed the end of Mahut v Isner at Wimbledon to watch you bleeding shower!," she moaned, before shoving a stawberry up Vincenzo Iaquinta's nose.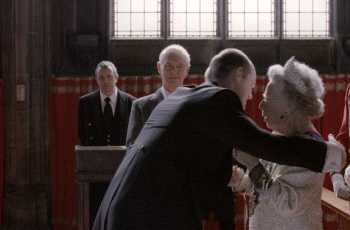 Queen Angry To Leave Mahut-Isner At 65-65
The players, having forced their way through the scrum – made their way towards the baggage carousel. Marchetti misread the line of the suitcase as it went round and was forced into a desperate last-gasp punch to prevent his luggage going past him. Daniele De Rossi, proudly wearing a Roma shirt instead of the obligatory Italy attire, got lost in the terminal after failing to follow his man. Fortunately for him, his yellow and red bag with two little kids sucking the breasts of a Capitoline Wolf was handed into reception, along with a Francesco Totti poster.
The airport janitor, a Frenchman named Raymond Domenech, was called to sweep up all the rotten fruit. Domenech threw his broomstick at Lippi as he walked past, and shouted: "You get knocked out of the World Cup, and all your players defend and worship you. I get knocked out of the World Cup, Nicolas Anelka calls me a 'son of a whore', Patrice Evra stabs me in the back, and I lose my job and become a janitor."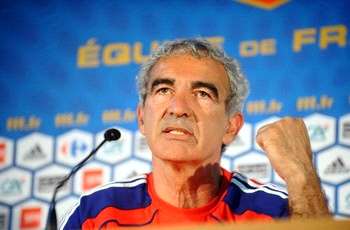 Janitor Also Refused Lippi's Handshake

The turmoil ended with Balotelli, wearing a Milan shirt, on his way to the departure gate to fly out to South Africa to cheer on Ghana in the second round. Miccoli joined him on the flight to follow Argentina and his idol Diego Maradona. Cassano, meanwhile, tucked into the leftovers swept up by Domenech and declared, "That's Lippi dealt with, next rotten fruit target: Fabio Capello.
"Mario, Fabrizio, wait for me!"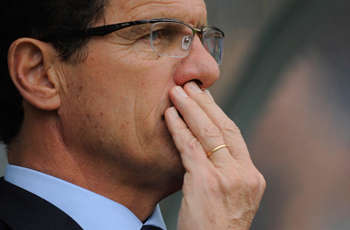 Don Fabio -Talentino's Next Target