---
COMMENT
---
After just a few months in the Ajax first-team, Kasper Dolberg is already establishing himself as one of the most promising attacking talents in European football.
With 11 goals in 21 games in all competitions, the Eredivisie has been left stunned by how quickly the 19-year-old striker has adapted to a big step up to the Dutch top flight.
Courtois earning £100k per save!
A 37 minute hat-trick in Sunday's 5-0 trouncing of NEC left many in awe and has only boosted his reputation beyond Netherlands and Denmark immensely, as only Marco van Basten has scored a quicker Eredivisie hat-trick for the Amsterdam side. However, Dolberg has been seen as a special talent for some time, since joining from Danish side Silkeborg IF in the summer of 2015.
While initially a winger, he was thrust into the Ajax U19s team and was transformed into a striker. He was in and out of the side in spells, but featured in the UEFA Youth League, scoring three goals in four games.
The goals were not free-flowing, but the positives were plenty, and he impressed enough to convince then-coach Frank de Boer to bring him along with the senior squad to the winter training camp in Belek, Turkey this year.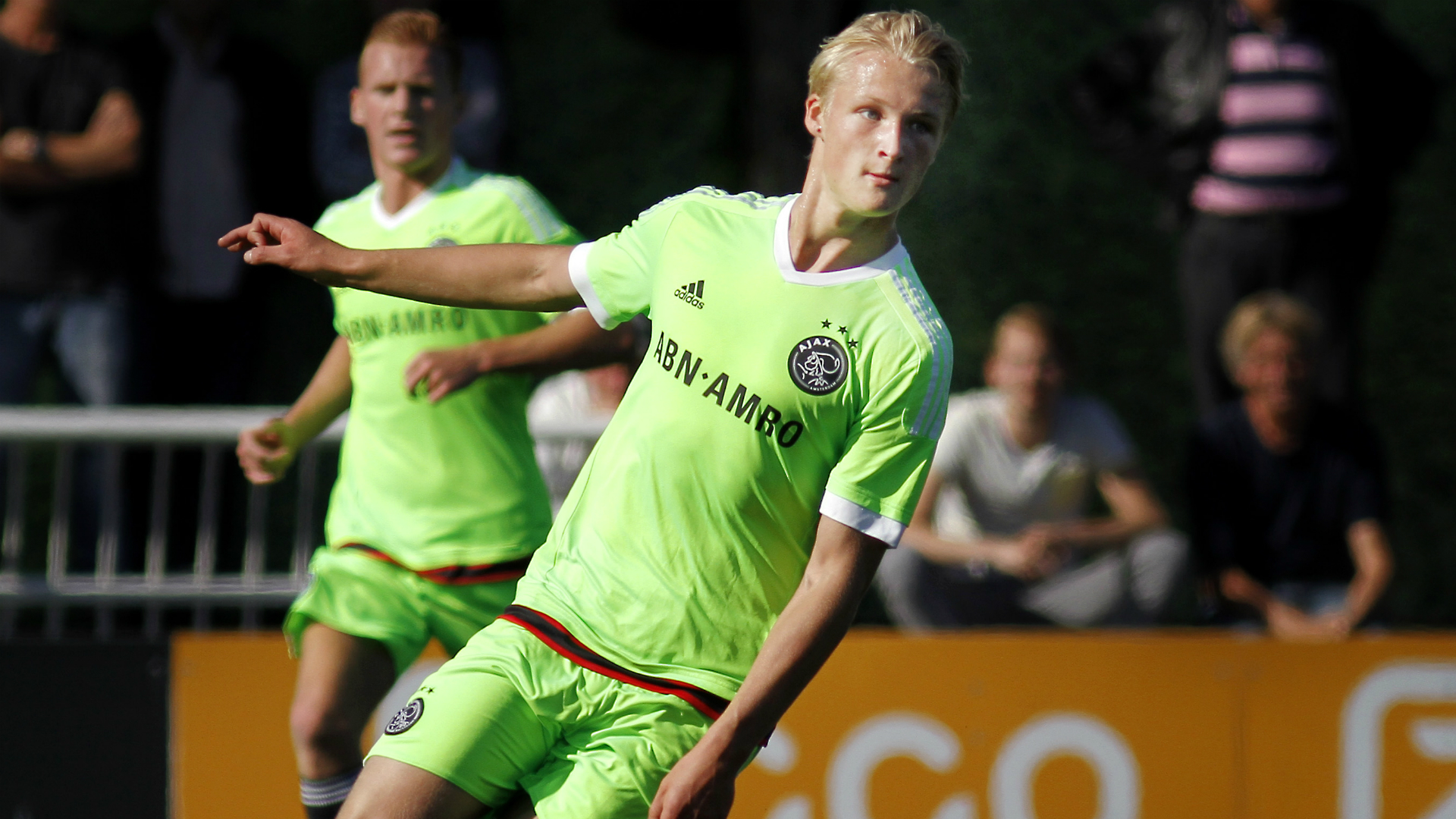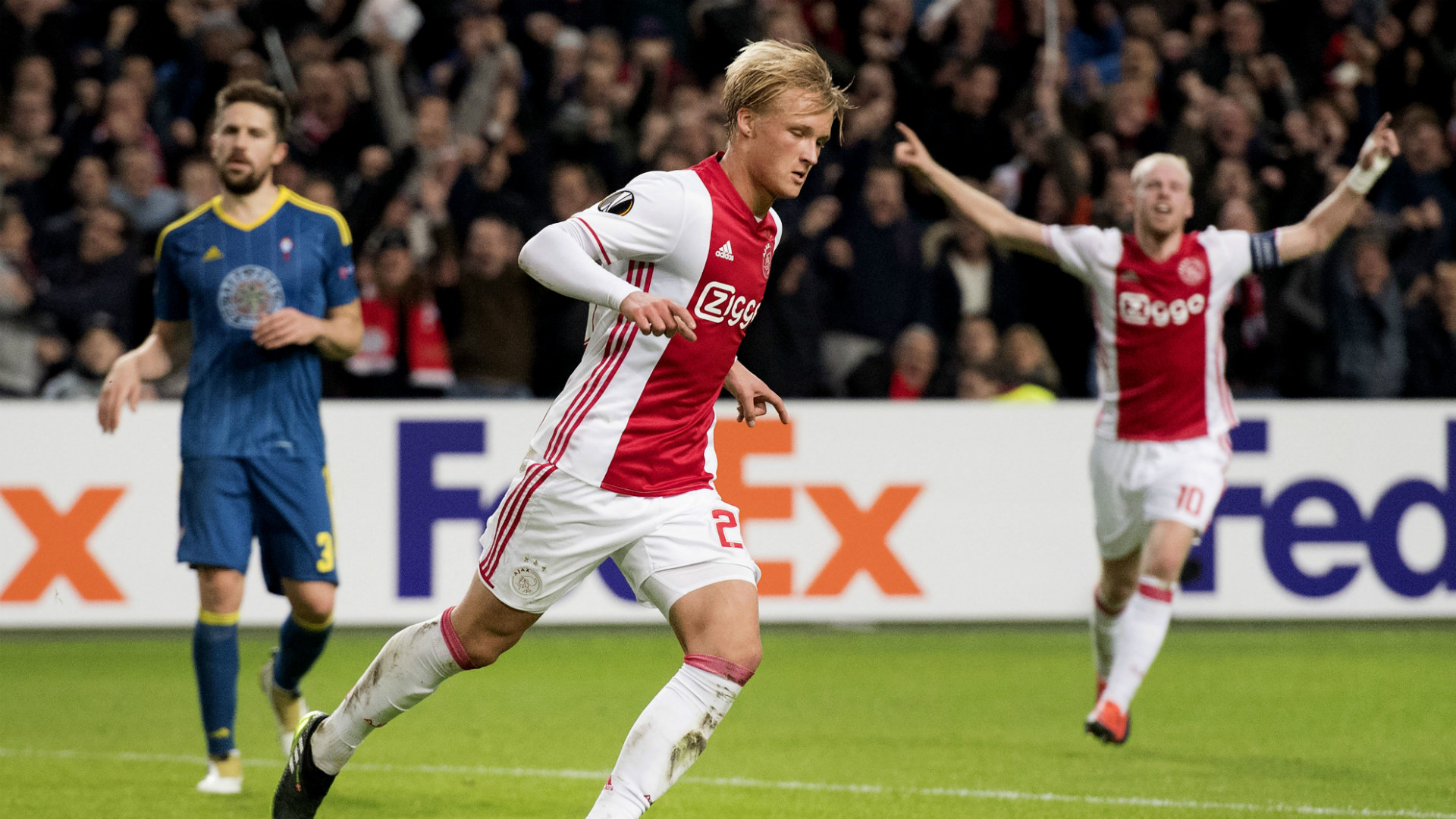 A great deal of excitement has followed Dolberg since then, with De Boer and others praising him as a special prospect. "He has a lot," the ex-Barcelona and Netherlands player said. "He is quite big, he's strong. He has a great shot. He has a lot of qualities for a real striker and he can be really versatile."
After four consecutive Eredivisie titles, Ajax finished second to PSV in their last two seasons under De Boer, leading to the coach and club parting ways and each facing big rebuilding jobs. Ajax have been brutally dull and ineffective for a while, and the summer sale of Arkadiusz Milik to Napoli for €32 million was a big loss to new trainer Peter Bosz.
With new 19-year-old summer signing Mateo Cassierra from Colombia, Dolberg and the misunderstood Richairo Zivkovic the only options, the No.9 role was a key concern for Ajax heading into the first game of the season. When Bertrand Traore joined on loan and Zivkovic went to FC Utrecht on a temporary basis, it left Ajax with three talented but underdeveloped options.
Liverpool scouting German star Brandt
Having already worked with Bosz at Vitesse, it looked like Traore was destined to lead the line, especially when he replaced Dolberg in a 2-2 draw with Roda, despite the Dane netting twice in the match. Traore was chosen ahead of him the following week as Ajax suffered a shock 2-1 defeat to Willem II at home.
The turning point came at the end of the transfer window, when Ajax paid FC Twente €11m for attacking midfielder Hakim Ziyech – the most effective player in the Eredivisie. With a new focus and a better-connected attack, Ajax suddenly found some intensity and are now a different machine. With Ziyech pulling the strings, Traore attacking from the right flank and Dolberg up front, Ajax have found a system that suits them under Bosz.
Dolberg is starting regularly now, but is not scoring consistently. That's no big deal at this point, however. Ajax have not been beaten in any competition since Rostov demolished them in their Champions League qualifier in August. The 19-year-old has scored 11 goals in all competitions this term and sits joint-top of the Eredivisie goalscoring charts on eight goals alongside Twente's Manchester City loanee Enes Unal and Dolberg's compatriot Nicolai Jorgensen of Feyenoord.
But there is more to Dolberg than his goals. After just a few months in the Eredivisie, it is important not to get too excited about a player so young and raw. However, the early signs for Dolberg are quite remarkable. His all-round game is sublime, his movement exemplary and his shooting is deadly.
"He's very relaxed," national team coach Age Hareide said of him. "I think it takes a lot to impress him. Jon Dahl Tommasson, my assistant, says even if you put a naked woman in front of him he will not respond. He's so focused."
Messi vs Neymar in Puskas Award
There is something subtle but clinical about Dolberg. Everything seems so easy and natural. His control is excellent and ensures he can create space and time out of nowhere on the field. As Ajax were struggling against league leaders Feyenoord in De Kuip, Dolberg chased down a pass from Ziyech and was able to beat centre-back Jan-Arie van der Heijden and take him out of the equation with a nice touch inside. From there, a delicate finish over Brad Jones seemed so simple as Ajax took the lead, only to draw 1-1 with their rivals.
On Sunday, a high pass from Lasse Schone came towards Dolberg, but with three defenders in close proximity, his job looked tough. Incredibly, he was able to chest it and knock it forward into his stride with ease, holding off one opponent and going on to give his side the lead. Shortly afterwards, he was able to drift into space in the box, perfectly poised to slot home Davy Klaassen's square pass to double his side's lead. In the 37th minute, he did well to attack a Daley Sinkgraven diagonal cross, beating his marker to it and diverting past the keeper. What made that goal particularly exciting was the way he seemed to turn his head to meet the ball with the back of it to get the right angle.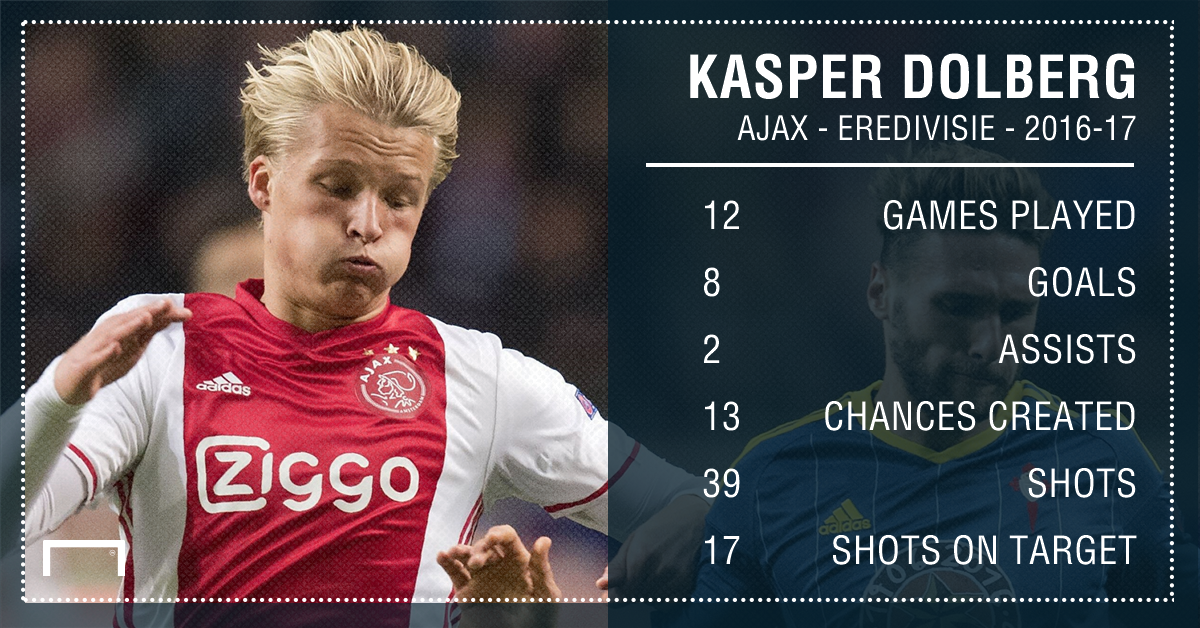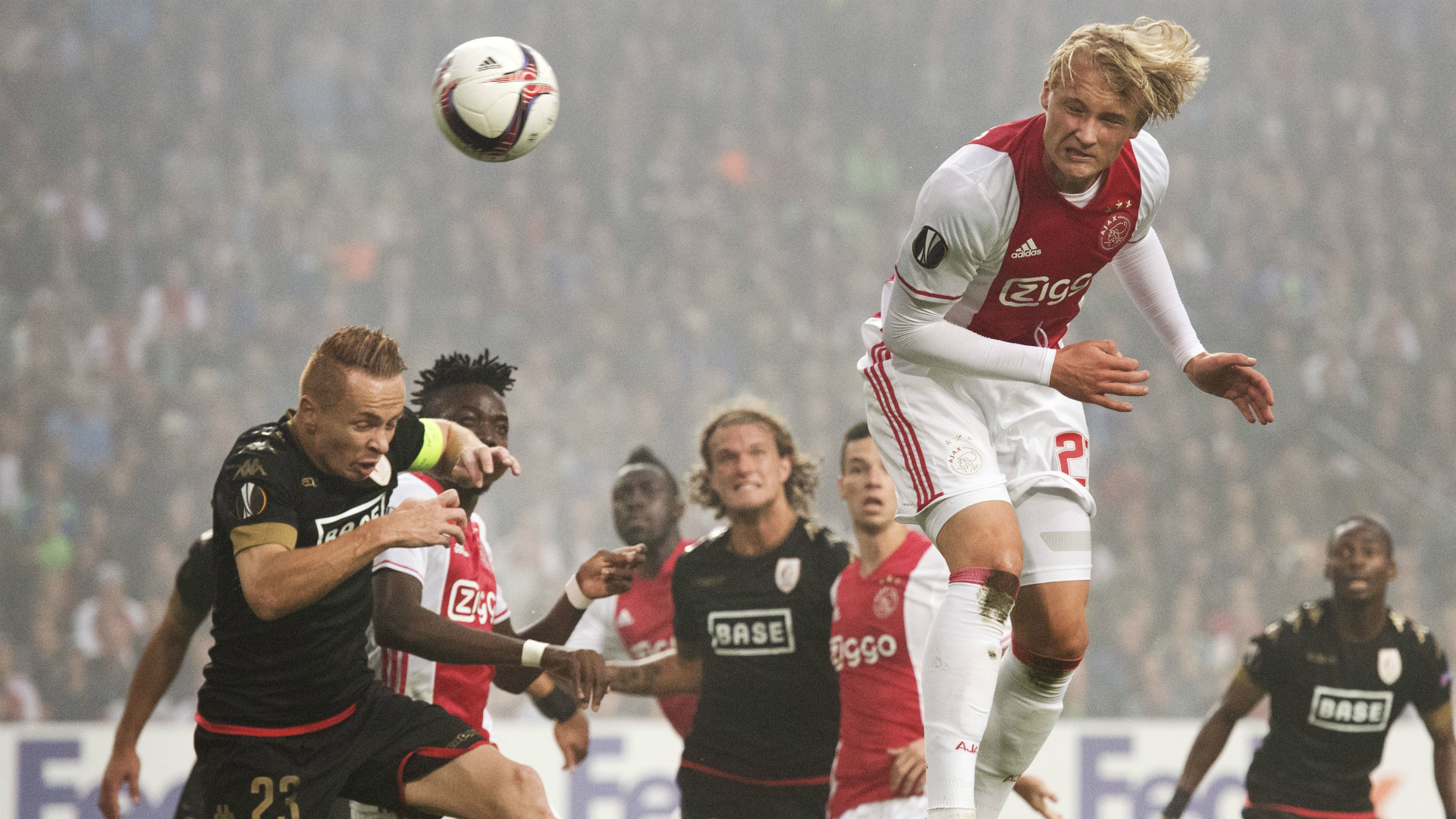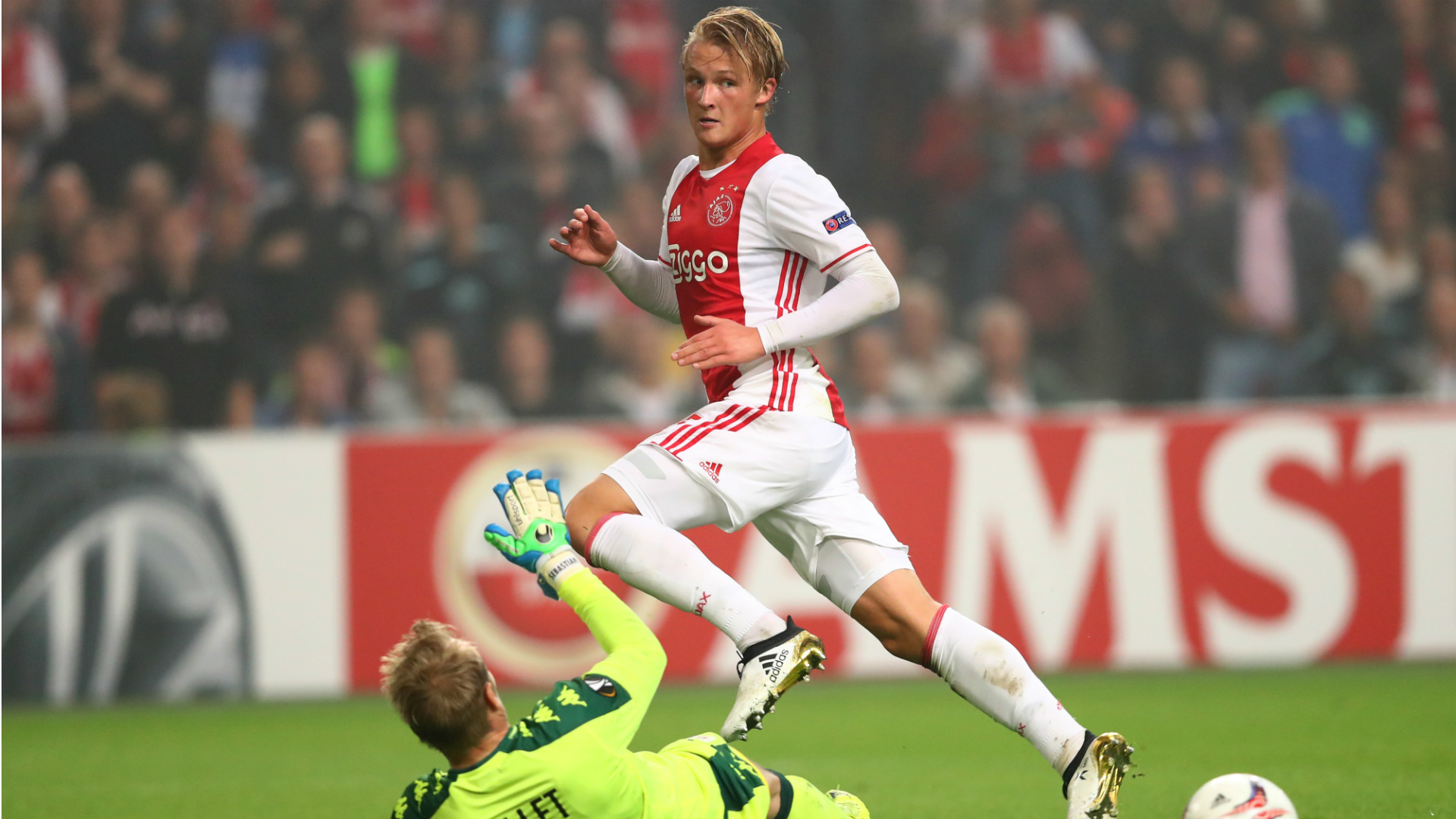 That technique, spatial awareness, anticipation and power – it is clear this is a special teenager. Naturally, the likes of Manchester City, Manchester United and Chelsea are said to be sniffing about.
"He has speed, power, technique, scoring ability. Everything a striker must have," Ronald de Boer told Fox Sports. "That kind of development is ... not normal."
Bellerin deal means no Barca move
Hareide described Dolberg as "a rare specialist who needs little opportunities" to score, and shows signs of "a classic scorer".
Elsewhere, former Feyenoord and Netherlands star Willem van Hanegem is convinced Dolberg is a future star of the highest calibre, writing in AD: "He is going to play at the biggest clubs in the world. It would not surprise me if they come and get him in the winter."
The rate at which Dolberg has improved has been immense. The step up from youth football to the senior set-up is a tough one for the physically slight, when you factor in the huge pressure that comes with playing for Ajax – even Zlatan Ibrahimovic has spoken of its immense magnitude – there has been a great deal for him to adapt to.
Yet it all seems so pedestrian to him. He has already made his debut for the Denmark national team after playing just one game for the U21s – a familiar rise for a player who went from Ajax's U19s to the first-team without featuring in the Eerste Divisie with the reserves.
"I feel that my body has become much stronger in the last two months, '' he said on Sunday. "I was obviously not used to playing at this level."
There is still a long way for Dolberg to develop, of course. He has played just 12 Eredivisie games, so it is ridiculous to say he is ready to leave for great heights, but if his progress continues at this rate, Ajax will not be able to keep him tied down for too long.
At 19 years old, he's already made Ajax fans forget about Milik. Now he is out to fire the Amsterdam side to the Eredivisie title once again. After that, anything is possible for such a rare talent.