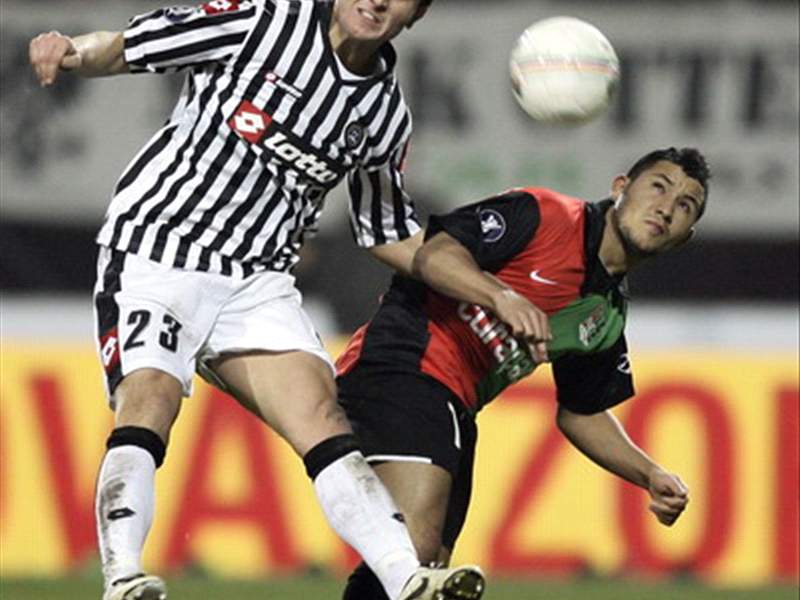 Udinese travelled to Nijmegen to face NEC for their final match in the Uefa Cup group stage. The Friulani have been in poor shape lately in Serie A, but they've done very well in the Uefa Cup, and qualified from Group D after winning their first three matches. NEC, meanwhile, have been one of the surprise packages of the Dutch Eredivisie, and still had a chance to go through going into this game.
NEC coach Mario Been played with a 4-3-3 formation with Saidi Ntibazonkiza, Johnny Van Beukering, and Rachid Bouaouzan in attack, while Udinese's Pasquale Marino opted for a 3-5-2 formation with Antonio Floro Flores and Alexis Sanchez up front.
First Half
In the first half the best chances were for the home side, while Udinese looked as uninspired as they have been recently in Serie A. Already in the 6th minute goalkeeper Emanuele Belardi was called into action on a nice shot by Van Beukering from the edge of the area.
The Udinese goalkeeper responded brilliantly again in the 20th minute on another shot by Van Beukering, who found himself alone in the area and did not hesitate to shoot.
Next it was Bouaouzan who made himself dangerous for the hosts, as he made a fine individual move in the 34th minute to dribble past a few defenders, but his shot was way off target.
In the 39th minute there was a chance for Udinese, as Floro Flores found Mauricio Isla inside the area, but the Chilean midfielder's shot was poorly taken and goalkeeper Gabor Babos grabbed the ball easily.
A huge chance came for the home side a minute before half-time, when Ntibazonkiza crossed the ball in for midfielder Lasse Schöne, who blasted the ball way over the bar from an excellent position.
The teams went back into the dressing room on a 0-0 score that was less than the home side deserved.
Second Half
For the second half Been decided to insert striker Collins John in place of Ntibazonkiza, while Marino did not make any changes during half-time.
Just two minutes in, John came close to making an immediate impact as he dribbled his way inside the area, but exceeded in egoism as he tried a shot from a difficult position instead of passing the ball to a team mate.
In the 65th minute, Van Beukering came close again with a header from an excellent position around the penalty spot, which went just wide of the post.
Two minutes later, the visitors saw a goal called off for a handball, as Floro Flores clearly touched the ball into the back of the net with his hand on a cross by Marco Motta. The home side responded a minute later, when Ramon Zomer forced Belardi into a brilliant save with a close-range header.
NEC deservedly opened the score in the 74th minute, although it was a somewhat lucky goal, as John found the net with a shot from outside the area that took a deflection off Motta.
Just four minutes later, the Dutch side made it 2-0 through Van Beukering, who provided the finishing touch on a goalmouth scramble following a corner kick.
The match was virtually over after this, although Bouaouzan had a few chances to show himself again, as in the 81st minute, but once again after making an interesting run his final shot was a disappointment.
The final chance was for Udinese through Floro Flores, who headed the ball from inside the area in the 86th minute, but he couldn't get it on target.
Despite suffering another defeat, Udinese are still through as group winners, while NEC also qualify as the third-placed team in Group D. Tottenham Hotspur, who drew 2-2 at home against Spartak Moscow, finished second.
Danilo Pochini
Teams
NEC (4-3-3): Babos; Artola, Wisgerhof, Zomer, El Akchaoui; Sibum, Schöne, Davids; Ntibazonkiza (46' John), Van Beukering (90' Janssen), Bouaouzan. Coach: Been.
Udinese (3-5-2): Belardi; Coda, Domizzi, Felipe (23' Inler); Motta (69' D'Agostino), Obodo, Isla (62' Lukovic), Nef, Pasquale; Floro Flores, Sanchez. Coach: Marino.
Booked: Artola, John (N); Belardi, Motta, Pasquale, Sanchez (U)