PROFILE
By Chris Myson
Benfica are listed as second-favourites behind Juventus to win this season's Europa League ahead of the first-leg of their quarter-final tie against AZ on Thursday.
That is hardly surprising considering the talent Jorge Jesus' men have at their disposal, and this year the 2013 finalists have added a new attacking asset to their line-up – Serbian starlet Lazar Markovic.
Brought in from Partizan Belgrade in the summer, the 20-year-old has been a long-term target of Chelsea. The Serbian club's president even said he would be joining the Blues prior to his move to Portugal on a five-year deal and the player had previously spoken of his admiration for the Londoners.
"I know I can grow with the team," Markovic said after joining Benfica.
"I want to succeed, play in Europe and win titles. I come from a winning team and this style of play, always looking for goals and victories, is a style that my style of play will fit in well.
"I spoke with Nemanja Matic and he was telling me that Benfica are the club who have the most fans and are a very organised club with a lot of tradition."
Domestic rivals Porto are the European side who have become the benchmark for snapping up young talent, developing those players and selling them on at a profit, but after Matic's improvement and big-money move followed by Markovic's progress, it looks like Benfica are fast catching up.
On the face of it, a team like
Aguias
represents the ideal stepping stone for any talented starlet looking to make their name. The chance to play regular first-team football, playing in a side who are likely to win most of their matches in Portugal, is the perfect platform to build up confidence and experience European competition as well.
It is still reported that Chelsea hold a first-option to sign the youngster and if they do there is no doubt they will have been impressed with his performances this season.
Named in the Serbian SuperLiga's Team of the Season in the last two years before his switch, Markovic has been a long-term subject of scouting reports at the continent's biggest clubs long before his move this summer.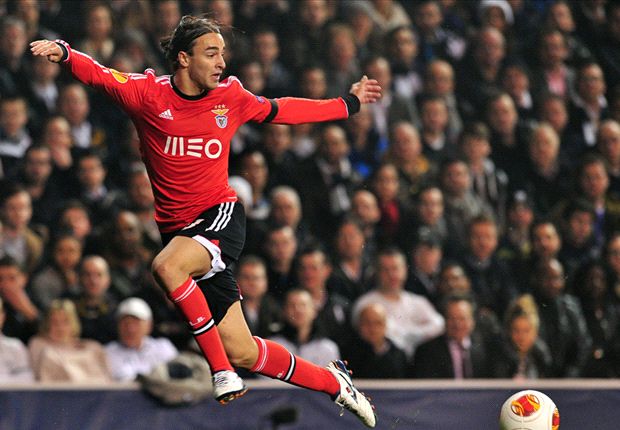 Making his Mark-ovic
| The Serbian starlet shone with a top display against Spurs
The 20-year-old is capable of playing anywhere in the attacking positions behind a main forward, most often on one of the wings, although he can also play through the middle and has operated as a striker for Serbia.
In this Benfica side, he - along with the likes of Nicolas Gaitan - provides the creativity for strikers like Oscar Cardozo, Rodrigo and Lima. Jesus is certainly not short of options going forward.
With seven goals already to his name this season, he played in four of his side's Champions League games prior to their elimination and netted against PAOK earlier on in the Europa League.
One of his best performances of the season came as Benfica defeated Tottenham 3-1 at White Hart Lane in the first leg of their last-16 tie.
Perhaps the first time he fully announced himself to a European audience, Markovic started on the right wing while often drifting infield and gave Kyle Naughton and Jan Vertonghen a torrid night as the visitors all but secured their progress with a surprisingly one-sided victory.
He impressed against Tim Sherwood's side with his passing range, pace, ability to emerge from tight spaces and maintain possession under extreme pressure - the sign of a strong technique.
But it is his dribbling prowess that is arguably his best attribute, highlighted by the stunning solo goal he scored in the Lisbon derby against rivals Sporting only a few weeks after signing, beating three defenders before slotting home a vital equaliser.
Markovic struck for Serbia, his second international goal, in their 3-0 win over Gareth Bale's Wales two weeks later as he started the season impressively – and he has continued to kick on from there.
There appears to be a perfect blend of youth and experience in the attacking ranks. Twenty-three-year-old Rodrigo, Gaitan, 26, and the likes of Cardozo and Lima (both 30) provide a dangerous offensive cocktail.
As Benfica close on the Primeira Liga title – they lead Sporting by seven points and Porto by a massive 15 – the Eagles are expected to progress past their Dutch opposition in a further step towards what could be an historic season for Jesus and his side.
"Our season is on a very positive path, but I still believe we can improve in all areas and we are taking nothing for granted," Jesus said last month.
"Markovic and [fellow new signing Guilherme] Siqueira have performed very well since they joined us."
Whether he is deployed from the start or comes off the bench as Benfica look to end their 52-year wait for a European trophy, Markovic is another impressive weapon in the armoury of one of the most dangerous teams left in the competition.
Follow Chris Myson on