Sad news hit the Nigerian football community on Monday when news filtered in that defender Olubayo Adefemi had died in a car crash in his Greek base. It was much sadder as the 25 year-old international was reported to be concluding plans for his upcoming wedding.
Olubayo, who moved to Skoda Xanthi in the Greek top division last summer had just made a return into the Nigerian senior team, the Super Eagles, with the appointment of coach Samson Siasia who had brought him through from the youth level.
Olubayo won a silver medal at the Holland 2005 World Youth Championship under Siasia. Three years later he was part of the Dream Team that won a silver medal at the Beijing Olympics.
His team mate in that Beijing squad and now right back for the Super Eagles Chibuzor Okonkwo expressed sadness to Goal.com concerning Olubayo's death.
"He was a friend and brother," Okonkwo said. "We played under the same coach. He was a nice guy and he was friendly with everybody. He was a nice guy."
Olubayo's progress from the youth squads had been consistent. He scored a goal in Nigeria's 3-0 victory over Morocco in the semi final of the World Youth Championship in Holland. He made a good showing even as Nigeria lost the final to Argentina 2-1 where Lionel Messi hit the limelight.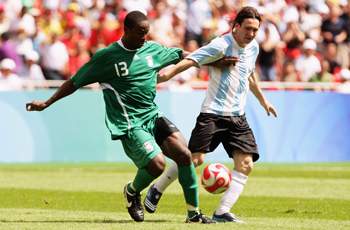 Adefemi marking Lionel Messi at the Olympics
He also scored a goal in the semi final victory over Belgium at the Beijing Olympics and once again it was Argentina, inspired by Messi, that ended his hopes of winning a first title with Nigeria.
He missed the World Cup in 2010, but was beginning to look like he was going to cement his place in the Super Eagles under Siasia before he passed away suddenly on Monday April 18.
Goal.com wish to extend their condolences to all those affected by the tragic loss of Adefemi Olubayo.