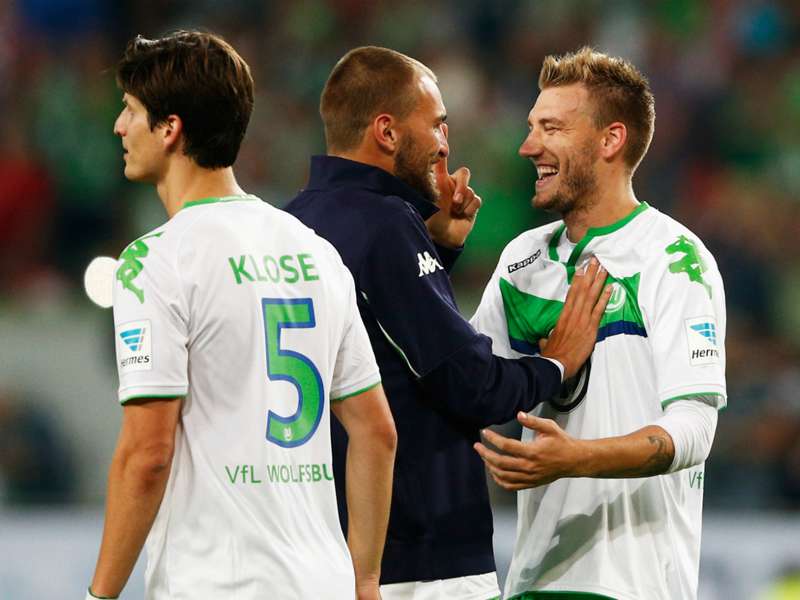 Bayern Munich goalkeeper Manuel Neuer offered praise to Nicklas Bendtner following his decisive finish in Wolfsburg's DFL-Supercup win.
The former Arsenal striker came off the bench to fire his side level in the 89th minute on Saturday, rifling high into the roof of the net from close range following Kevin de Bruyne's low cross.
Bendtner then stepped up to convert the final penalty in the shootout after Xabi Alonso had missed, ensuring another Supercup loss for Pep Guardiola's side.
"You have to admit that the cross was superb and Bendtner hits it great in the middle," Neuer said after the match. "This does not happen every day, so it is even more annoying it happened in the 90th minute."
Centre-back Jerome Boateng added: "We were by far the better team. It shouldn't happen that we concede a goal that stupid at the end of the match.
"We should have decided the game earlier. We are unlucky and this is upsetting. We played the game and they had more luck in the end."
Despite the defeat, head coach Guardiola saw plenty of positives in his side's display ahead of the start of the 2015-16 season.
"Titles are titles and we want to win them. Of course the Bundesliga, DFB-Pokal and Champions League are more important, but still, it's a title.
"We played well and had many chances in the opening 25 minutes. In the end we conceded one goal, and Wolfsburg did well.
"I am very satisfied. The performance, the passion, our attack. Now we recover and move forward. Always moving forward."
addResponsivePlayer('1wn75vfostk4e1313yu1kkgfaz', '90c3f911c1684c4f96b53843751b4bb7', '1knich3flgw331wcvwtqpy0afz', 'perf1wn75vfostk4e1313yu1kkgfaz-1knich3flgw331wcvwtqpy0afz', 'eplayer40', {age:1429631048000});