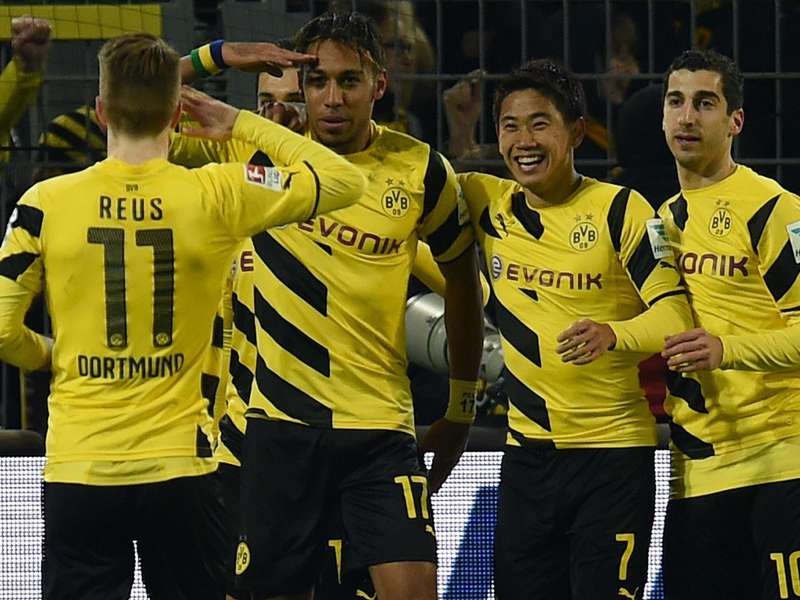 Pierre-Emerick Aubameyang says he and Marco Reus have an almost brotherly understanding after they conspired to fire Borussia Dortmund to a win over Stuttgart.
Aubameyang opened the scoring against the Bundesliga's bottom club on Friday before Reus added a late third to ensure a 3-2 win which takes Dortmund to 10th in the table.
With Jurgen Klopp's side having now won three times on the bounce, the Gabon international feels his partnership with Reus is beginning to flourish.
"The most important thing is the three points we are taking away. We have won three in a row, it's finally getting better," he told the club's official website.
"The goal we conceded, of course, was something stupid. But it's great and very important that we won.
"I have the full confidence of the coach and that's extremely important to me. I feel like he relies on me. Equally important is that I can act as a striker up front. I get the right balls there to be a goal threat.
"The interaction with Marco Reus is also very good. We understand each other very well, both on and off the pitch. If we get along privately, then that affects things on the pitch. We're almost like brothers."
Dortmund now turn their attention to a Champions League last-16 first leg against Juventus next week.
"Especially in the area, if we have scored and go ahead, we must stay focused," Aubameyang warned ahead of the trip to Turin. "Today that happened to us and Juve can do it under any circumstances.
"We have worked well and intensively over the past few weeks and we want to win the coming games."