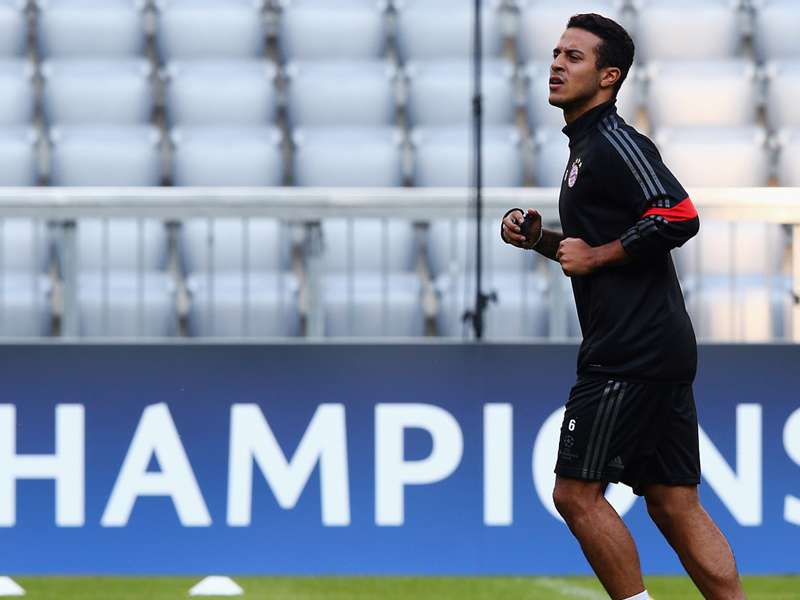 Bayern Munich midfielder Thiago Alcantara says he is "disappointed and desperate" after being told he faces another lengthy period on the sidelines, having suffered a serious knee ligament injury.
The midfielder is yet to feature for Bayern Munich in 2014-15 and has struggled with fitness issues ever since his move from Barcelona in the summer of 2013 having featured in just 16 Bundesliga games last season.
Thiago had returned to training but has suffered yet another problem and is expected to be out for a lengthy spell again as he will undergo surgery to repair the ligament tear.
"Very, very bitter news for Bayern: Thiago Alcantara has again suffered a serious injury while training on Tuesday," the club announced on their official website.
"He suffered a partial tear of the medial collateral ligament in his right knee. The 23-year-old midfielder must again undergo surgery and will be out longer-term."
Thiago was upset after receiving the news, but has pledged to fight back and return to the squad as soon as he can.
"What can I say?" he said on the club's official website. "Of course, I am profoundly disappointed and desperate at the moment.
"Why always me? But I will not give up. I will fight again. I'm going to get close again and I will celebrate my comeback at Bayern."
The Bavarian club's sporting director, Matthias Sammer, says the club has been shaken by the injury but insists the midfielder has their full support.
"We are all shocked and saddened by this re-injury," said Sammer.
"Thiago was so close to his comeback after a long time out but he knows that the whole of FC Bayern is there for him. We will do everything to ensure that he is healthy again and can bring us a lot of titles."