Given all the investment in the Bundesliga's youth academies over the last decade, it is no surprise when a young German player emerges with poise and tactical know-how to complement a wealth of talent. In recent years, fans have seen countless players leave the Moenchengladbach, Koeln, and other youth sides to become first-team players within months. But when a player rises from the fifth tier and takes the league by storm, it's a rare and exceptional case.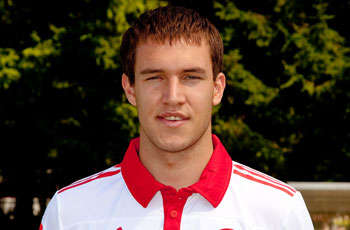 Meet Nuernberg centre half Philipp Wollscheid. In December, the Wadern native made his breakthrough at der Club, filling in for the injured Per Nilsson. He has since become a first-team regular and earned widespread recognition for his performances. In just 12 Bundesliga starts, the 1.94-metre tall defender has earned five nominations to both the
Bild
and
Spox
teams of the week, and has appeared four times in
Goal.com
's weekly Bundesliga best eleven.
Kicker
have rated his aggregate performances above all Bundesliga defenders but Dortmund's Mats Hummels. Indeed, in his somewhat limited play, Wollscheid has outperformed the likes of Neven Subotic and nearly the entire Germany national team defence. Take note, Jogi Loew.
"He's a bit like a young Mertesacker"
- trainer Dieter Hecking
Wollscheid's rise to prominence has been an improbable one. Born in the Saarland, there were no big local clubs for him to join, his talent went unrecognised. He spent the majority of his childhood playing in the countryside before joining 1. FC Saarbruecken, then a fifth-tier side but still the biggest club in his state, at age 18. There, he was unable to make his breakthrough as a midfielder; after die Molschder won the Oberliga Suedwest, he was deemed unready for the step up to the Regionaliga West (tier four). In 2009, he went to Nuernberg for a trial, and finally was given a vote of confidence and a three-year contract.
Upon his arrival, Wollscheid was a very unrefined player. Having spent his youth away from the Bundesliga's youth academies, he was far behind in certain aspects of his game. "Of tactics and defence I knew nothing," he told
Bild
recently.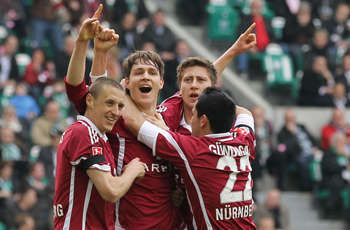 That all changed quickly as Dieter Hecking's faith in the now 22-year-old converted defender swiftly paid dividends. In less than 18 months, Wollscheid has made the leap from fifth tier to first team regular in the 1. Bundesliga. Gifted with an imposing physique, Wollscheid tackles well and is practically unbeatable in the air. He also has great anticipatory ability and his skill with the ball at his feet is suggestive of a midfielder.
"He's a bit like a young [Per] Mertesacker," Hecking has said of Wollscheid's attributes. But unlike the Germany international, the former Saarbruecken man has a good turn of pace.
Due in part to his isolation from the Germany youth system and his widespread perception as a developing player, Wollscheid has yet to garner much attention from Germany coach Joachim Loew or from potential club suitors. A dozen impressive starts make for a good foundation for him to build upon, but ultimately his value will be assessed in the big games. On Saturday, he has a chance to prove his doubters wrong as Nuernberg play host to local rivals Bayern Munich in the Bavarian derby. He's come a long way since leaving Saarbruecken and the Oberliga Suedwest. And if he convinces again in the Bayern match, he just might soon find himself in the Champions League.
Follow Clark Whitney on