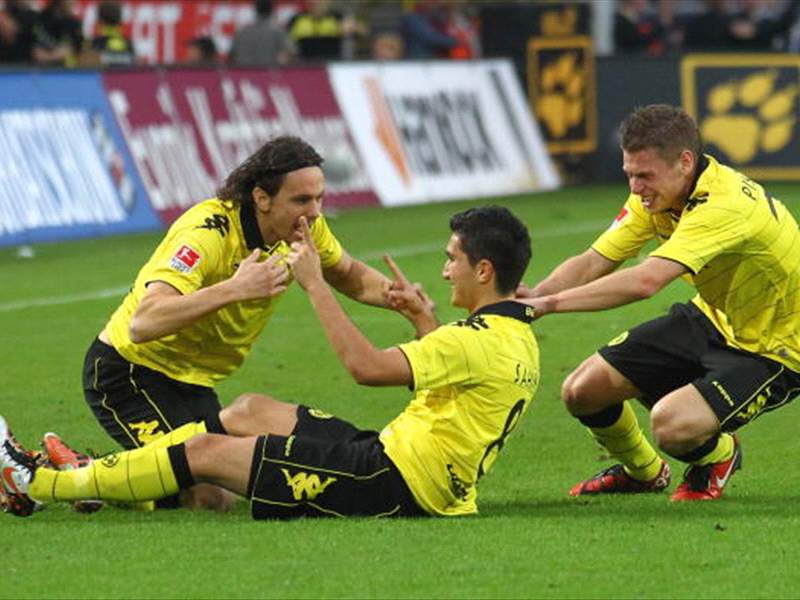 Goalkeeper

Manuel Neuer (Schalke)
–
Simply the best goalkeeper in Germany, if not the world. Schalke may have struggled this year, but the 24-year old has been one bright spot in die Knappen's campaign. His heroics - particularly against Bayern - have not only saved goals, but matches; without Neuer, Schalke would be much worse off. And with Bayern and Manchester United reportedly tracking him, die Koenigsblauen may soon face such a reality.

Defence


Neven Subotic (Borussia Dortmund)
–
The first of an all-Dortmund defence in our Team of the Season. His defensive partner, Hummels, may get more headlines, but great centre-halves come in pairs, and Subotic has earned his stripes this year. The 22-year-old plays the deeper role of the two, assessing what to do as Hummels takes on headers, and allowing his partner to play the ball out from the back. The Serbian earns top honours today for his ability to read the game, his decision-making, and of course his dominance both on the ground and in the air.

Mats Hummels (Borussia Dortmund)
–
At just 22 years of age, the centre-half has become by far and away the best defender in Germany. Hummels is an absolute brick wall at the heart of a Dortmund defence that has conceded just 10 goals thus far. In another era, the former Bayern man could have been a model sweeper: his marking is always spot on, his tackling is immaculate, but Hummels also has the soft touch of a midfielder and can serve as an auxilliary attacker.

Marcel Schmelzer (Borussia Dortmund)
–
His solid performances earned a first cap for Joachim Loew's Germany squad in November, and today we honour Schmelzer as the top full-back in the Bundesliga thus far. The 21-year-old has rarely been caught out of position as his team's remarkable goals against record can reveal. What's more, Schmelzer has made a habit of bombing forward, providing much-needed width as Mario Goetze has played more narrowly than the traditional winger. Schmelzer's positional sense is not to be underestimated – his understanding of the game and balance of attack and defence make him the ideal full-back.
Midfield

Sven Bender (Borussia Dortmund)
–
Called upon to play the midfield co-anchor alongside Sahin in the absence of injured skipper Sebastian Kehl, the 21-year-old has been a surprise star. Bender is a perfect complement to Sahin; he takes on all the traditional duties of a holding midfielder, but is also very comfortable on the ball. For perspective on the former 1860 man's prowess in defence, consider this: despite averaging well over 10 50-50 situations per game, he has only earned one yellow card. That's a tremendous amount of action for such rare mistakes. When Kehl returns to full fitness this spring, he will have to put in a Herculean effort to displace Bender.

Nuri Sahin (Borussia Dortmund)
–
On their way to a near-record-setting fall campaign, Dortmund have had a tremendously strong backbone in Sahin. The Turkish midfielder has a certain elegance about him that only affords heaps of confidence in his ability; he distributes the ball with uncommon accuracy and vision, has an uncommon work rate, defends well, and is almost always within 10 yards of the ball. And with four goals and six assists to his name, the defensive Sahin has also proven to be a formidable threat in the attacking third. Before the season, he said he could play at the level of Bastian Schweinsteiger. Certainly, he has done just that. Player of the season thus far.

Arturo Vidal (Bayer Leverkusen)
–
While they may not have been quite as consistent as the leaders, die Werkself have had an excellent fall campaign, and like Sahin has for Dortmund, Vidal has been a dominant force in the centre of the Leverkusen midfield. The 23-year-old Chile international is a mixture of silk and steel; he tackles hard and wins his challenges, but also has a good eye for the pass: from a deep position, he has already scored eight goals and added five assists.

Shinji Kagawa (Borussia Dortmund)
–
Perhaps the biggest bargain in all of Europe. The gifted playmaker joined Dortmund from second division Japanese side Cerezo Ozaka for just €350,000 in the summer, and has by far exceeded all expectations. The 21-year-old has recorded eight goals and an assist, but is more than just a scoring threat. Kagawa pulls defenders out of their natural habitat, dribbles his way into threatening positions, and has an uncanny ability to draw fouls. With him as the attacking focal point, it's no wonder that Dortmund have already scored 39 goals.
Attack

Didier Ya Konan (Hannover)
–
It just wouldn't be the Team of the Season without a Hannover representative. Just over half a year after narrowly avoiding relegation with 33 points, die Roten are fourth in the table, having earned 31 points. Full credit goes to the incredible Ya Konan, who has played a hand in 13 of his team's 25 goals, scoring nine and assisting four more. Perhaps most amazing is the fact that the Ivorian scores most of his goals with minimal support; with playmaker Carlitos injured for the entire fall term, Hannover have all but completely bypassed the midfield and resorted to sending long balls forward on a hope and a prayer. Time and time again, Ya Konan has answered.

Theofanis Gekas (Eintracht Frankfurt)
–
He hardly does anything but score goals, but Gekas does his job quite well, and makes our Team of the Season for it. While his form has decreased somewhat in recent weeks, the Greek striker still has scored 14 goals from just 42 shots, making him one of the most lethal hitmen in all of Europe.

Papiss Cisse (Freiburg)
–
At the start of the season, who would have thought that through December Freiburg would be sixth and the Bundesliga's second most prolific scorer would be Papiss Cisse? The answer: a very rich man. Cisse was never expected to be such a ruthless threat in front of goal, but the Senegalese striker has carried his team time and time again, and recorded 13 strikes in the process. His progress has not gone unnoticed; in recent weeks, the 25-year-old has attracted the interest of several clubs abroad.
Neuer

Subotic - Hummels - Schmelzer

Vidal - Bender - Sahin

Kagawa

Ya Konan - Gekas - Cisse