When it was revealed that Arjen Robben would miss the entire fall campaign with a nasty hamstring tear, Bayern Munich were livid. After being forced to play through injury at the World Cup, the talismanic winger returned broken, not as he had left the club in May.
For the last two months, Bayern and the KNVB (Dutch football association) have been locked in a heated dispute over responsibility and compensation for the absence of the player, who resumed jogging earlier this week.
In honour of Robben's return to the training ground, this week's debate topic is:
Could Arjen Robben's hamstring injury be a blessing in disguise for Bayern?
Affirmative
by Clark Whitney
At face value, the answer to this week's debate prompt is a no-brainer; Bayern are a worse team without Robben, so how could they benefit from his absence? It is, however, a complex matter; the often-belittled matter of fatigue is a major issue.
Consider Wesley Sneijder. After playing 41 matches for Inter, and throughout the World Cup with the Netherlands, the playmaker is physically at breaking point. He has been fortunate not to sustain any structural damage as of yet, but the 26-year-old's body is beginning to reject exertion. Sneijder's explanation of his half-time substitution in last Saturday's draw with Brescia speaks volumes of a player who has been pushed beyond his physical limits.
"Five minutes before the end of the first half I started shaking and felt pain all over my body," he told
De Telegraaf
. "It was something I had never experienced before."
"The conclusions were that I am anaemic and my whole body is very tired. I need plenty of rest."

As Peter Staunton wrote on Wednesday
, the number of injured and underperforming stars in today's game suggests that there is just too much football. Because fatigue is given such little consideration, sometimes sustaining a structural injury is the only way to avoid complete exhaustion.
Before he returns, Arjen Robben will have missed Bayern's entire fall campaign with a hamstring tear. Assuming there are no further setbacks, when he resumes play in January, it will take him some time to find his rhythm and rediscover the form that made him the world's most decisive player in 2009-10. Having had a full six months to recharge, however, he will be physically and emotionally prepared for a grueling spring campaign. The likes of Sneijder, among others, will continue to battle fatigue throughout the season.
So long as there are no slip-ups in next month's DFB Pokal match, die Roten will be alive and well in three competitions when the Dutch winger returns. They have already reached the round of 16 in the Pokal, and proven their class on the continental stage with wins in all four of their Champions League matches thus far. When Robben returns, he will be fit and ready to play in the matches that matter; those in which his class and decisive nature cannot be replicated by any Bayern player.
Admittedly, the Bavarians have suffered without Robben; their odds of retaining the Bundesliga title are becoming very slim. However, a top three spot is entirely attainable, with just five points separating Bayern from rivals Leverkusen. In a more ideal world, Robben would have missed perhaps a month or two, but not the entire first half of the season. However, fate delivered a less-than-ideal situation, and the Dutchman had to miss the fall campaign. Still, if Robben returns rejuvenated in January and takes the continent of Europe by storm, his absence just might prove to be a blessing in disguise. After all, what fan wouldn't trade a domestic title in exchange for a Champions League trophy?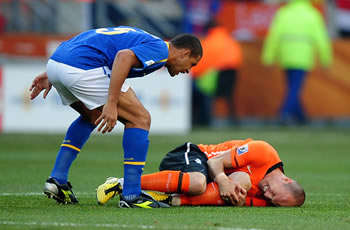 Negative

by Luke Matthews
The news this week that Arjen Robben has returned to light training and is pencilled in for a first team return in January will surely be music to the ears of all Bayern Munich supporters. The Bavarian club have struggled in the Bundesliga this year and currently sit in ninth position with 16 points from 11 games. Even worse is the fact that van Gaal's men are a massive 12 points behind leaders Dortmund who show no signs of dipping in form.
Die Roten have been suffering from a crippling injury list with Robben and Franck Ribery being sorely missed especially with the team struggling in front of goal. The Dutch dribbler's imminent return could very well provide the catalyst to reignite Bayern's flailing season but to suggest his absence in the first half of the season as a 'blessing in disguise' is quite simply laughable.
The former Real Madrid winger proved to be a sensational buy last season and was Bayern's best player as he played a huge role in winning the Bundesliga, DFB Pokal and reaching the Champions League final while also picking up Germany's footballer of the year honour. He also managed to score a phenomenal 23 goals last season from out wide and it's this ruthlessness in front of goal that the Bundesliga Champions are so badly missing. 15 league goals is simply not good enough for a side of Bayern's stature especially when you consider the amount spent on attacking talent in recent years.
However, who is to say Robben will return to the form he was in last season? The 2009-10 campaign was arguably the speedster's finest of an injury-plagued career. His ability to avoid a lengthy spell on the sidelines through injury last season can be directly linked to his excellent form on the pitch.
The fact of the matter is that Bayern are a huge club and with this comes huge expectations. Failure to win the Bundesliga would be seen as a poor campaign and if the club were to finish the season completely empty-handed would be a travesty to the team's huge fanbase. To be successful any team require their star players fully-fit and firing on all cylinders. Bayern simply have not had that
Only time will tell whether the talismanic attacker can have a real positive impact on his club's season but time is ticking. The earliest the player will return is January and after missing six months of action it will surely take him a while to reach the levels we all know he's capable of, and by this stage Bayern's Bundesliga dreams could be over. Surely then supporters of the German giants will be left wondering how it could have been all very different if Robben had been jinxing his way down the wing and terrorising defenders from gameweek one.