"For me, the Bundesliga is the hardest and most balanced league in Europe" - Felix Magath, following Schalke's draw with Eintracht Frankfurt.
When your team is in last place, it's always a bit convenient to talk about how competitive a league is. But in the case of the above quote, there is more than just a grain of truth.
Around this time last year, Bundesliga teams in Europe were outperforming Serie A representatives to the point where discussions began of the Germans taking an extra Champions League spot from the Italians. Those speculations proved fully justified; Serie A dodged a bullet thanks to crisis-stricken Hamburg's Europa League collapse against Fulham, and Bayern Munich's loss to Inter in the Champions League final.
The Bundesliga's failure proved to be nothing more than a blip, a momentary postponing of the inevitable, in order to maintain current order, Serie A teams need to make up a UEFA coefficient difference of 6.432 between now and May. To put this figure into perspective, it means that all six Bundesliga representatives would have to exit the Champions and Europa Leagues in the first knockout round, and that Serie A would need at least a couple of semi-finalists.
Based on form, the probability of either occurring is about as high as
Goal.com's
Carlo Garganese admitting that the gap between Milan's domestic and European performance is in any way indicative of Serie A's decline. The combined probabilities of the Bundesliga failing and Serie A representatives simultaneously becoming world beaters are on the order of
Goal.com's
Kris Voakes visiting the Suedtribune of Dortmund's Westfalenstadion. In other words, approximately zero.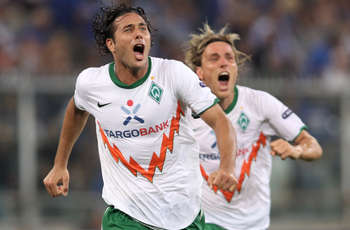 For now, Bundesliga fans can look on to the next rivals: La Liga. The
2010-11 coefficients
show a sizeable difference that must be made up. However,
in a year's time
, La Liga's outstanding 2006-07 results will be out the window, and if current results hold, the Bundesliga will be second only to the English Premier League.
Ever since the Bundesliga showed up in Serie A's rearview mirror, naysayers have picked their talking points: German teams haven't won a major European trophy since 2001; only Bayern can compete in the Champions League; the Bundesliga relies on the UEFA Cup (now Europa League) success to remain in the running.
As a continuation of last season's outstanding performance in Europe, one by one, the Bundesliga is disproving all of the once valid points listed above. Thus far, German teams have earned 16 points in Champions League play, two more than those from Italy, and four fewer than representatives of Spain. The Germans may not have quite matched their Primera rivals in performance during the group stage, but did in qualifiers: Werder Bremen beat Sampdoria in August, whereas Sevilla failed to secure a group stage berth after losing to Braga. The only hurdle that Bundesliga teams have failed to clear in recent years is that of a major final. The sceptics will hold onto this fact to the bitter end, but given the German league's continued progress, as well as the decline of many traditional powers (particularly those in England and Italy), it is only a matter of time before a Bundesliga side wins either the Europa or Champions League.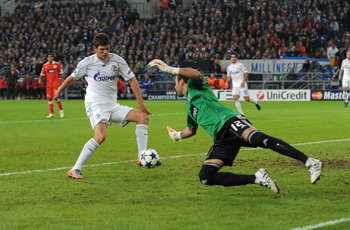 Some say that inconsistencies in the Bundesliga table prove that there are no great German teams - only several mediocre ones. But maybe Magath is right; perhaps Germany's top flight does indeed contain several top teams, and is simply competitive in all parts of the table. Continental results suggest as much: while Milan, for example, are stellar in Serie A but have left much to be desired in Europe, teams like Stuttgart and Schalke have proven just the opposite. Flirting with relegation domestically, each side is well positioned to advance to the knockout rounds in European play. The fact that Schalke, 16th in the Bundesliga, comfortably beat Portuguese champions Benfica is only exceeded in impression by the fact that Stuttgart, last in domestic play heading into Thursday's match with Getafe, beat the mid-table Spanish side rather comfortably.
Bundesliga fans rejoice; your time is nigh. With UEFA's financial fair play rules set to go into effect in 2011-12, Germany's sound economic model will flex its debtless muscle. It's been 26 years already, but when the Bundesliga eventually re-establishes itself as Europe's top league, it will be all the sweeter.
Player of the Week:
Didier Ya Konan, Hannover
Goal of the Week:
Didier Ya Konan, Hannover 1-0 Koeln
Match of the Week:
Bayer Leverkusen 0-1 Mainz
Points of Discussion:
- A special round of applause goes out to Claudio Pizarro for overtaking Giovane Elber to become the Bundesliga's all-time leading foreign goal scorer. The Peruvian netted his 134th league goal with typical predatory instinct after Wesley's exquisite cross, and Bremen beat Gladbach 4-1. Bayern and Hamburg, among others, could really use a guy like him.
- Speaking of Bayern and Hamburg, the rivals from opposite latitudes in Germany played to an all-too-predictable scoreless draw on Friday. The game was played tightly, and with both midfields and defenses in fine form, neither side was ever going to score. Mario Gomez was back at his mythical worst, and Ruud van Nistelrooy was never going to score against the impressive pairing of Holger Badstuber and Anatoliy Tymoshchuk.
- Dortmund got another last-gasp goal, this time from Antonio da Silva. It was only enough to earn the Ruhr side a point against Hoffenheim, who held the lead for 82 minutes. Throughout that time, and increasingly towards the end of the game, BvB looked panic-stricken. They scrapped their normal, technical game in favour of a more desperate, long ball-based strategy, which had very little success.
Nuri Sahin, arguably the Bundesliga's best player to date, had his worst match of the season, and showed his inexperience by rushing free kicks and corners. He played a brilliant ball to tee up Lucas Barrios in the 61st minute, but afterward, resorted to little more than punting the ball inaccurately towards the penalty area. To Dortmund's fortune, the Turk was wise enough to allow the much more composed, experienced Da Silva (a brilliant substitution by coach Juergen Klopp) to take the late free kick that leveled the score.
Though one of the Bundesliga's finest teams on paper, Dortmund may be a bit too naive to win the title. They've shown it in the Europa League by blowing leads against Karpaty Lviv and PSG, and by dominating their match with Sevilla but ultimately losing. In full throttle attack mode, BvB are the most prolific scorers in the Bundesliga. But when managing a lead, they often falter. When playing from behind, they quickly lose their confidence and shape, and accordingly, their precision.
- Dortmund's dropped points left the door open for Mainz, who made no mistake rebounding from a rare loss by winning away to Leverkusen. It was a great game, and the hosts would have deserved a point, but Mainz did just enough to take three points. They showed strength in depth, too: Sami Allagui did very well to create the game's only goal, scored by substitute Andreas Ivanschitz.
- Zvonimir Soldo became the second coaching casualty of the Bundesliga campaign, and may not be the last. Koeln dismissed the Croatian gaffer after 16 months in charge at the club. During his reign, Soldo, a former centre half, imposed a defence-first strategy that resulted in too many losses and draws, and far too few victories for the club to achieve its full potential. For now, Frank Schaefer will now fill in for Soldo; in the long term, Thomas Doll, Christoph Daum, Ottmar Hitzfeld, and yes, even recently sacked Stuttgart Christian Gross, are possible candidates for the job.
Follow me on Twitter