In this day and age, it's refreshing to see a team resist the temptations of heavily buying into an inflated transfer market. After Manchester City put the price tag of mediocrity at around €25m, there are few good deals in today's market.
But with that being said, if given the financial means, an ambitious team has no excuse not to correct any glaring faults it has. Even if it costs a little extra, progress should be considered worth a moderate investment. For the second time in three years, financial giants Bayern Munich have deemed their squad "good enough" to win the Bundesliga, and have stagnated while the competition has only improved.
And improved is has. While many of the anticipated title favourites struggle, teams like Mainz and Dortmund have come out of the woodwork as clear leaders. In May, it would have been a foolish gamble to tip Mainz to beat Bayern in Munich. A couple days ago, the odds of a victory for the "oh fives" were much more favourable. And indeed, Mainz outplayed Bayern on Saturday, and took a deserved three points.
While the league leaders deserve full credit for their incredible start to the season, I'm not going to use this space to reiterate previous comments (related reading
here
,
here
, and
here
).
Instead, I'll use this forum to call out Bayern coach Louis van Gaal for what can only described as hubris. They may have won the domestic double and nearly the Champions League in 2009-10, but die Roten have longstanding problems that were not addressed during the summer.
To begin with, Bayern have long looked awfully susceptible in central defence. Though generally a reliable defender, Martin Demichelis has periodic mental lapses that are unforgivable at the highest level, and as we have seen in almost every domestic game this year (not to mention the Champions League final), Daniel van Buyten simply lacks the agility and pace to defend in one-on-one situations. The Van Gaal faithful have tipped Breno to gain a starting role in the near future, but even if he turns into a world class centre half, it's a tremendous risk to put so much faith in an unproven 20-year old who is returning from ACL surgery. The one exception in central defence is Holger Badstuber, who is a diamond in the rough. Even so, he needs a reliable, classy partner.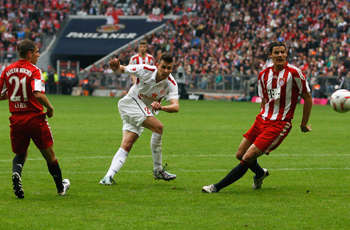 Then there's the issue of fullbacks. Though implored by the Bayern management to choose a suitable signing, Van Gaal decided not to make a bid for Fabio Coentrao (overpriced but attainable), Gregory van der Wiel (less overpriced), or Martin Caceres (reasonable value). Perhaps Van Gaal's decision was due to the fact that his two previous signings (Edson Braafheid and Danijel Pranjic) have failed to impress at left back. Or maybe it was because he felt he could turn Diego Contento into the next Holger Badstuber/Thomas Mueller. But whatever the reason, it's fairly evident that Bayern could use some improvement on whichever flank is opposite Philipp Lahm. Contento has been good, but nothing amazing, and his error that led to Hoffenheim's opener last week was elementary: the first rule to being a defender is not to lose the ball deep in your own half. That Van Gaal was tipped to replace Contento with Pranjic ahead of the Mainz match (even before the former picked up an injury) just goes to prove that the coach understands his mistake in not making a signing.
Like that of the fullback, the goalkeeper position was also one Bayern considered reinforcing during the offseason, and for good reason. I've said it before, so I'll keep it brief: Hans-Joerg Butt is good at making difficult saves, but his distribution is often a bit careless, and he puts himself (and his defenders) in unnecessarily tight positions. Plus, he's not getting any younger. Bayern really could have used a Manuel Neuer, or even Pepe Reina (who is now linked with a move to Munich) in their squad ahead of this season. Though admittedly, Butt is not a bad option. But a long-term solution must be considered in the near future.
But easily the most important area where Van Gaal absolutely must have improved his team was in attack, particularly the centre. Sure, Bayern were outstanding going forward last year, but as an experienced coach, Van Gaal should have known better than to expect the same form from his current team.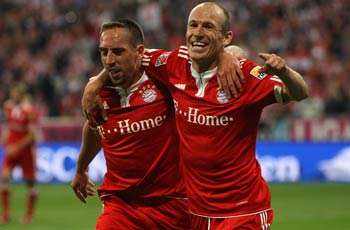 To begin with, a tremendous amount of pressure was riding on Arjen Robben, and to a lesser extent, Franck Ribery, heading into this season. Last year, Bayern were anything but prolific before Robben reached full fitness and began scoring for fun in the spring. The fact that he, from a right midfield position, led the team in goals underlines how unsustainable Van Gaal's attacking plan really is. Add in the fact that he's spent most of his career sidelined with injuries, and you have a disaster waiting to happen.
Some might claim that as a goal-creating force, Ribery was Van Gaal's planned backup for Robben. If so, that was not the wisest choice either. Ribery has struggled for consistent fitness in the last two years, and his style is distinctly different from that of Robben. He can dribble well, but the winger has lost the explosiveness he once had, and his sleight stature makes him a far lesser threat than Robben. If necessary, a defender can take down Ribery and likely avoid a booking due to the Bundesliga's rather lax refereeing standards. A much less direct player than Robben, the Frenchman looks to pass rather than to shoot, and therefore requires something that Bayern lack: a striker who can put the ball in the net.
And now comes the greatest personnel problem at Bayern: the centre forward position. I said it last year, and had many doubters, but maybe the current context will convert the disbelievers: Bayern don't have a reliable centre forward. And it's so true: excluding the hilarious and totally undeserved own goal Mainz scored on the weekend, Bayern have managed only four goals (zero from the striker position) in six matches. And in a system so forward-minded as that of Van Gaal, you absolutely must score goals.
Looking at the roster, Bayern have two strikers who can have their moments of brilliance, but cannot sustain their form over the span of a year. Miroslav Klose is capable of performing for Germany only; domestically, he's scored 23 goals in 81 appearances in more than three years at Bayern. You hope for that kind of tally in just one season for the main striker at a top club. The other option, Ivica Olic, has never been a main striker in a 4-2-3-1 system like that of Van Gaal; at Hamburg, he was as much a left winger as a centre forward, and everywhere he has played, he has had a capable partner in attack. Like Klose, Olic can summon tremendous focus in big games (he scored seven goals in the Champions League last year), but cannot maintain that kind of form on a week in, week out basis. While he was decisive in the Champions League, Olic managed a modest 11 strikes in 29 Bundesliga appearances during his first season in Munich.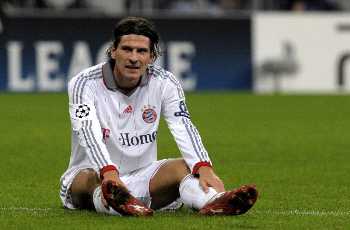 The third option is Mario Gomez, who has been lost in the woods for a couple years now. Previously known for his predatory instinct, and not his ball-retaining abilities, Gomez was never the kind of player that Van Gaal wanted. At the same time, you'd think that he'd be given some amount of playing time. After all, he can't be much worse than Olic and Klose, who both have yet to score in the Bundesliga. Gomez, too, is scoreless, but he has only been given about 15 minutes to make an impression in each of his five substitute appearances. When Bayern struggled last fall, Gomez was one of the few players in any kind of form, though it took him a couple games to find his rhythm.
In fairness to Van Gaal, he had a tricky situation entering this season. He couldn't sell Gomez to Liverpool because it would be all too cruel to send a player packing after just one season, and would have undermined the club's philosophical mantra. It also might have been a bit calloused to bench Klose after his fine World Cup performance with Germany. And Olic, who has always worked so hard and did quite well last year, at least deserved a chance in 2010. Still, Van Gaal should have known he was setting himself up for potential disaster.
During the summer, any decent striker with a predatory instinct would have been a welcome imporovement. Take Edin Dzeko, for instance. His Wolfsburg were dominated by Hamburg last week, and probably should have lost. But instead, the Bosnian scored on his team's only chance of the first half, and Wolfsburg went on to win 3-1. Bayern had a couple chances to score early against Mainz, but failed to put them away, and it showed in the final score. Sure, Dzeko would have come at a hefty price, but a Klaas-Jan Huntelaar, Claudio Pizarro or even Hugo Almeida-type player would be a welcome improvement at Bayern. Such a player would have come on the cheap and provided insurance, in case Olic, Klose, and Gomez were to struggle. Instead of such a back-up, Van Gaal is now using centre half Daniel van Buyten as his "last resort" striker.
At the moment, alarm bells should be ringing in Munich. Van Gaal justly has no trust in any of his strikers, and right now is grasping at straws. Toni Kroos has been used in all three attacking midfield positions, Thomas Mueller on the right and in the centre, and even Klose has been positioned in the #10 role. And to date, no combination has worked.
In spite of recent results, and in a move reminiscent of Raymond Domenech's marriage proposal at the end of Euro 2008, Bayern proposed a one-year contract extension, which Van Gaal signed on Monday. The coach may not be close to deserving a sacking, but at this point in the season, it was surely an unwise decision to offer an extension.
The last time Bayern decided to remain quiet in the transfer market was in 2009. Their fate was their second lowest points tally since the shortened 2000-01 season, and the embarrassment of spending most of the season chasing a stunningly mediocre (and now-relegated) Hertha Berlin. Perhaps the return of Robben in January will spark a comeback, but by that time, it may already be too late. On Saturday, Van Gaal claimed that "Mainz can be champions." Some may call it mind games, but the way I see it, there's a hint of "Bayern cannot be champions," nestled within those words.

Goal of the Week:
Sami Allagui, Bayern Munich 0-1 Mainz
Match of the Week:
Bayern Munich 2-1 Mainz
Player of the Week:
Lewis Holtby, Mainz
Points of Discussion:
-Werder Bremen came out the better side in Saturday's Nordderby against Hamburg. At the start of the match, Thomas Schaaf used what appeared to be a ludicrously attacking formation with only Torsten Frings in holding midfield, and attackers Marko Marin, Aaron Hunt and Wesley supporting strike pair Claudio Pizarro and Hugo Almeida. In practice, this was not the case; Wesley showcased his versatility and outstanding athleticism by playing in a Sami Khedira-type role: he took "box-to-box" quite literally, and was able to do so with use of an outstanding work rate. Shortly before the break, Clemens Fritz was injured, and Wesley moved to a right back role, to which he adapted almost instantaneously.
After Wesley set up Hugo Almeida's winner, coach Thomas Schaaf praised the Brazilian before adding, "If he didn't have such small hands, I would use him even as a goalkeeper."
It's funny that he mentioned it, because I wouldn't put it past Schaaf to use an attacking midfielder as a goalkeeper.
-Mainz won again (on Tuesday) and again (on Saturday). I won't repeat myself or my colleagues, but there are two facts worth noting:
1) Lewis Holtby now has scored twice and added five assists in six matches. The 20-year old, on loan from Schalke, also announced on the weekend that he intends to play his international football for Germany (the country of his mother) rather than England (that of his father).
2) If they beat Hoffenheim on Saturday, Mainz will have equalled the best start in Bundesliga history.
-Dortmund also won again (5-0 against Kaiserslautern), and again (3-1 away to St Pauli) to remain just three points off the pace of the "oh fives." Each match, one or two among their attacking tandem seems to pull off a virtuoso performance. In midweek, it was Lucas Barrios and Kuba. On Saturday, it was Shinji Kagawa and Kevin Grosskreutz. The consistent top performer is Nuri Sahin, who at the moment is comfortably the greatest midfielder in the Bundesliga, and one of the best in Europe. BvB face Bayern next week and Mainz in late October, but in the meantime, check out Thursday's Europa League match against Sevilla.
-Injury-hit Leverkusen also gathered momentum heading into Thursday's clash with Atletico Madrid, after beating Frankfurt and Stuttgart in succession. They may have been without Stefan Kiessling, Patrick Helmes, Michael Ballack and Simon Rolfes, but die Werkself hammered Stuttgart by a 4-1 margin on Saturday, and moved to within four points of Dortmund. Rolfes and Helmes are likely to take part in the Atletico match, which will be a form check.
-Wolfsburg extended their streak to three wins on the bounce since coach Steve McClaren scrapped his 4-2-3-1 system in favour of 4-3-1-2. Having been reintroduced into the starting line-up, Grafite has struck a rich vein of form, netting a brace in each of his last two matches.
-Since my last edition, Schalke have earned their first four points of the year, edging ahead of Stuttgart! They may be hopelessly behind the pace to win the Bundesliga, but their form is rapidly improving ahead of Wednesday's Champions League tie with Benfica. Raul scored his first Bundesliga goal on the weekend, but more importantly, goal machine Klaas-Jan Huntelaar netted for the third consecutive match. If he maintains his form, die Knappen could soon realise their potential.

Follow me on twitter.