After six rounds of matches in the Bundesliga it is not Bayern Munich who are leading the way at the top of the table. It is not Werder Bremen either. Steve McClaren's Wolfsburg, who added Diego to an attack which already contained Edin Dzeko and Grafite last summer, cannot keep pace with the current table toppers. Moreover, all of the above clubs, German heavyweights, have been turned over at home by the surprise pace-setters, 1. FSV Mainz 05.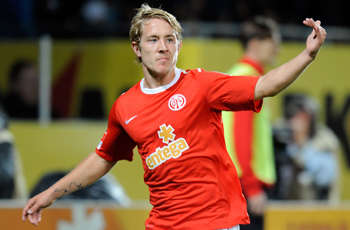 Lewis Holtby |
An example of 05's fresh young talent
The Oh Fives have taken the Bundesliga by storm, despite a modest budget and little indication that they were about to propel themselves towards the summit of Europe's most competitive league. Their weekend win, a sensational 2-1 smash and grab at the Allianz Arena, even had Louis van Gaal claiming that Mainz were now to be considered genuine title contenders. Earlier in the season they signposted their credentials with a 4-3 win at die Wolfe after coming from three goals behind. Should they defeat Hoffenheim next week then they will have equalled the record for the best ever start to a Bundesliga season - seven straight victories.
For a side of little historical significance and a team lacking in 'star' quality, it is some achievement. Even more so considering the budget with which the club has had to work, reportedly only €17 million per season. The likes of Lewis Holtby, Christian Fuchs, Morten Rasmussen, Adam Szalai, Sam Allagui and Marco Caliguiri were added either on loan or for peanuts over the summer campaign while inspirational former midfielder Tim Hoogland and the tempestuous but talented Aristide Bance were permitted to depart. The new recruits and those already on the books have been moulded into a team or more accurately, several teams by the Bundesliga's outstanding young coach, Thomas Tuchel.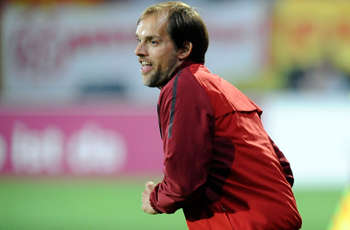 Thomas Tuchel | Orchestrating Mainz's rise
The 37-year-old Tuchel had a modest playing career even before it was curtailed by a knee injury and earned his stripes as a youth coach for the best part of the last decade. He worked with Stuttgart's under-19s and spent some time at Augsburg before arriving at Mainz in 2008. Tuchel was in charge of the under-19s but replaced Jorn Andersen when the Norweigan was dismissed from the senior post in August 2009 upon the side's promotion to the top flight. Under Tuchel they were strong at home, losing only twice, and bloodied the noses of the aristocrats too, defeating Bayern, Borussia Dortmund and Hamburg among others during the season to finish ninth.
This season Tuchel has augmented his reputation. He has deployed his troops in various formations, depending on the opposition, with emphasis on exploiting the weaknesses in the foes' ranks. He has not been daunted by the prospect of altering the shape of his side or even the personnel. Indeed, Mainz made five changes to the side which defeated Koeln in midweek for Saturday's game against FC Hollywood, which was characterised by high pressing.
Tuchel's tactical blueprint is adapted with each passing matchday; his side have lined up in a 4-2-3-1, 4-3-2-1 or a 4-3-1-2 depending on the opposition with key attacking players rotating in and out of the line-up. For example, midweek matchwinner Holtby began proceedings on the bench but was introduced to alter the texture of the game.
In this respect it is difficult for opposition scouts and coaches to pin down Mainz's gameplan in advance so they have been able to catch teams napping. The coach allows his players their say in tactical discussions and, as a relatively young trainer with experience with some of this charges at youth level, speaks their language. He seems to have achieved the ideal balance of approachability and respect.
Like all 'up-start' teams Tuchel will find it impossible to keep this band of players together for a significant length of time. Playmaker and one of the Bundesliga's standout players, Andre Schuerrle, has already agreed to join Bayer Leverkusen next season, while Fuchs and Holtby are only temporary signings.
Nonetheless, with the right mix of brains and balls Mainz could yet make an indelible mark on this season's German league.