It is a great surprise, however pleasant, to witness Mainz towering over Germany's finest after the first five matchdays of the 2010-11 Bundesliga season. With five wins from five for die Nuellfunfer (Oh Fives), Thomas Tuchel has led the club to their best ever start to a season. Their ascent is reminiscent of that of Hoffenheim two seasons ago and it is remarkable how, in a league filled with so many competitive sides, the lesser lights can still shine.
FSV Mainz 05 were formed on March 16, 1905 as the name suggests and adopted their current game in 1919 after reforming following the end of World War I. The club is based in the southwestern German city of Mainz, in the German 'Land' Rheinland-Pfalz, of which it is the capital. Their nearest Bundesliga rivals geographically are Eintracht Frankfurt and Kaiserslautern, against whom they play the Rhein derby.
Mainz were not a founding member of the Bundesliga in 1963 and would have to wait until the next century to take their first steps in Germany's top flight. In the meantime, they won the German Amateur Championship in 1982, the only title in the club's 105-year history. They gained promotion to the 2. Bundesliga in 1990 and finally reached the big time in 2004 when they grabbed the third and final promotion place on goal difference ahead of Energie Cottbus.
They are now in their fifth season in the Bundesliga, having experienced relegation and a second promotion. It has certainly been a roller-coaster ride for Mainz, as they even managed to qualify for the UEFA Cup, via the Fair Play route, in 2005-06. They navigated the qualifying rounds but were knocked out 2-0 on aggregate by eventual winners Sevilla. Their first European sojourn put them on the map and Mainz are certainly a club who are going places. They finished a superb ninth on their return to the Bundesliga last season despite having the smallest average attendance in the league (19,854). However, they did fill on average 98.29% of their 20,300 capacity Bruchwegstadion, a figure bettered by only champions Bayern Munich and runners-up Schalke 04. They plan to move into the 33,500 capacity Coface-Arena in 2011.
Mainz currently sit top of the Bundesliga ahead of Borussia Dortmund, with fans both inside Germany and abroad marvelling at der BVB's wonderful football. Their success comes as no surprise to the Mainz supporters, for it was there that Dortmund manager Juergen Klopp cut his teeth. Klopp's seven-year tenure laid the foundations for Mainz to establish themselves in the Bundesliga, encompassing their promotion, a European campaign and two successive 11th placed finishes. When Klopp was headhunted by Dortmund in 2008, he was replaced by Joern Andersen, who immediately helped Mainz regain their Bundesliga status in his first season as they finished runners-up to Freiburg. The Norwegian also led the club to the semi-finals of the DFB-Pokal, where they were knocked out by Bayer Leverkusen in extra-time. However, a first round cup defeat the next season to Luebeck allied to a fall-out with the players led to his dismissal and subsequent replacement by Thomas Tuchel.
It proved to be an inspired choice for the 37-year-old Tuchel led Mainz to a superb ninth place in the Bundesliga, finishing above seasoned teams such as Borussia Moenchengladbach, Eintracht Frankfurt and FC Koeln. Tuchel is a young, dynamic coach who could be described as a touch eccentric. He demands a lot of the players but does not neglect the fundamentals and the players have responded to his management style. My colleague Clark Whitney looks at Tuchel in greater depth here, contrasting the young upstart to the wily veteran Louis van Gaal, whom he will face tomorrow. Adeptness in the transfer market is another strength – he has recruited well in the summer, bringing in experience with Christian Fuchs and exciting potential in Lewis Holtby on loan from Schalke and young Hungarian striker Szalai Adam from Real Madrid, who at €550,000 was Mainz's most expensive acquisition.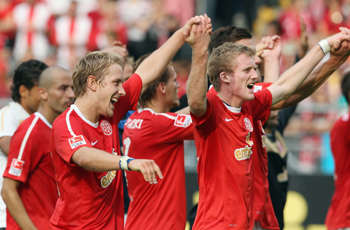 Szalai went some way to repaying his transfer fee with the winning goal on the second matchday against Wolfsburg, when Mainz became the first side in almost twenty years to overturn a three goal deficit and win. The Hungarian is physically imposing with an eye for goal but fortunately the pressure upon his inexperienced shoulders is eased as he will share the goalscoring burden with summer signings Morten Rasmussen, Sami Allagui and Andre Schuerrle.
A lot of the spotlight on Mainz this term has focused on Schuerrle, so much so that Rudi Voeller sanctioned an €8 million transfer to Bayer Leverkusen and Lewis Holtby. What has been interesting is that Tuchel has resisted the temptation to play his young starlets every minute of every game. His more selective approach has worked wonders thus far as they have in fact only played 110 minutes together. Nevertheless, Holtby has chipped in with three goals and Schuerrle two. Their composure in front of goal, nerveless yet full of confidence and composure, is remarkable for two up and coming players and it will be interesting to observe how Tuchel guides them through a full league campaign.
The energy, movement and vivacity of youth with which they play is symbolic of Mainz's fearless style of play. Mainz look to give it a go and try to wear down teams with movement, persistence, speed and of course quality. The flexibility shown by their players, in particular Schuerrle and Holtby who have played in 4-2-3-1, 4-3-1-2 and 4-3-2-1 systems represents not only an impressive adaptability of mind for ones so young but also an inate belief in Tuchel's philosophy. Mainz are a team who entertain but behind the dazzling blitzes on the opposition goal lies a strength of character that does not waver when the team face problematic situations.
When Mainz dominated both Werder Bremen and Koeln (very contrasting sides in terms of their styles of play) but found goals hard to come by, panic did not set in. Tuchel worked his magic, the players kept plugging away and believing and the goals came. A win in the Weserstadion was impressive enough, given how they completely outplayed Bremen, leaving Torsten Frings to cite the game as one of the worst in his career. However, in beating Koeln despite not scoring before the 70th minute, they showed a willingness to dig deep and find a breakthrough that not even Bayern Munich, tomorrow's opponents, could muster against the Koelner Mauer. Central to that victory was Holtby with a double though both times he was assisted by left-back Christian Fuchs, who has proved to be an inspired signing. On loan from Bochum, he is solid defensively and can contribute going forward. Once again, full credit must go to Thomas Tuchel as his penchant for changes of formation, tactics and personnel mid-game paid off. Opposite number Zvonimir Soldo was moved to admit that his side simply were unable to cope with Mainz's style of play.
Five out of five with Stuttgart, Wolfsburg, Kaiserslautern, Werder Bremen and FC Koeln crossed off their hitlist. Tomorrow they face the trickiest opponents of all - Bayern Munich - in the Allianz Arena. Some might argue that Mainz were fortunate to face a Stuttgart side in disarray after Khedira's sale, a Wolfsburg side coming to terms with a new coach and a Bremen side still coming to terms with Mesut Oezil's loss. There will be no such arguments should they win tomorrow as ominously, Bayern are buoyant after their last-minute 2-1 win in Hoffenheim and may well find a game against (in their eyes) squatters in top spot the perfect platform to show who is boss. The Mainz bandwagon may come to a stuttering halt, all the more so due to the competitive nature of the Bundesliga but no matter where they finish (and top-half looks a good bet), they will never forget this wonderful start to the season on the banks of the river Rhein.