Today's topic has little to do with Leverkusen's 11-1 win over Pirmasens in the DFB Pokal. For
die Werkself
to beat a fifth tier club is to be expected, and after three, four, or maybe even five goals, margin of victory eventually becomes meaningless. Pirmasens' defending was appropriate for an Oberliga Suedwest side, and once Patrick Helmes scored his second, you had a feeling the floodgates were about to be opened. They soon were, and Leverkusen scored five goals in nine minutes. Hats off to them for playing well, but I won't look far into it.
With that being said, the scoreline caught my eye, and made me think about Leverkusen's chances of a top three finish.
A week ago, I wouldn't have given it much thought. Bayern, Schalke and Wolfsburg appear to be the three strongest teams in the Bundesliga, and the latter two are likely to get stronger: Diego's transfer to Wolfsburg is nearly complete, and Schalke will soon have another striker (Klaas-Jan Huntelaar?), and possibly a playmaker (Zvjezdan Misimovic?), before long. Even if one or more of the above underperforms, Dortmund have their best team in nearly a decade, and Bremen are always in the title talk, having finished in the Champions League six times in the last seven years.
But on second consideration, maybe Leverkusen have it in them to finish third or better. Two weeks ago, I mentioned how their squad had improved with the addition of Michael Ballack, and the return to fitness of Renato Augusto and Simon Rolfes. That was a good beginning.
Still, Leverkusen's potential is more than an issue of player class: their real trump card is coach Jupp Heynckes. Consider the squad of last season, as opposed to that which played under Bruno Labbadia in 2008-09. Those who retained their starting roles under Heynckes improved: Stefan Kiessling netted 21 times, shattering his previous record of 12 strikes, and Tranquillo Barnetta more than doubled his previous best assist tally by setting up 10 goals. Others, like Rolfes (pre-injury), Arturo Vidal, and Manuel Friedrich, also made great strides forward in their respective careers.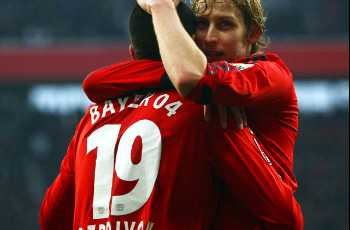 Perhaps most impressive was Heynckes' effect on the team's youth. Toni Kroos, Eren Derdiyok, Daniel Schwaab, Stefan Reinartz and Lars Bender were all well rated talents heading into the season, but only burst to prominence under the former Gladbach star's guidance.
Now let's consider Renato Augusto and Patrick Helmes. Last year, the pair struggled with knee injuries and barely played. The last we saw them play in a fully fit state, the Brazilian was arguably the Bundesliga's best winger alongside Franck Ribery, and the German netted a career high 21 goals. And they did it in a far lesser Leverkusen team. Include the Heynckes factor, and they may be even better in 2010-11. The initial evidence suggests a bright future for the pair: Helmes has not only displaced Derdiyok in his club's starting line-up, but even made his return to the German national team last week. He scored in that game, and also had a hat trick in the Pokal. He'll have tremendous confidence ahead of next weekend's Bundesliga opener. Renato Augusto has also impressed in warm-up matches, and scored in the Pokal.
Also noteworthy is Leverkusen's depth in young, rising players, and elder statesmen. Kroos may have returned to Bayern Munich, but the likes of Derdiyok, Schwaab, Reinartz, Bender, and newcomer Sidney Sam have enormous potential. Their development will be facilitated by not only Heynckes, but also the likes of veterans Ballack (
so long as he stays away from Christian Lell's girlfriend
) and Sami Hyypia. Bender has already hailed Ballack as a major influence in training, and surely, Reinartz will be taking notes from Hyypia.
So maybe, just maybe, Leverkusen might be able to slip into the top three. As fans will recall from 2009-10, fitness will always be an issue, but if key players can remain healthy, Heynckes' side could go very far indeed.
Points of Discussion:
-Who should Schalke sign? With Diego on his way to Wolfsburg, it would seem that Zvjezdan Misimovic is on his way out. The Bosnian is capable of playing on the left wing, but is more of a central playmaker than a winger, and Mario Mandzukic was signed to play on the left. Misimovic would be a great addition for Schalke, as would Diego if the Gelsenkirchen side could make a last-minute move.
On the topic of centre forwards, one of which the team is in desperate need, Huntelaar seems the best bet. Guillaume Hoarau is also a solid option who has been repeatedly linked with a move, although rumors have subsided in recent weeks.
-Last week, I forgot to mention Lewis Holtby as a potential breakthrough star. Still 19, the Schalke-contracted player, now on loan at Mainz, is a top class talent. He scored both Mainz goals in the Pokal.
-Mario Gomez scored his first goal for Bayern since February 13 on Monday, and also netted for Germany last week. For the sake of both player and country, let's hope he finds his way out of his slump.
-Ruud van Nistelrooy netted a hat trick and assisted a fourth in Hamburg's 5-1 rout of lower division side Torgelower Grief. Who thinks he can take the Golden Boot? Or will it be Edin Dzeko again? Pick your winner. On my list, I've got: 1) Dzeko; 2) Patrick Helmes; 3) Claudio Pizarro