The 2009-10 Bundesliga season has seen Bayern Munich re-establish themselves as Germany's most dominant team and major players on the European stage. At the end of the month, a Champions League final against Inter awaits; that game could mark a treble for Louis van Gaal in his first season in charge of Die Roten, with the Pokal against Werder Bremen coming a week before the Bernabeu showdown.
And yet, FCB have not taken an easy route to supremacy. Their season, until its conclusion, featured almost as many troughs as peaks; by the end of October, the Dutch manager Van Gaal was lucky not to have been unseated from his role. But an astonishing run of form, coming on the heels of an emphatic 4-1 win away to Juventus, saw Bayern claw back a 13-point deficit in the Bundesliga and chug all the way to the European Cup final.
And following Werder's defeat of Schalke last week, coupled with a Thomas Mueller-inspired win over Bochum, Der Rekordmeister can celebrate title number 22.
Saturday's 3-1 win at Hertha Berlin
ultimately made little difference to the final standings although it once again emphasised the standing of Arjen Robben. The Dutch winger, Bayern's major summer signing, netted his 15th and 16th league goals of the season to ensure that FCB finished with a flurry. Schalke again dropped points at Mainz, meaning a five-point cushion for the reds.
Head-to-Head with Schalke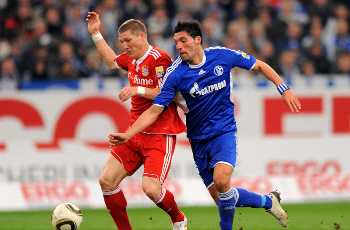 7 Nov 09
BM 1-1 S04
Van Buyten 31' - Matip 43'
3 Apr 10
S04 1-2 BM
Kuranyi 31' - Ribery 25', Mueller 26'
To say it took Bayern a while to get going this season would be an understatement. After the failed Klinsmann Project, Bayern demanded improvement under the Eredivisie-winning coach, Louis van Gaal, who had left his post at AZ to take the reins at the Allianz Arena. However, in their first three Bundesliga games they failed to register a single win. Following draws against Hoffenheim and Bremen, Mainz were to deliver an early defeat on Van Gaal's team.
Decimated by injury and watching helplessly as new signings failed to settle in, FCB feared the worst - a repeat of the disastrous reign of Juergen Klinsmann.
The €25m purchase of Arjen Robben was sanctioned, Bastian Schweinsteiger found a new home in the centre of midfield and the likes of Edson Braafheid and Alexander Baumjohann were bound for the Allianz Arena scrap-heap. Meanwhile, other new signings like Danijel Pranjic and Anatoliy Tymoshchuk were left kicking their heels on the sidelines after failing to impress.
Even the old-guard were not spared from Van Gaal's change of policies; Michael Rensing, on the bench behind Oliver Kahn for most of his career, quickly found himself back there again. There was no automatic start for Miroslav Klose either as Van Gaal persisted with his faith in youth. Indeed, a hallmark of this campaign has been the emergence of Mueller and Holger Badstuber - both now in with a realistic chance of representing Germany at the World Cup.
Bayern temporarily regained composure in autumn; a 5-1 drubbing of Borussia Dortmund showed what the side could potentially achieve. However, a three-game setback at the end of September and the start of October had the trainer's critics sharpening their knives. Defeat to Hamburg and draws against Juventus and Koeln meant that the side were well off the league pace and in danger of missing out on a CL knockout place.
Defeat in the next matchday against Bordeaux meant that Bayern faced Eintracht Frankfurt with the manager's job on the line. A bold tactical switch in the final few minutes, which left Daniel Van Buyten as an auxiliary forward, paid off spectacularly and Bayern had registered their first FC Hollywood moment of the season.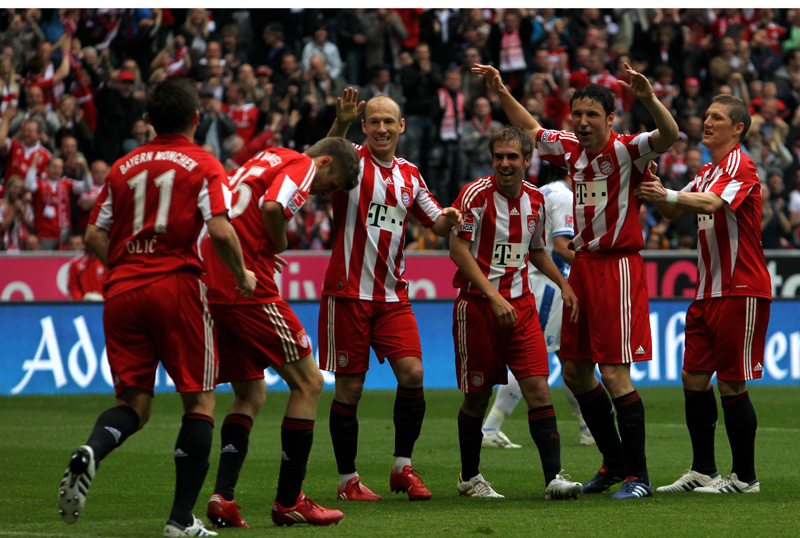 Auf Geht's Bayern|
FC Hollywood Celebrate Last Week Against Bochum
But still, Bayern were grinding the gears rather than smoothly moving through them. It took until late November for the side to truly show what they were capable of. Wins against Maccabi Haifa, Hannover and Borussia Moenchengladbach restored some confidence and then came the vital and energising win in Turin. Bayern had turned a corner and were to go on to win an amazing 13 games in a row in all competitions through to the last week of February.
By then, the Bavarians were in with a realistic shout of Bundesliga honours while the Champions League bandwagon kept ticking over, largely thanks to Arjen Robben's interventions against Fiorentina, as well as some poor officiating. A defeat at Frankfurt and at home to Stuttgart could do little to halt Bayern's domestic momentum as title rivals Bayer Leverkusen stuttered to allow both Bayern and Schalke a crack at the title whip.
By taking four points in two successive Bundesliga matches against those two teams, Bayern eased into the driving seat. Schalke were also to feel the power of Robben in the DFB Pokal when his at-the-death wondergoal condemned the Royal Blues to an early exit. That crucial period at the end of March and the beginning of April also saw Manchester United jettisoned from the Champions League with the never-say-die attitude imposed on the side by Van Gaal again to the fore. Next, in that competition, Lyon were swept away, perhaps more easily than expected; that came after one of the performances of the season, at home to Hannover, who were hit for seven.
And now, Bayern embark on a period of potential greatness. There has been talk, not only of Ribery staying, but also of more world class players arriving at the club. Manuel Neuer and Rafinha have been long-term targets while Carlos Tevez's name has been mentioned in recent dispatches.
Whatever comes over the summer, following the Champions League final, Louis van Gaal has ensured one certainty that has been sorely absent from Bavaria for the best part of the decade. Bayern Munich are once again one of the foremost clubs in Europe.


Become a fan of Goal.com International on Facebook! Just click onto Facebook.com/Goal to join the beautiful game's leading fan community...