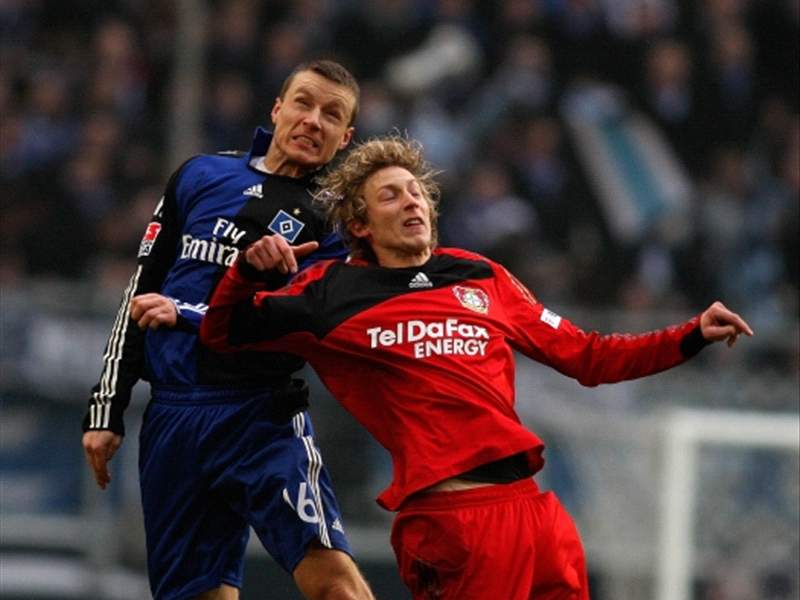 Friday
(all times local)
20:30 Bayern Munich – Borussia M'gladbach
Saturday

15:30 Borussia Dortmund – Nuernberg
15:30 Hamburg - Hoffenheim
15:30 Hannover – Bayer Leverkusen
15:30 Stuttgart – Bochum
15:30 Wolfsburg – Freiburg
18:30 Eintracht Frankfurt – Mainz
Sunday

15:30 Koeln – Werder Bremen
17:30 Schalke – Hertha Berlin
Bayern Munich – Borussia M'gladbach

It was a good week at Bayern. Consecutive victories over Maccabi Haifa and Hannover have seen the Bavarian giants recover form significantly. No longer is Daniel van Buyten required to move forward from defence to pseudo-striker as Ivica Olic and Mario Gomez have emerged as the strikers of choice. Bayern look to extend their winning streak to three matches ahead of next week's pivotal Champions League tie with Juventus.
Just like Bayern, M'gladbach have been in excellent form as of late, and are unbeaten in five matches. Included in their unexpected streak are wins against the likes of Hamburg and Schalke, meaning that die Fohlen are not to be underestimated as they renew their part in a rivalry that dates back to the 1970s.
Borussia Dortmund – Nuernberg

Dortmund took a hard-fought win away to high-flying Hoffenheim on matchday 13, and in doing so showed just what the Ruhr club are capable of. It was by no means a pretty victory, but Dortmund came out on top, and are now unbeaten in seven matches. During their unbeaten stint, Dortmund have drawn on several occasions, and will need a win on Saturday to please coach Juergen Klopp.
After taking an impressive 3-2 win in Wolfsburg on matchday 13, Nuernberg dominated their most recent match with Freiburg, but came away without a single point to show for their efforts. Despite controlling possession by 2:1 and out-shooting their opponents by a ratio of nearly 3:1, Nuernberg challenged Freiburg goalkeeper Simon Poulin just three times, and were denied on each attempt. Clinical finishing in Dortmund will be a necessity, lest Nuernberg slump back into the relegation battle.
Hamburg - Hoffenheim

It's been a very shaky month for Hamburg. Once at the top of the league, the northerners have since slipped to fifth, and are winless in their last six league outings. With nearly all their attacking power out with various long-term injuries, Hamburg have been unable to score goals without being caught out on the break, and chances of a title push are ever dwindling. To make matters worse, Eljero Elia, who sustained an ankle injury in last week's 1-1 draw with Mainz, is also unfit and likely to miss Saturday's match.
After a 2-1 upset loss to Dortmund, Hoffenheim look to put their troubles behind with a convincing display against Hamburg. Despite having earned impressive wins against several of the league's lesser teams, Hoffenheim have not been entirely convincing. Their record against quality opposition is poor. Saturday's match will prove a good opportunity for Hoffenheim to silence their critics.
Hannover – Bayer Leverkusen

Hannover may have lost their last two matches by a combined 5-0, but both scorelines flattered their opponents. Both matches included last-minute goals after the results were, more or less, decided, and both results fail to accurately represent the quality Hannover displayed. In their most recent match with Bayern, Hannover held 48 per cent of the possession, a statistic even Leverkusen were unable to match. Looking ahead, Hannover will have a mountain to climb if they are to take a win, but a blowout is certainly not to be expected.
As the winter break approaches, Bayer Leverkusen are, without doubt, the best team in Germany. Having gone undefeated in league play, die Werkself kept pace with Hamburg for several weeks, and now are far above the rest. Only Werder Bremen, now three points off the pace, appear fit for a challenge at the moment. With arguably the league's best goalkeeper (Rene Adler), defender (Sami Hyypia), midfield combination (Kroos, Barnetta, Rolfes, and Vidal), and striker (Stefan Kiessling), Leverkusen should expect to win every match from now until the winter break.
Stuttgart – Bochum

A 4-0 loss to Leverkusen on matchday 14 saw Stuttgart slip to 17th place. Last year's third-place finishers haven't won since September, and without Mario Gomez in their squad, now look a mere shadow of their former selves. Ahead of this weekend's clash with Bochum, Thomas Hitzlsperger was relieved of his captaincy, and the armband was passed on to Mathieu Delpierre. With the central defender in charge of all leadership duties, we'll soon see whether Stuttgart come out a changed squad.
With 12 points from 14 matches, Bochum are no world-beaters, and are now in position to be relegated. This isn't the first time the perennial scrappers have found themselves in the bottom tier of the table, and it won't likely be the last. This year, every time Bochum slip into the relegation fight, they are quick to rebound with a win. Stuttgart have been in miserable form this year, and given their morale, will be particularly susceptible targets for Bochum's aggressive, physical style.
Wolfsburg – Freiburg

With their season's hopes in serious jeopardy, Wolfsburg are faced with an existential crisis. Currently in eighth place domestically, die Wolfe are seeing their chances of a second consecutive Champions League appearance dwindling, and need league wins if they are to stand any chance of making a title run later in the season. Next Tuesday, Wolfsburg host Manchester United in a must-win home match.
They may have taken a 1-0 win against Nuernberg in their last outing, but Freiburg were far from convincing in a match in which they were easily outplayed. Although they sit in 13th place, their position may be a bit deceiving: Freiburg are actually just four points clear of relegation. With that in mind, the newly-promoted club will have their work cut out for them.
Eintracht Frankfurt – Mainz

In a league that has split between the good teams (eight with 22 or more points) and the less fortunate ones (seven with 16 or fewer points), Frankfurt are among the few teams that have defied the odds and become "average." With 19 points from 14 matches, Frankfurt have as little a chance of being relegated as they have of qualifying for a place in Europe. Mainz, sitting in the upper tier, will likely take three points, but Frankfurt will be unfazed either way.
Having taken 23 points from 14 matches, Mainz now find themselves seventh place with three matches to go before the winter break. With forthcoming fixtures against lacklustre opponents Frankfurt and Stuttgart, Mainz must favour their chances of finishing the 2009 campaign in the top five.
Koeln – Werder Bremen

The last time Koeln hosted a strong attacking side, it ended in a 4-0 win for visitors Hoffenheim. Now hosting Werder Bremen, Koeln must learn from their mistakes and defend well against the league's most prolific offence. An insurance goal or two from out-of-form strikers Milivoje Novakovic and Lukas Podolski would help.
After being held to a 2-2 draw with Wolfsburg in their last league match, Werder Bremen sent out a squad of substitutes against Nacional de Madeira and took an emphatic 4-1 victory, further cementing their position among Europe's finest. Although they remain three points behind Leverkusen, Thomas Schaaf's men are arguably the best attacking side in the league, and remain rock-solid at the back.
Schalke – Hertha Berlin

Felix Magath's Schalke may have suffered a 1-0 loss to Borussia M'gladbach in their last outing, but don't count on a second consecutive disappointment. Magath is among the league's most consistent coaches and is sure to get the best out of his squad against lowly Hertha Berlin.
Although they are dead last domestically, Hertha received a boost of confidence on Thursday following a 1-0 win away to Ventspils. It was a hard-fought victory and saw the capital club put on what was arguably their best performance of the year. Regardless, Schalke will always be tough opponents, and a greater challenge awaits this Sunday.

Clark Whitney, Goal.com