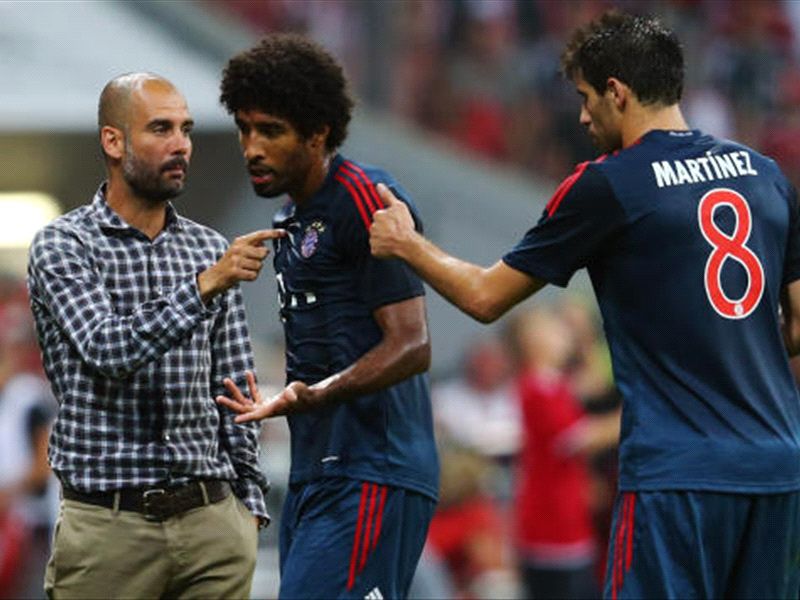 Bayern Munich
boss
Pep Guardiola
heaped praise on his players after Wednesday night's 2-0 friendly win over
Sao Paulo
, revealing that he has been left astonished by just how quickly they have adapted to his footballing philosophy.
The Bavarians may have been beaten in the DFL-Supercup by Borussia Dortmund at the weekend but after watching die Roten bounce back with a comfortable win at the Allianz Arena, which came courtesy of goals from Mario Mandzukic and Mitchell Weiser, the former
Blaugrana
boss was in high spirits.
"The match wasn't easy to play. Sao Paulo is in the middle of their season and we are just going to start our campaign," he told
RTL
. "But it was a deserverd victory.
"I am quite astonished how easily my players are able to understand my ideas and how they are able to reassemble it on the pitch. My team is very intelligent. My team is great team."
Guardiola was also keen to single out the goalscorers, and midfiield lynchpin Bastian Schweinsteiger for special praise.
"Mandzukic is an excellent player, who scored a great goal," the former Spain international enthused. "Weiser is a very good player. He's able to play many different positions on the pitch. For me as a coach he's a very interesting player.
"Bastian is very important for us. He is very intelligent. He's got personality. I am very satisfied with him."
Guardiola arrived at the Allianz Arena earlier this summer, after taking a year out of the game following his hugely successful four-year spell at Camp Nou.