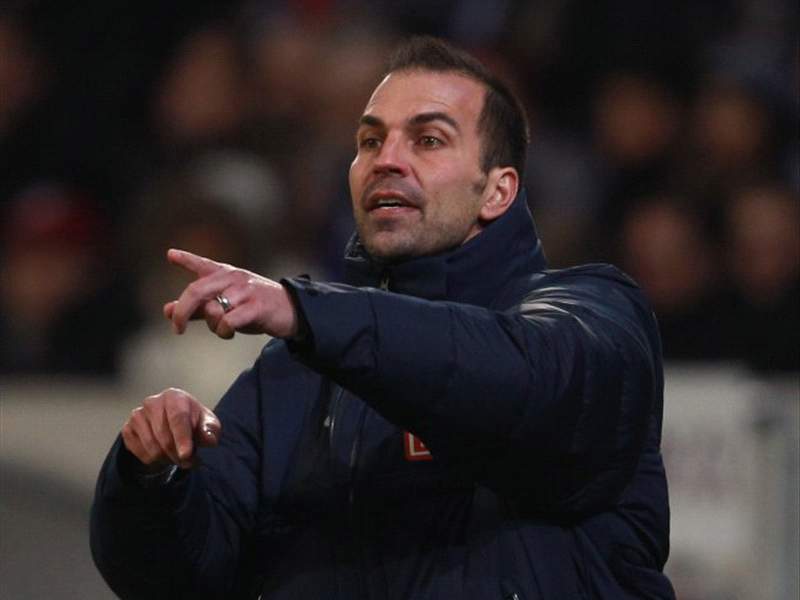 Hertha Berlin coach Markus Babbel says he cannot understand the 'commotion' derived from his decision to step down once his contract expires at the end of the season.
Speaking after his side's 1-1 draw with Hoffenheim on Saturday, the 39-year-old revealed that he informed sporting director Michael Preetz of his plans to depart the Olympic Stadium once the 2011-12 campaign reaches its conclusion, but was critical of their conduct.
"In my eyes, I informed [Preetz] of my decision in good time,'' Babbel told Sky. "That was back in November during the international break.
"What I don't understand is all the commotion. I am an employee of this club and I have always stuck to what I have been told, which is to keep things quiet and calm.
"Things just got carried away and it was terribly difficult for the lads and also for me."
His sentiments have seemingly come after reports in Germany had suggested that Preetz engineered a secret meeting with Eskisehirspor coach Michael Skibbe over potentially replacing the ex-Bayern Munich man in the Hertha hot-seat.
Babbel also explained the reasoning behind his decision to leave the club, citing a need for a change of scenery but insisted that his priority is to remain with Hertha until his contract runs its course in May.
"I told him that I am firmly committed to fulfilling my contract, but that for reasons that I will not go into now, I wanted a change," Babbel continued. "I want to finish what I started with the lads and it is just a shame because I cannot understand all of the commotion in Berlin.
"I would be delighted if I could remain with the team until the end of my contract. We could see again today that the team wants to take this through to the end, but at the end of the day, I cannot influence that."
Hertha Berlin president Werner Gegenbauer informed Goal.com: "Babbel said to us on Tuesday that he doesn't want to extend his contract. We have to be careful now, we have had good one and a half year together."
Meanwhile, Preetz admitted that he is unaware of any meeting with Skibbe.
"We wanted to extend with Babbel. We have to prepare in the event that Babbel doesn't extend," he told Goal.com.
"I can't confirm that there were talks with Michael Skibbe. I assume that Babbel will be on the bench against Kaiserslautern [in the DFB Pokal next week]."
Skibbe himself also declined to confirm whether he is set for a move to Hertha.
"I think it's not a issue to talk about right now," he told Lig TV following his side's 1-0 win over Kayserispor. "We'll have a match with Mersin Idman Yurdu. After this match, we can come together with the board and talk about it, but I'm happy at Eskisehirspor right now."
Hertha currently find themselves 11th in the Bundesliga standings.