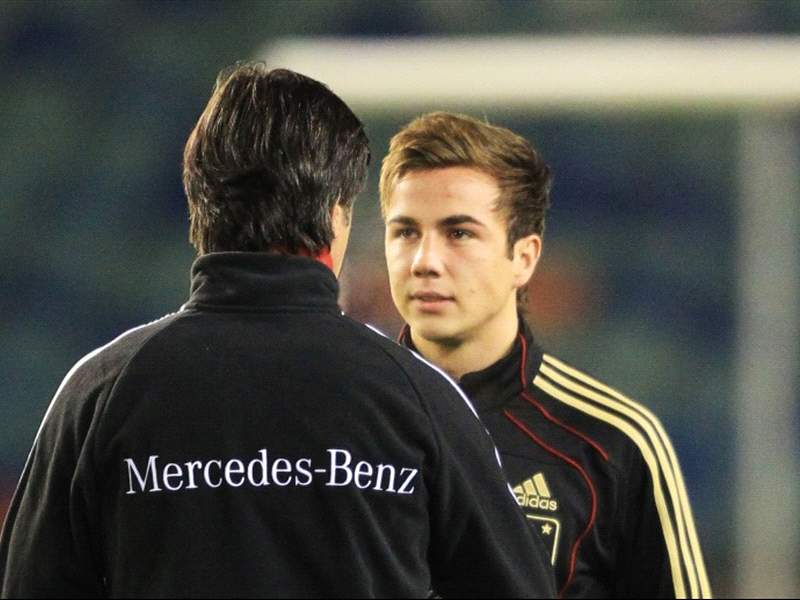 German
national team boss Joachim Low has singled out
Borussia Dortmund
wonderkid
Mario Gotze
as the pick of the new breed of youngsters emerging in the Bundesliga.
The former Stuttgart coach was speaking ahead of next month's trip to neighbours Austria in a Euro 2012 qualifier, which could see the World Cup 2010 semi-finalists move a step closer to next summer's tournament in Poland and Ukraine.
Low, however, also sounded a cautionary note about the plethora of talents at his disposal, citing Bayern Munich's
Toni Kroos
as an example of how a player's progress can be stunted.
"[Mario] Gotze is an exceptional talent. The other Dortmund players, [Andre] Schurrle, [Marco] Reus, these are all good players. The question is though: Who will succeed at the very highest level? There have always been hugely talented players who have not made the step up," he told
Bild
.
"Someone like Toni Kroos was viewed as an outstanding talent but his performances in recent times have not been so fantastic in comparison to how he was playing a year ago in Leverkusen."
Despite having a new generation of young players to complement those who were so successful in South Africa, Low believes that they still have a fair way to go in their development at this stage of their respective careers.
He continued: "All of these players are not yet at the top level in Europe. And so one has to ask yet another question: Who will succeed? Who will make the step up in the same manner as [Thomas] Muller, [Sami] Khedira, [Manuel] Neuer and [Mesut] Ozil did at the last World Cup?"
"That is the key. Of course we also have good young players. However, one good season in the Bundesliga does not enable them to reach the heights of international football. I don't see these players of being capable yet of performing at the highest level in Europe."
Casting his eye ahead to next summer's tournament, Low believes that Germany are among the favourites to win, but also picked out a number of other sides who could be dangerous.
"Who is, at the moment, in our reach? Spain, the Netherlands? Yes. England, France, Italy, Portugal? Maybe. However, if we play as we did in the World Cup and even a little bit better, then it will be very difficult to beat us. I said this to the team. It has to be in the minds of the players that we now want to win a trophy."