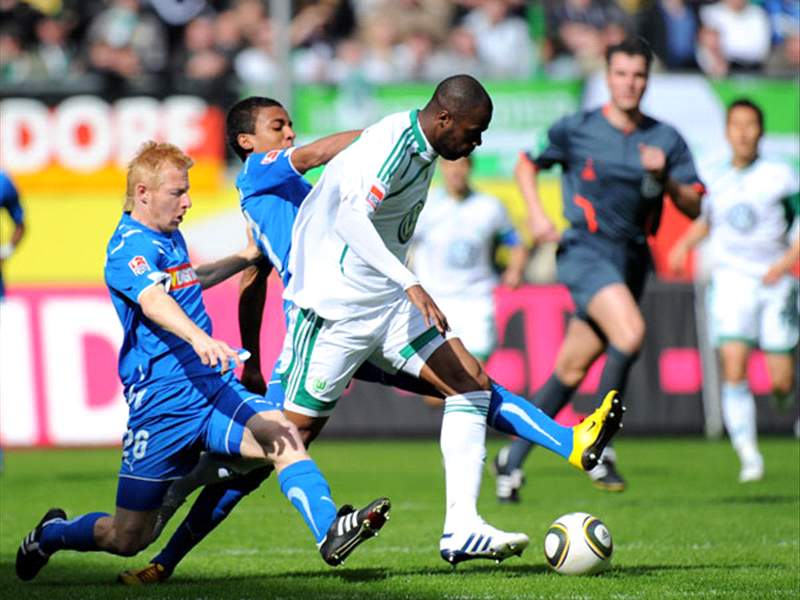 Friday
(all times local)
20:30 Borussia M'gladbach – Eintracht Frankfurt
Saturday
15:30 Hannover – Schalke
15:30 Hertha Berlin – Stuttgart
15:30 Hoffenheim – Koeln
15:30 Werder Bremen – Freiburg
15:30 Mainz – Borussia Dortmund
18:30 Bayer Leverkusen – Bayern Munich
Sunday
15:30 Bochum – Hamburg
17:30 Nuernberg – Wolfsburg
Borussia M'gladbach – Eintracht Frankfurt
After taking three points from Hamburg in round 28, Gladbach nearly did the same to Stuttgart last week, but were undone by two second half goals. Despite having little pressure from above or below in the table, Michael Frontzeck's men appear to be motivated, even without having very much to play for. The Westphalian side will line up without Rob Friend and Dorda.
Could it really be true? Could Frankfurt make a late run for a Europa League berth? That seems to be what the perennially mid-table side is aiming to achieve. Following a come-from-behind victory over Leverkusen in round 29, Skibbe's side have won three straight, and are four points adrift of fifth place. Every match is a must-win, and for that with Gladbach, Skibbe will be unable to call upon suspended defender Maik Franz and injured quartet Pirmin Schwegler, Aleksandar Vasoski, Zlatan Bajramovic and Ioannis Amantidis.
Hannover – Schalke
After being battered by Koeln, Hannover reacted well and earned a scoreless draw with Hamburg last Sunday. The crisis-stricken side remain four points from safety, however, and continue to have a long list of injured personnel, including Constant Djakpa, Altin Lala, Salvatore Zizzo, Jan Rosenthal, Mikael Forssell, Jacek Krzynowek and Vinicius. Jiri Stajner is also out, having picked up a suspenson.
Last week's 2-1 loss to Bayern was a bitter blow for Schalke, who were replaced at the top of the table. Despite playing with a one-man advantage for the majority of the match, Felix Magath's side could not salvage even a point. The Gelsenkirchen side remain in the title race, however, and have reported no new injuries. Marcelo Bordon is suspended for Saturday's match, and Vasilios Pliatsikas, Jermaine Jones, Christian Pander and Levan Kenia all lack the fitness to feature.
Hertha Berlin – Stuttgart
Resurgent Hertha continued their climb from the depths of relegation with an emphatic 3-0 win away to Koeln last week. The capitol club are now just two points behind Hannover, but remain a full six away from safety, and are desperate to take points. Coach Friedhelm Funkel will be without injured duo Florian Kringe and Roman Hubnik.
Stuttgart's climb up the league table continued last week following a 2-1 victory over Gladbach, leaving the Swabians four points away from a Europa League spot. Christian Gross' side have a few tricky fixtures in the coming weeks and will be keen to take three points against Hertha. Gross has ruled out injured contingent Sami Khedira, Sebastian Rudy, Sven Ulreich, Arthur Boka and Alessandro Riedle.
Hoffenheim – Koeln
The 4-0 scoreline may suggest otherwise, but Hoffenheim were actually quite impressive in the first half of last week's match with Wolfsburg, but then imploded. It was yet another dismal defeat for the Sinsheim side, who are now destined for a finish in the bottom half of the table. Injured contingent Per Nilsson, Demba Ba, Isaac Vorsa, Matthias Jaissle and Kevin Conrad will be forced to miss out on Saturday's match.
Koeln may be well clear of the relegation battle, but have something to prove after being pummeled by Hertha Berlin last weekend. Should they win on Saturday, Zvonimir Soldo's side could draw level on points with Hoffenheim. If they are to take three points, Koeln will have to do it without the services of suspended personnel Youssef Mohamad and Zoran Tosic, as well as injured quartet Pierre Wome, Kevin Pezzoni, Christopher Schorch and Adil Chihi.
Werder Bremen – Freiburg
Their loss to Dortmund in round 29 might have ended Bremen's chances of a return to Champions League play, but as of now the fifth-placed team is on course to make the Europa League yet again. Just three points clear of Hamburg, the northern club cannot afford to drop points to relegation battlers Freiburg. Coach Thomas Schaaf will have to do without Peter Niemeyer, Sebastian Mielitz, Christian Vander and Sandro Wagner.
A win followed by consecutive draws has allowed Freiburg to gather some momentum, but the team from Germany's southwestern corner will need even better results if they are to surpass "unrelegatables" Bochum or in-form Nuernberg. In a match in which they will fight for their lives, Freiburg will be without Du Ri Cha, Hamed Namouchi and Manuel Salz.
Mainz – Borussia Dortmund
Since realising that there was little to play for, Mainz have lost three consecutive matches, slipping to 10th place. The promoted side will survive to play in the German top flight for another year, but until then, only have prestige to play for. Perhaps this weekend's run-in with red-hot Dortmund will be enough to motivate Thomas Tuchel's men. Among the Mainz squad, Dimo Wache, Marco Rose, Jan Kirchhoff and Zsolt Loew have been ruled out with injuries and Andreas Ivanschitz and Florian Heller will also be unable to play due to suspensions..
Last week's 2-1 victory over Bremen advanced Dortmund to within a point of third place, and a return to European play. Mainz are no pushovers, especially at home, but if Juergen Klopp's side can take three points, they may find themselves looking back on Leverkusen by Saturday. Klopp will have to do without Sebastian Kehl and Mario Goetze.
Bayer Leverkusen – Bayern Munich
Jupp Heynckes' side slumped to a third consecutive loss last weekend, falling 3-2 to Frankfurt following a pair of skillful goals from Caio and Maik Franz. Leverkusen were unlucky to concede the equaliser and late winner, but have no choice but to look ahead and try to avoid conceding third place to Dortmund. Saturday's run-in with Bayern will be a cracking affair, but Simon Rolfes and Renato Auusto will have to miss the match with injury. Daniel Schwaab, who was sent off against Frankfurt, will also miss Saturday's match due to suspension.
The last week and a half has been absolutely gruelling for Bayern Munich, but the German record champions managed to beat Schalke and Manchester United, taking first place in the Bundesliga and earning a spot in the Champions League semi-final. This weekend, Louis van Gaal's side face a Leverkusen team that are slipping rapidly, but remain dangerous. After being sent off during the Schalke match, Hamit Altintop is set to miss out with suspension.
Bochum – Hamburg
The fight for survival is intensifying, yet Bochum have to be considered favourites to finish 15th or better. Despite playing against a very talented Hamburg side, Heiko Herrlich's men will surely put on a gritty display worthy of the nickname "unrelegatables". Herrlich will have to do without Mimoun Azaouagh, but will have an otherwise full squad to choose from.
Hamburg's quest for European glory continued on Thursday when Bruno Labbadia's side won 3-1 away to Standard Liege. Their domestic form, however, has been dreadful, leaving them in sixth place. Jose Paolo Guerrero is suspended for this weekend's match, and Marcell Jansen, Eljero Elia, Colin Benamin, Romeo Castelen and Tolgay Arslan will all miss out with injuries.
Nuernberg – Wolfsburg
After spending much of the season in the relegation zone, Nuernberg have vastly improved and now appear likely to survive. Three points against Wolfsburg would go a long way towards boosting their confidence, of course, and the Bavarians will surely play their hardest on Sunday. Dieter Hecking's side is at nearly full strength, with long-term casualty Breno the only absentee from the Nuernberg side.
Wolfsburg finally crashed out of Europe on Thursday following a 1-0 loss at home to Fulham. It was a very disappointing result for Lorenz-Guenther Koestner's men, who will have something to prove on Sunday. Assuming no late injuries are reported, the defending Bundesliga champions should be at full strength.
Become a fan of Goal.com International on Facebook. Just click onto Facebook.com/Goal to join the beautiful game's leading fan community...