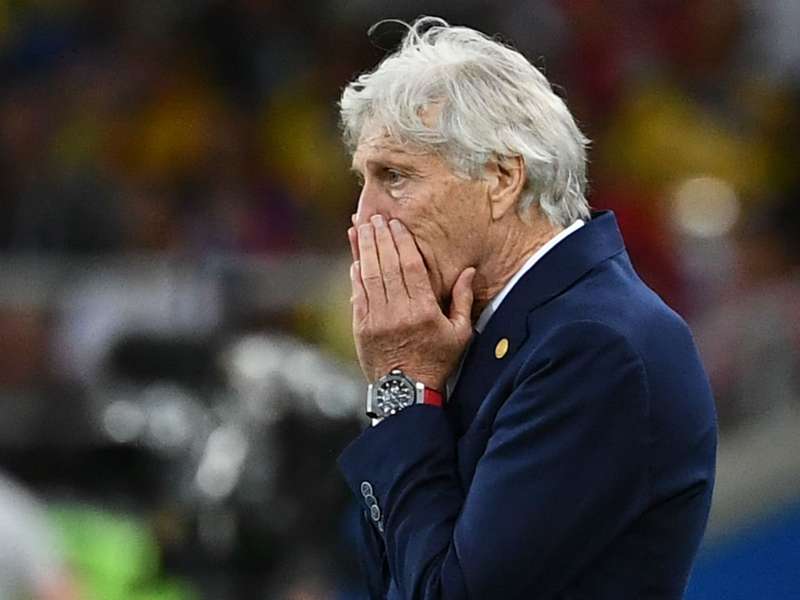 Colombia coach Jose Pekerman said England shared the blame for the physical battle as his side exited the World Cup at the last-16 stage.
Yerry Mina's 93rd-minute header forced extra-time after Harry Kane gave England the lead from the penalty spot with his sixth goal of the tournament.
And after Mateus Uribe and Carlos Bacca failed to convert their penalties, Eric Dier scored the decisive spot-kick to earn a quarter-final against Sweden.
Colombia could have been reduced to 10 men in the first half when Wilmar Barrios appeared to aim a headbutt at Jordan Henderson, who exaggerated the contact on his chest and chin by suggesting he had been hit in the face.
Barrios was instead shown a yellow card - one of six Colombia players to earn a booking - with Carlos Sanchez among those cautioned, the midfielder having been adjudged to have brought down Kane in the box.
Replays appeared to indicate Kane was also grappling with Sanchez in the area, with Pekerman unimpressed by England's perception of his Colombia team as a physical side.
"I know they weren't happy with us before this match because there were lots of remarks, serious comments and unfounded comments. I don't think this is fair," Pekerman told a news conference.
"I don't think that people in England or other countries should think of Colombia players like this. England has a great weapon in aerial play and we have seen that in all their matches. There were lots of penalty incidents with Panama and Tunisia. Players fall in the box, they collide and fall.
99 - Yerry Mina's header was the 99th goal scored in the 90th minute in World Cup history. Problems. #COLENG #COL #WorldCup pic.twitter.com/ox3bO7AFs2

— OptaJoe (@OptaJoe) July 3, 2018
"And that hurts, you have to try and stand in the shoes of these players. They are subject to situations which shouldn't really be present in football. These interruptions are bad.
"Sometimes you have to repeat a free-kick or whatever, but when there are so many fouls we have to try and find the balance so football can happen and the two sides can play the match with good intentions, not only looking at Colombia players, but England players.
"I wish I was wrong, but as from the next match I think England will be much more careful. Today we were on the receiving end of this but I hope this won't happen again. It has been obvious, too obvious."
July 3, 2018
Colombia were without star man James Rodriguez due to injury, his absence contributing to a lack of creative threat for Pekerman's side.
"One of our key players was not present tonight," Pekerman added.
"In terms of creative football, decisive finishing, James Rodriguez is absolutely an exciting player, and unfortunately he has not been in top shape at this World Cup."
Rodriguez and Pekerman were clearly upset during the penalty shootout, unable to help their side when the pressure was on.
"I felt hurt and moved for my players, because I think we deserved to win tonight," said the coach.
"I never talk about the future. Today we are feeling hurt. We've given it all, worked very hard and I don't think we should talk about anything else."