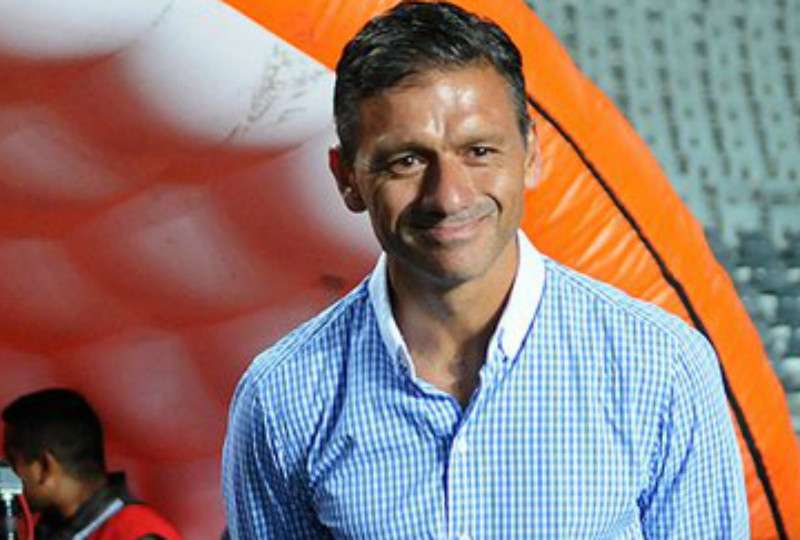 ---
COMMENT
---
The name will be instantly recognisable for Arsenal fans, albeit perhaps not for all the right reasons. Nelson Vivas appeared at Highbury between 1998 and 2001, in a career which also took in a successful spell with Boca Juniors and a subdued stint at Inter.
Meet Dortmund's Footbonaut - Mark Pulisic innovating BVB's youth football
It is as a coach, however, that the 47-year-old is currently making a name for himself. Vivas' Estudiantes team top the Argentine Primera Division by two points, and the unbeaten La Plata side look set to make a serious challenge for their first title since Alejandro Sabella was in charge back in 2010.
Vivas' coaching career did not exactly get off to the most promising start. He took the reins at boyhood club Quilmes back in 2013 for his first job, but last just 14 matches before handing in his resignation. It was not results that sealed his fate, but a bizarre episode in which he hit a Quilmes supporter three times in a fierce touchline brawl. "I'm not a violent person, but I realise that is not the sort of impression a trainer should give," he said at the time, and it is hard to disagree.
Giggs hits out at United stars
His journey later took him to La Plata, where he accepted a job working under Mauricio Pellegrino at the head of Estudiantes' reserve team. Pellegrino was eventually replaced by ex-Barcelona defender Gabriel Milito, and when he in turn left for Independiente the Pincha board turned to Vivas. The results have been spectacular.
Vivas has won an impressive 19 of the 29 games he has directed at Estudiantes, a record which led the team to second place and a Copa Libertadores spot in the first half of 2016. Sunday's 2-1 defeat of San Lorenzo then consolidated their two-point lead in the current championship, as well as their record as one of just two teams who have negotiated the first seven matches of the season unbeaten.
Typically for a club that counts among its heroes Carlos Bilardo and Sabella, the defence has been rock-solid, conceding just three goals in the opening seven matches. But there has been plenty of attacking verve on display too, and no team can better the 14 the Pincha have scored thus far. Vivas favours a fast, direct offensive style, giving his midfield license to burst into the box, and it has been supremely effective.
Could Vivas be in line to replace his old mentor Arsene Wenger down the line? He still has a long way to go, but there is plenty of promise from a man whose coaching ingenuity is winning him a lot of fans across Argentina.
---
STRUGGLING PENAROL HAVE PROBLEMS ON AND OFF THE PITCH
---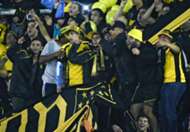 They may be one of Uruguay and South America's biggest, most prestigious clubs, and also the defending champions, but so far this term absolutely nothing is going right for Penarol. Sunday's lamentable scenes at the Estadio Centenario gave a glimpse into what is going wrong at the club both on and off the field in 2016-17.
The weekend's clash in Montevideo saw the Manya go down to another early goal, and they trailed against lowly Rampla Juniors going into half-time. The defeat would have pushed the giants as low as 12th more than halfway into the season, 12 points behind bitter rivals and current Primera leaders Nacional; but even more sadly, they could not even make it to the full 90 minutes.
Play was eventually abandoned at the halfway point due to a shocking shooting that took place in the very bowels of the Centenario's Amsterdam stand. An individual was shot in one of the stadium toilets, in an episode believed to be related to a conflict over the sale of drugs controlled by the Penarol hooligans.
His injuries were relatively minor, but the shameful incident points to a club spinning out of control. It certainly makes for an extremely difficult job for Fernando Curutchet, the interim coach, and the entire Penarol board who must find a way out of this multi-faceted crisis.
---
VERDAO ON THE BRINK OF GLORY
---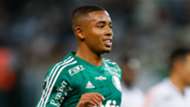 It is still far from over, but Gabriel Jesus and the rest of his Palmeiras team-mates are so close to the Brazilian Serie A title they can almost touch it. The past weekend may well be remembered as the turning point should the Verdao go on to lift the trophy, as they pulled six points clear of closest rivals Flamengo with just six games left to play.
Ironically, it was the club's arch-enemies that helped them move that big closer to glory. In front of a bumper crowd of 65,000 at the Maracana Corinthians frustrated the hosts in a 2-2 draw, with Paulo Guerrero on target twice but missing a golden late chance that would have sewn up the points. In a curious turn of events, Palmeiras fans were heard celebrating their rivals' goals in Sao Paulo as their team came through with a 2-1 over Sport Recife.
Next weekend sees the would-be champions face a daunting test away to Santos, and they will also host third-placed Atletico Mineiro in a tough run-in. The Verdao, however, have every advantage going into the final straight and, with five wins in their last six Serie A clashes, are the overwhelming favourites to take the trophy.
---
MAXI SILENCES THE CANALLA
---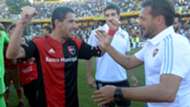 The start of Sunday's Rosario derby and its end could hardly have been less alike. Rosario Central's Gigante del Arroyito stadium exploded before kick-off as the home team ran out onto the pitch, a raucous welcome that would unfortunately be the highlight of the next 90 disappointing minutes.
Indeed, fans of either team had to wait until deep into injury time for the first goal to arrive, and its scorer was more than apt. Maxi Rodriguez, the ex-Liverpool and Atletico Madrid star who at 35 remains the heart and soul of the Newell's Old Boys team, turned home to mark a 1-0 victory and silence the home crowd in the absence of visiting fans.
Nobody could have wanted the victory more than the veteran forward. It had been eight years since Newell's had won the derby, while Rodriguez has been a target for death threats before previous Clasico clashes. And while the Lepra fans were barred from entry due to security regulations (the game is a hotspot for violent clashes) they nevertheless made sure celebrations were suitably raucous.
Gritalo gritalo gritaloooooooo pic.twitter.com/KjpSqBfzc3

— Siempre al 10 (@leogolmessi) 23 de octubre de 2016
---
IMMENSE ARMANI DESERVES COLOMBIA CALL
---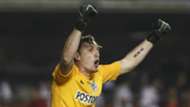 From a rural childhood in Santa Fe province's Honey Capital, to being feted as a hero in the cosmopolitan splendour of Medellin, Franco Armani's rise to stardom has been highly unorthodox. But the Argentine goalkeeper has established himself as an idol at Atletico Nacional and the calls are growing for him to win a place in Jose Pekerman's Colombia squad.
Armani jumped straight from Deportivo Merlo in the Argentine second tier to the Estadio Atanasio Girardot back in 2010, and at the end of his first season almost left for Venezuela or the United States after failing to break into the first team. But he trusted his abilities, and the exit of Gaston Pezzutti in 2013 finally gave the shot-stopper a chance that he grabbed with both hands.
La Liga dominates Ballon d'Or nods
The 30-year-old has been a fixture in the Verdolaga side ever since, and with 10 major titles - including this year's Copa Libertadores crown, the second in the club's history - he is tied with Sebastian Perez as the most successful player in Nacional history.
He was once again fantastic midweek as the Colombians took a 1-1 draw from the first leg of their Copa Sudamericana quarter-final clash against Coritiba. The dream of a famous double continental triumph remains alive; and, having begun the paperwork to take Colombian nationality he could well be pushing David Ospina for a place in the Cafetero line-up going into 2017 and beyond.