You will have a tough time finding many coaches who enjoyed better years in Major League Soccer than Oscar Pareja and Patrick Vieira. Pareja has led his FC Dallas squad to a pair of trophies in what has easily been the most successful season in the club's history. Meanwhile New York City FC exceeded all expectations in what was Vieira's first season as the head coach of a senior professional team.
As well as both men did during the regular season, they each began the 2016 MLS playoffs with matches and coaching performances they shouldn't want to remember.
Both coaches went away from the systems their teams spent most of the year playing, and the variations they banked on failed to pay dividends. Vieira tinkered with his lineup and watched as his team stumbled late in an eventual 2-0 loss, while Pareja stood helpless as the Seattle Sounders torched the defensive-minded setup he deployed FC Dallas in, notching three goals in 12 minutes on the way to a devastating 3-0 loss for Dallas.
The good news for both FC Dallas and NYCFC is that their coaches are extremely confident men who weren't about to let singular results shake their belief that series victories are still within reach.
Vieira made no apologies for his first-leg decisions, which included starting goalkeeper Eirik Johansson after just one regular season appearance, while also leaving Frank Lampard out of his starting lineup.
"I make the decision to choose players, to a different system and this is your job to tell me if I was right or wrong," Vieira told reporters on Wednesday. "You judge by the result and I have a different perception of that. I think, if I had to do it, I would make the same call again."
As confident as Vieira feels about his first-leg decisions, it is a safe bet we will see a more familiar-looking NYCFC lineup and system on Sunday at Yankee Stadium.
As for FC Dallas, the reigning U.S. Open Cup champion and MLS Supporters' Shield winner faces a daunting task of not only erasing a three-goal deficit, but also avoiding the allowing of a Sounders away goal that would almost assuredly spell playoff elimination.
"We had many scenarios during the season when we needed to come back from results," Pareja told reporters on Tuesday. "Even with Seattle (during the regular season), we were losing 1-0 at home and we were finding our way to win the Supporters' Shield, it was one of the big objectives that we had and we couldn't have done it if we didn't get a result at home and we ended up getting two goals in eight minutes just to get over Seattle here and give us a chance to win the Supporters' Shield. So we're not thinking that we can't score three goals and put the series in a tie and see what happens here."
One thing is clear, both Vieira and Pareja will have to have flawless performances as coaches in Sunday's second legs to help their teams overcome steep deficits and reach the conference finals.
Here is a closer look at all four conference semifinal second legs, which will be played on Sunday:
---
NEW YORK RED BULLS vs. MONTREAL IMPACT (4 p.m. ET, ESPN)
---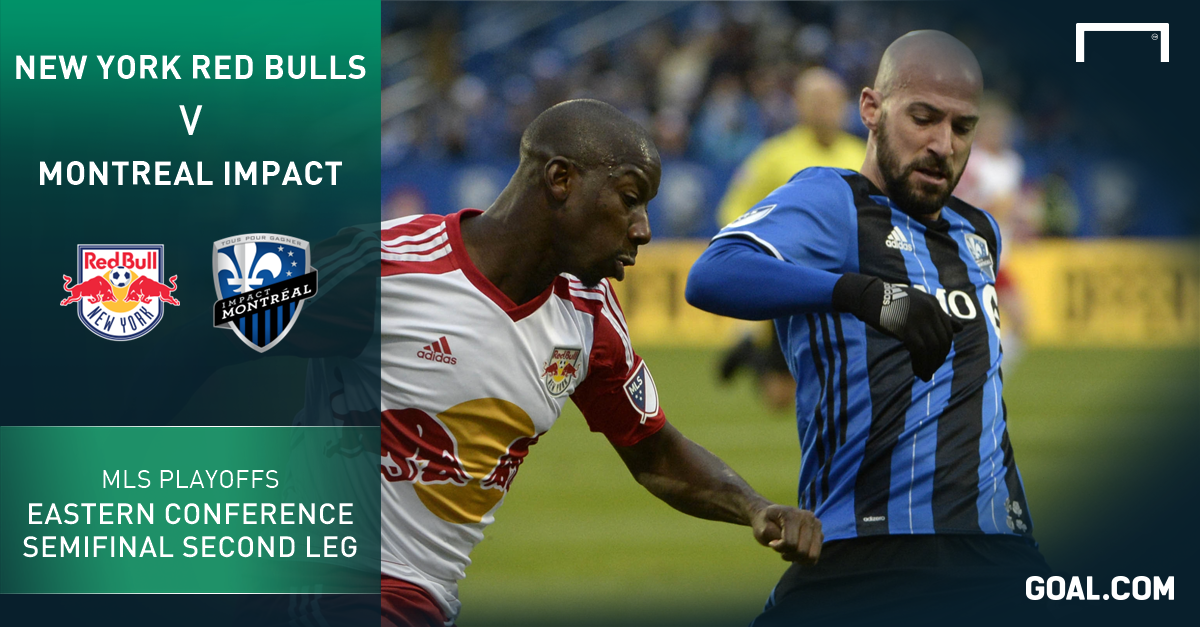 FIRST-LEG RESULT: Impact won, 1-0, at Stade Saputo (October 30).
MATCHUP TO WATCH: Sacha Kljestan vs. Marco Donadel. The Impact did a good job of limiting Kljestan's effectiveness in the first leg, between Donadel and Patrice Bernier, but Kljestan has been a terror at home all season and will be eager to rebound from a quiet first leg.
PIVOTAL PLAYERS: Bradley Wright-Phillips and Ignacio Piatti. The two MVP candidates will be called upon to deliver the goals on Sunday, and after missing a wide-open look late in the first leg, Wright-Phillips will be under some added pressure to deliver.
WILD CARDS: Daniel Royer and Dominic Oduro. Injury issues with Mike Grella and Royer led to Gonzalo Veron starting in the first leg, but Royer is closer to being ready to start on Sunday, and Montreal will remember how good he looked against them during the regular season. As for Oduro, his speed could cause real problems against Red Bulls left back Kemar Lawrence, who could be carrying a knock from the first leg into the second leg. Didier Drogba could wind up being the real wild card, if he plays at all.
WHAT THE RED BULLS NEED: Better spacing in the attack, and more production from the flanks to force Montreal to stay honest in midfield. Whoever is on the flanks for the Red Bulls must force Montreal to tighten its grip in the center of the field.
WHAT THE IMPACT NEED: Staying compact is key, and with there being a good chance Sunday's second leg will be called much tighter than the first leg, the Impact must be careful with the rough stuff they got away with last week. One thing they can't afford to do is just sit back and absorb pressure, because teams that do that at Red Bull Arena tend to meet an ugly demise.
OUTLOOK: The Impact couldn't have asked for a much better team effort and outcome in the first leg, but winning at Red Bull Arena is a different proposition altogether. Will the pressure of past playoff failures weigh heavily on the Red Bulls, or will the support of the home fans in New Jersey help the tandem of Wright-Phillips and Kljestan work their magic at home like they have all season?
---
NEW YORK CITY FC vs. TORONTO FC
---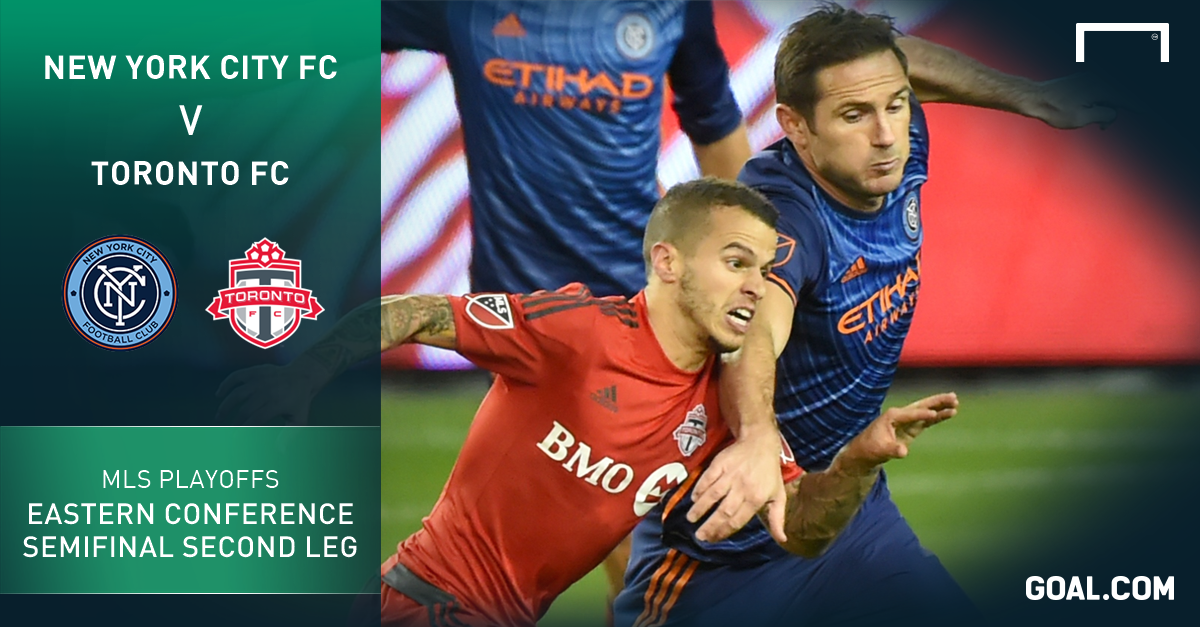 FIRST-LEG RESULT: Toronto FC won, 2-0, at BMO Field (October 30).
MATCHUP TO WATCH: Michael Bradley vs. Frank Lampard. Assuming he starts, Lampard will be a big key to NYCFC's attacking efforts on Sunday, and Bradley is coming off an outstanding showing in the first leg. If Bradley can shackle Lampard, it will make things that much more difficult for an NYCFC team that needs multiple goals to advance.
PIVOTAL PLAYERS: Sebastian Giovinco and David Villa. The two superstars are two of the toughest players in the league to stop, but Giovinco has an edge because he can create on his own, while Villa needs support from his midfield. The good news for Villa is that NYCFC has been much better at home in recent months.
WILD CARDS: Jack Harrison and Justin Morrow. Chalk this up as another matchup to keep an eye on. Harrison's dynamic play in the final third can cause problems, but Morrow will do his part to try and keep Harrison honest defensively while also trying to keep him quiet in the attack.
WHAT NYCFC NEEDS: A healthy Andrea Pirlo. The Italian legend missed the first leg with a calf strain and remains a doubt for the second leg. Without him, NYCFC loses quite a bit of fluidity in possession and creativity that can't be replaced. If he starts, he is capable of being the key to an NYCFC comeback.
WHAT TORONTO FC NEEDS: An in-form Jozy Altidore. The U.S. national team striker has been outstanding in recent months, and he'll need to be solid again on Sunday, with his hold-up play being key to breaking down NYCFC's defense.
OUTLOOK: NYCFC has been very tough at home in the second half of the season, but erasing a two-goal deficit while also keeping an attack featuring Giovinco and Altidore from scoring. The game will be won and lost in midfield, where NYCFC has the weapons to cut into TFC's series leader early. The challenge for Vieira will be deploying a defense that can cope with Altidore's power AND Giovinco's elusiveness. That is a lot to ask for.
---
FC DALLAS vs. SEATTLE SOUNDERS (9:30 p.m., FOX Sports 1)
---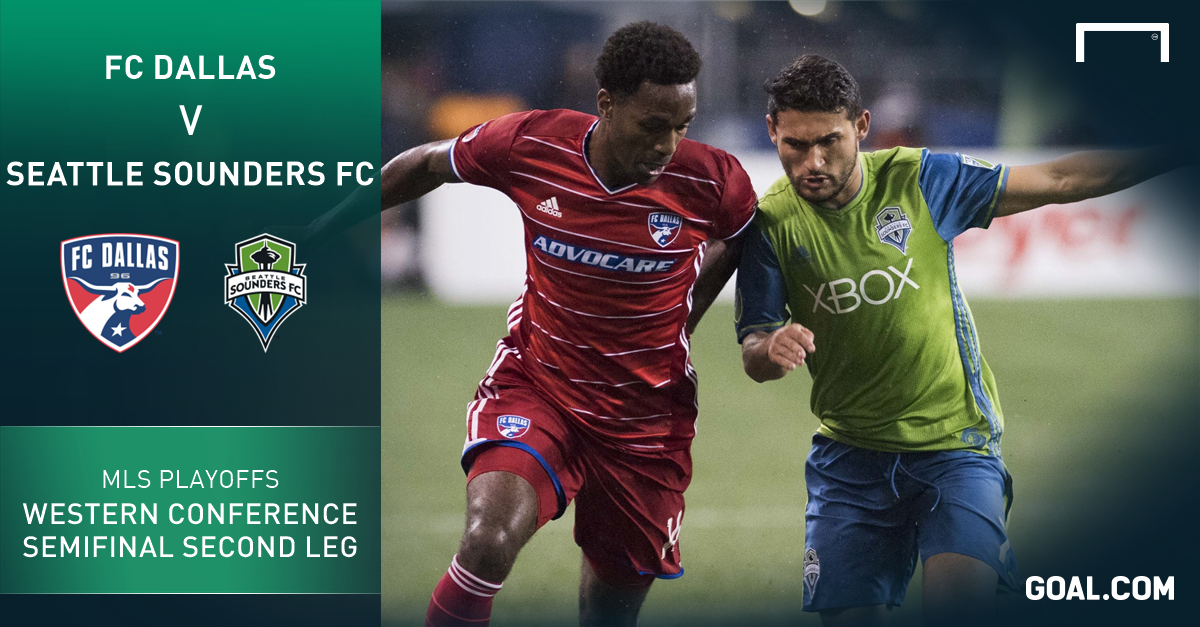 FIRST-LEG RESULT: Sounders won, 3-0, at CenturyLink Field (October 30).
MATCHUP TO WATCH: Maxi Urruti vs. Chad Marshall. If FC Dallas is going to have any hope of a comeback, Urruti will need to duplicate his playoff heroics of 2015 with the Portland Timbers. Marshall must ensure that Urruti doesn't find gaps to exploit in the Sounders defense.
PIVOTAL PLAYERS: Michael Barrios and Osvaldo Alonso. With star playmaker Mauro Diaz sidelined, FC Dallas will need Barrios to make things happen in attack, while Alonso will be called on to try and force FC Dallas to attack from the flanks by clogging up the middle of the field.
WILD CARDS: Tesho Akindele and Nelson Valdez. After not starting in the first leg, Akindele should be fresh and ready to go in the second leg, and FC Dallas desperately needs his quickness to put pressure on Seatlte's defense. After two goals in two playoff matches, Valdez will be hard-pressed to deliver an encore, but the Sounders should give him a chance to.
WHAT FC DALLAS NEEDS: Attacking options like Akindele, Mauro Rosales and Carlos Ruiz to all provide support to an attack that desperately misses Diaz. If those players don't step up, FC Dallas won't find the goals it needs to survive.
WHAT THE SOUNDERS NEED: One Sounders goal effectively kills off the series, so a counterattack goal as FC Dallas pushes for chances could put the series to bed.
OUTLOOK: As much as FC Dallas believes it still has a chance, and even though MLS playoff history has seen bigger comebacks, it's just tough to see the Sounders both collapsing defensively and failing to score an away goal. If Mauro Diaz was healthy, FC Dallas would have a puncher's chance at pulling off the comeback, but without him, it's too tall a task.
---
COLORADO RAPIDS vs. LA GALAXY (2 p.m. ET, ESPN)
---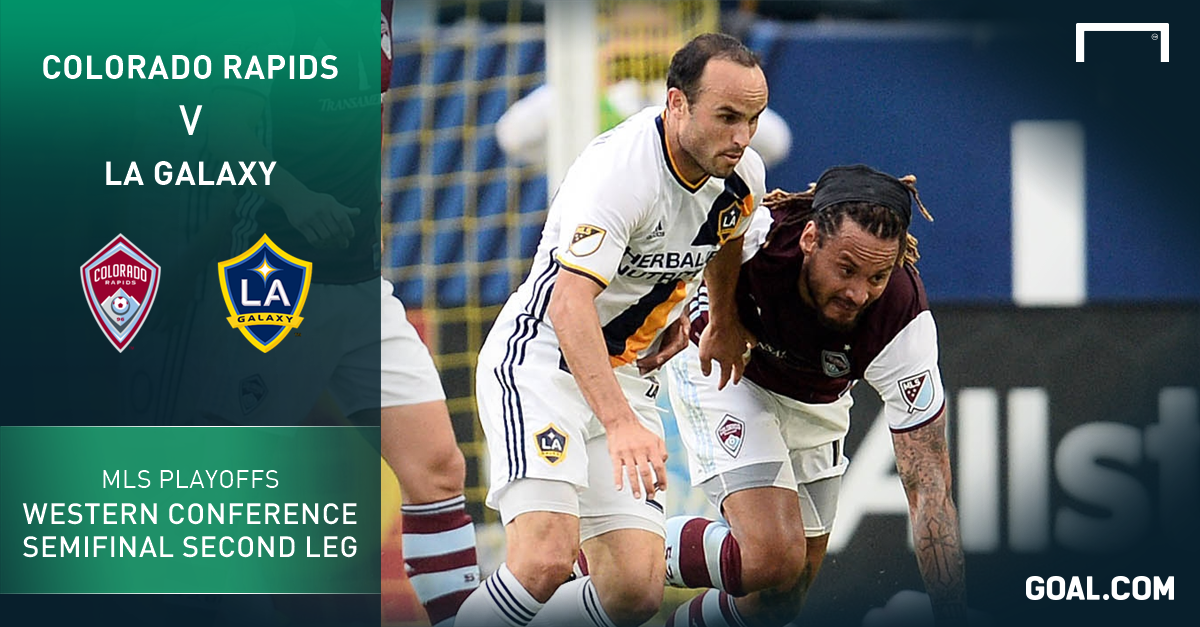 FIRST-LEG RESULT: Galaxy won, 1-0, at StubHub Center (October 30).
MATCHUP TO WATCH: Shkelzen Gashi vs. Robbie Rogers. The Rapids attack needs to create more chances than it did in the first leg, and Gashi is right at the top of the list of Colorado attackers who didn't do enough last time out. Rogers deserves some credit for that, but will find the challenge tougher in Colorado.
PIVOTAL PLAYERS: Tim Howard and Gio Dos Santos. The U.S. goalkeeper is sure to face his share of shots on Sunday, and the Rapids will need one of his signature multi-save efforts to have a chance of topping the high-flying Galaxy. Dos Santos has been playing with increased confidence in recent weeks, and as he showed last week, even the Rapids stingy defense isn't tough enough to keep him from finding a way through.
WILD CARDS: Jermaine Jones and Ema Boateng. One of the biggest questions heading into Sunday is whether Pablo Mastroeni will insert Jones into the starting lineup. He's a big-game player, and also a persuasive person, so don't be surprised to see him start, and play well. Boateng's speed has been causing problems for opponents, and Bruce Arena just might give him another chance to run free against Colorado's fullbacks.
WHAT THE GALAXY NEED: To finish the chances they create. The chances were there in the first leg, and there should be some more chances on Sunday. Robbie Keane could be a big difference maker in that department.
WHAT THE RAPIDS NEED: More attacking quality, which is something Jones could provide if he starts, and if not, then Dillon Powers needs to step up and create chances for Gashi, Kevin Doyle and Dominique Badji.
OUTLOOK: The Rapids were unbeaten at home during the regular season, and the combination of high altitude in Colorado coupled with the Rapids well-organized and tough defense has made life miserable for visitors. The Galaxy attack is a different breed though, and if Keane is in the starting lineup, he could be too tough to handle, especially with Dos Santos and Landon Donovan providing service.