Daniel Steres is the consummate USL success story.
As a supplemental draft choice who failed to stick with a pair of MLS clubs in 2012, Steres saw the third tier as a lifeline, a steppingstone, a launching pad — anything and everything a raw, young player needed.
It also was a reality check. A second-year professional with the Wilmington Hammerheads in 2013, Steres played in the smallest market the USL had to offer. The crammed locker room and lack of an on-site trainer served as daily reminders of where Wilmington stood in the soccer hierarchy. He found that purchasing food fitting of a high-level athlete wasn't easy on a shoestring budget. And away games were defined by long road trips, spent stacked in sleeper bus bunks.
"A lot of players have to take second jobs in the offseason just to support themselves," Steres told Goal USA. "It's tough, and you're looking at your friends who finished college and just went on and got a job and they're doing better than you are, even though you're a professional athlete.
"People might say, 'Oh, you've got a nice job, you get to play soccer and stuff.' But there's not much pay in it sometimes, and guys are just doing it for the love of the game — and the opportunity that might come if they are successful."
With that 2013 season under his belt, the Southern California native signed with the LA Galaxy's newly launched USL reserve squad the following year. After two seasons with Galaxy II — or "Los Dos" — Steres made the jump to the Galaxy proper this past offseason.
Called upon by coach Bruce Arena to start the injury-hit Galaxy's MLS opener, the 25-year-old nodded home a 54th-minute equalizer to turn the tide in a 4-1 win over D.C. United. Although Steres was seen as a stopgap when he entered the fold in March, the center back has sat out just one match this season while pacing the second-place Galaxy (11-4-15) in appearances, starts and minutes played.
"I think guys in USL can have someone to look up to in Steres," Galaxy defender A.J. DeLaGarza said. "When he was called upon early in the season, that first MLS game he took advantage of it and scored his first goal. He hasn't looked back since then, so that's a true testament to him and his character and his work rate."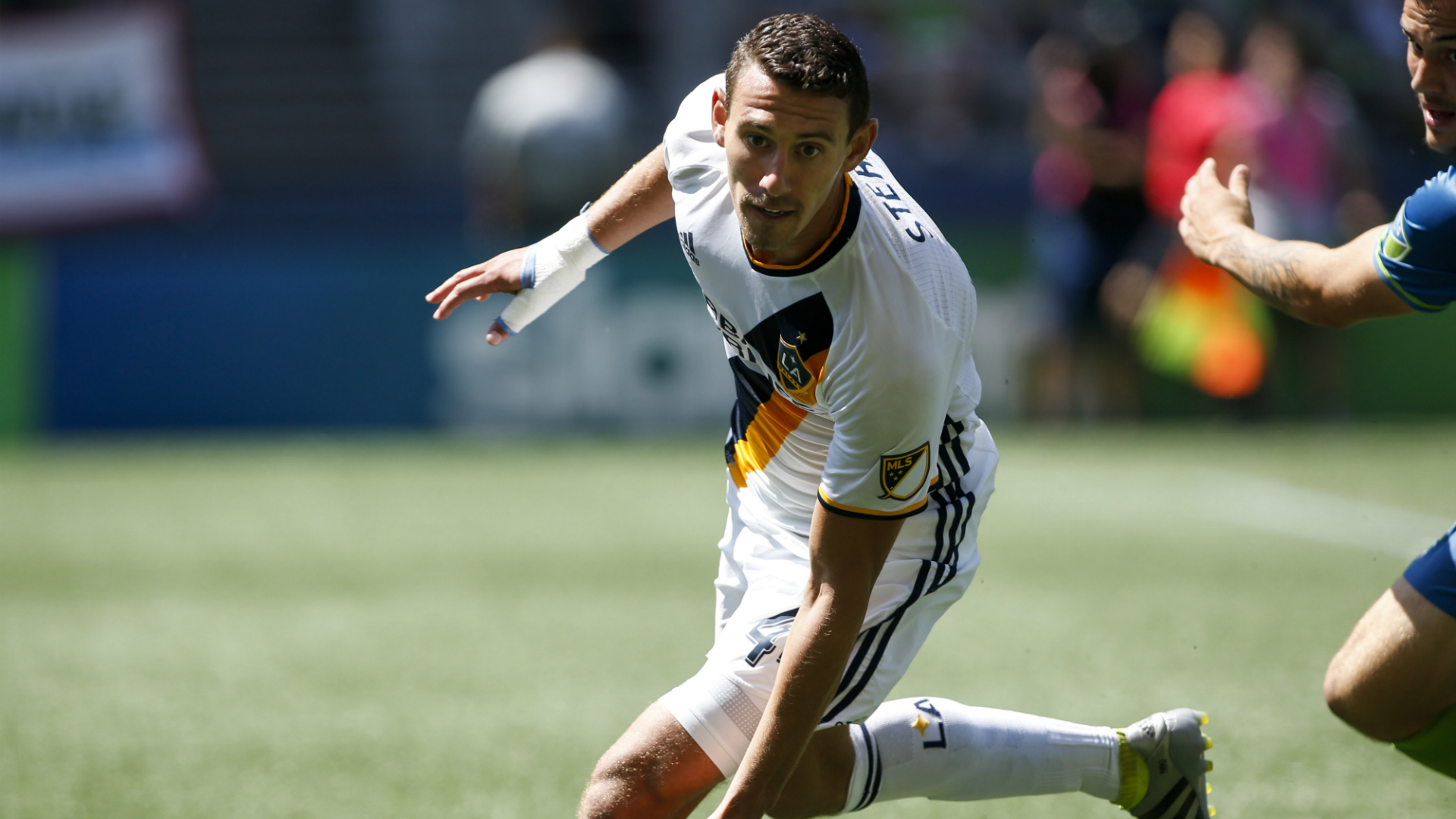 The San Diego State product certainly has had to work for his opportunities. As a second-round pick by Chivas USA in the supplemental draft, Steres was the 66th player taken in the 2012 class. A rough preseason camp promptly saw Steres let go by Chivas, freeing him to train — and eventually sign — with the Seattle Sounders.
But Steres already had competed for his local fourth-tier team, the Ventura County Fusion, in that year's U.S. Open Cup — cup-tying him for the competition and axing his primary opportunity to play for the Sounders' first team. Half a season and no appearances later, Steres departed Seattle.
With his MLS options seemingly exhausted, Steres took to the modest setting of Wilmington in hopes of jump-starting a stalled career.
"I had it in my mind I was going to give it a good go — whether that was three years, four, whatever it was," said Steres, who studied finance in college. "I'm not really a player that's going to impress or flash in one scrimmage, but over the course of a few trainings, a few weeks, a season or so, they'll see the consistency in what I bring. I got my degree — you can always go back and get a job. You can't always keep playing soccer when you get older."
Steres' performances caught the eye of the Galaxy, who approached him about signing with their reserves before the club had even announced the launch of Los Dos.
A strong debut season with Galaxy II prompted an invitation to the first team's 2015 preseason, with Steres setting his sights on an MLS contract. But a lingering calf injury derailed that opportunity, and a despondent Steres instead found himself reporting for a third season in the USL.
"I won't lie, I was probably pretty frustrated for the first couple months of the Los Dos season," Steres said. "But to be fair, I think it actually made me a better player, taking my frustration out and using it in games. Once that happened, I knew that if I kept doing my thing either it would work out or I'd have a chance to go somewhere else afterward."
The result was Steres' strongest USL season yet. As captain of Los Dos, he led the club to a USL Championship appearance and landed himself a spot on the All-League first team. Summoned by the MLS side for a pair of summer friendlies, he held his own in daunting appearances for the Galaxy against Club America and Barcelona.
This time around, there was no need for a preseason audition: The Galaxy inked Steres to a first-team contract in mid-December, marking his return to MLS three years after he failed to make an impression with the Sounders.
"I was probably a little timid," Steres said of his first MLS stint. "I was taking a step back, letting things happen, trying to absorb it instead of forcing myself in and just doing what I do. But going through the [USL], playing against guys who have been in the league, playing against the first team in training when I was with [Galaxy II] and seeing the level, I can't say that I didn't develop over the years. I definitely developed, and I wasn't the same player in Seattle that I am now."
That evolved player is one the Galaxy lean on heavily. On a team loaded with big names, from Steven Gerrard and Giovani dos Santos to Robbie Keane and the resurgent Landon Donovan, Steres will never be much of a headline grabber at StubHub Center. Yet his dependable marking, distribution and aerial prowess have made the 6-foot defender an ideal foil for the bravado of his marauding center back partner, Jelle Van Damme.
"He just has a sense of calmness to him," DeLaGarza said. "When he does something good he's not overjoyed and when he does something bad he's not beating himself up about it."
While over half the clubs in MLS now operate their own reserve teams in the USL, Galaxy II began as a one-of-a-kind venture — making it something of a gamble. But as a longtime Galaxy fan who grew up idolizing the likes of Cobi Jones and Mauricio Cienfuegos at the Rose Bowl, Steres said the opportunity to join the LA organization simply "jumped off the page."
Now he's in prime position to help his star-studded hometown team seize a sixth MLS Cup title — a far cry from those nights spent rolling up and down I-95 in shaky bus beds.
"The last four years, it's been, 'How are you going to keep going?'" Steres said. "It's been a great year so far — one I never would have expected at the beginning of the year going into it. Now that it's come out this way, I'm just trying to take it in stride and develop and grow into a better player — and help this team do bigger things."
READ MORE FROM GOAL USA'S MLS SPOTLIGHT SERIES:
CRISTIAN ROLDAN | WALKER ZIMMERMAN | MARKY DELGADO | JAKE GLEESON