David Villa isn't known for much hyperbole, so when the World Cup winner and New York City FC captain delivers praise about a team-mate, you tend to believe him. That made his most recent comments about Jack Harrison all the more head-turning.
Shortly after Harrison enjoyed the best game of his young career, scoring a goal and setting up Villa's second in the 2-0 victory against the rival New York Red Bulls earlier in July, Villa put into words what the rest of MLS is quickly finding out.
Jack Harrison is a special young talent.
"I've spent a lot of years in this game, and he has something important that only a few players have," Villa said. "When he has the ball at his feet, you get the sensation something is going to happen.
"Few players give you that feeling and he has it. He has it at 19 years old, with not much time as a professional," Villa added. "And he has it, which is the most important thing, along with being a great kid who knows where he has to take his career, and day after day he wants to learn and grow."
Villa knows what playing with such players is like, having been teammates with Lionel Messi at Barcelona and playmakers like Xavi and Andres Iniesta with Barca and the Spanish national team. In Harrison, NYCFC has found a young talent who combines fearlessness with speed and technical quality, a recipe that has helped NYCFC find a new gear since he returned from injury a little more than a month priot.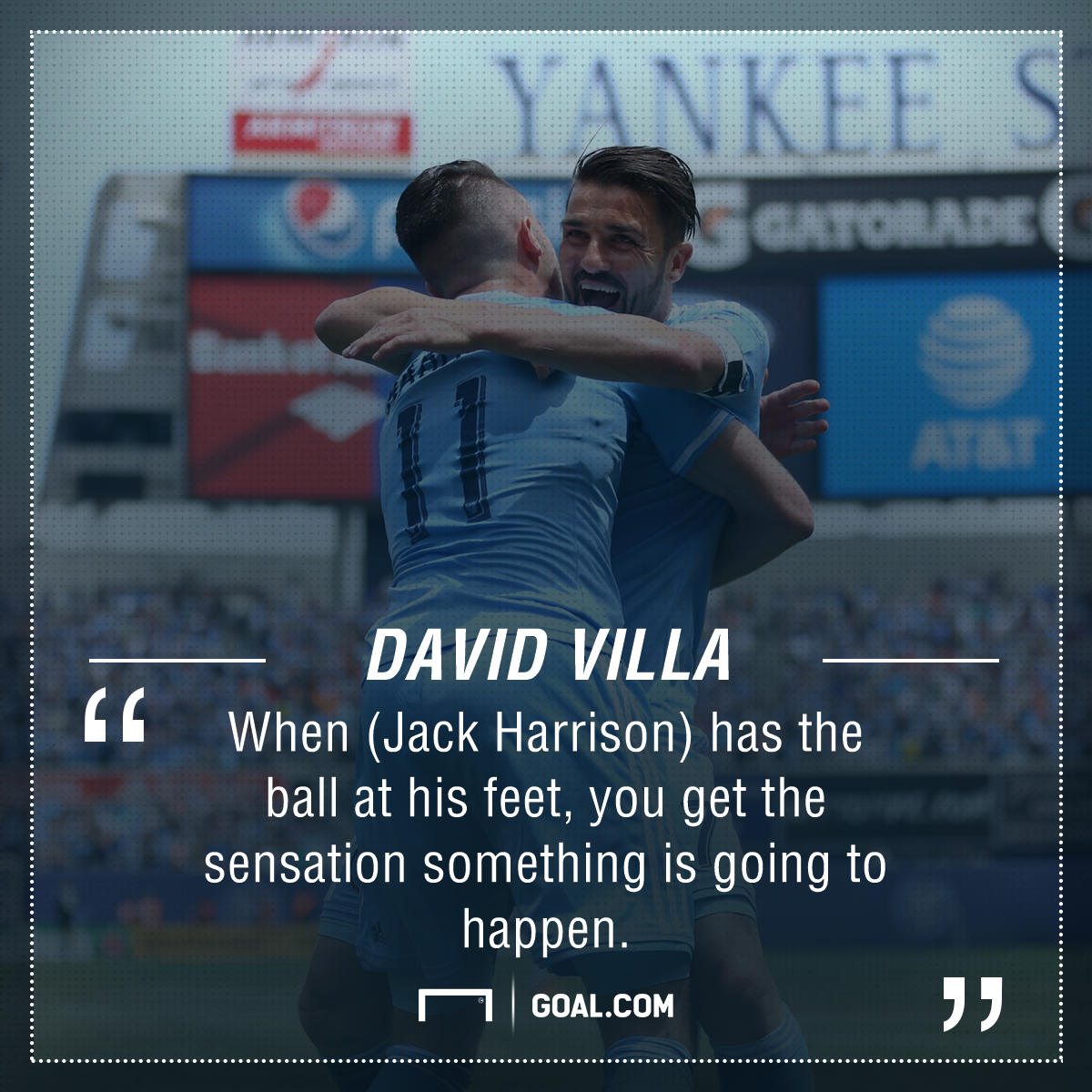 Not bad for a 19-year-old who hadn't even played a professional match until May. A fractured pubis bone discovered shortly after the MLS draft forced Harrison to spend the first three months of his pro career on the sidelines, unable to even train with his new team. His rehabilitation limited him to bike and pool workouts while the rest of his team-mates had a head start on learning the system and preferences of new NYCFC coach Patrick Vieira.
"It takes a toll on you mentally and physically, not being able to train," Harrison told Goal. "I'm just happy to have the guys around me make me feel so comfortable. I've never felt any pressure whatsoever during that time."
As tough as those three months of not training or playing were to endure, they did have a surprising benefit in that they allowed Harrison to watch and learn, which wound up proving invaluable to helping him pick up the team's system.
"It gave me a little time to take a step back and look at the game from a different perspective," Harrison said. "I've been really lucky in my career to not have any major injuries so that was my first experience with that. I was able to see the game differently, and look at different things on the professional level that would help me. That helped out a lot."
"He's only been with us a month and he's picked up all the intricacies of Patrick's system," Villa said of Harrison. "He knows when he has to pressure, he knows when he has to come inside, he knows when he has to go outside, he knows when he has to defend and attack, and that's something very important for a kid who has only been with us a month."
Harrison has made a believer of Vieira, who inserted him in the starting lineup just two weeks after his return, in a 3-2 loss to Real Salt Lake. Harrison made the most of that first pro start, scoring a goal to offer a glimpse of what he has to offer.
He has been in the line-up ever since, along the way picking up two goals and two assists in four starts including his man-of-the-match showing against NYCFC's rivals, looking more like a veteran than a rookie playing his first pro matches.
"'Rookie' doesn't mean nothing for me," Vieira said. "What is important is talent and this is the reason why we went for him in the draft, because we watched him play a few games and he had something really special and something that we didn't have in our squad.
"I'm really pleased with the way he played, but what I'm really pleased with is his commitment and his hard work in training," Vieira added. "When you have players around, when you are young and you are talented, and you play next to David, Andrea [Pirlo] and Frank [Lampard], you can express your talent."
The former Manchester United's academy member came to the U.S. and played high school soccer in Massachusetts to earn Gatorade national high school player of the year honors before spending one season at Wake Forest. A member of th Generation Adidas class in the 2016 MLS draft, Harrison was taken by the Chicago Fire with the first overall pick but traded to NYCFC on draft day.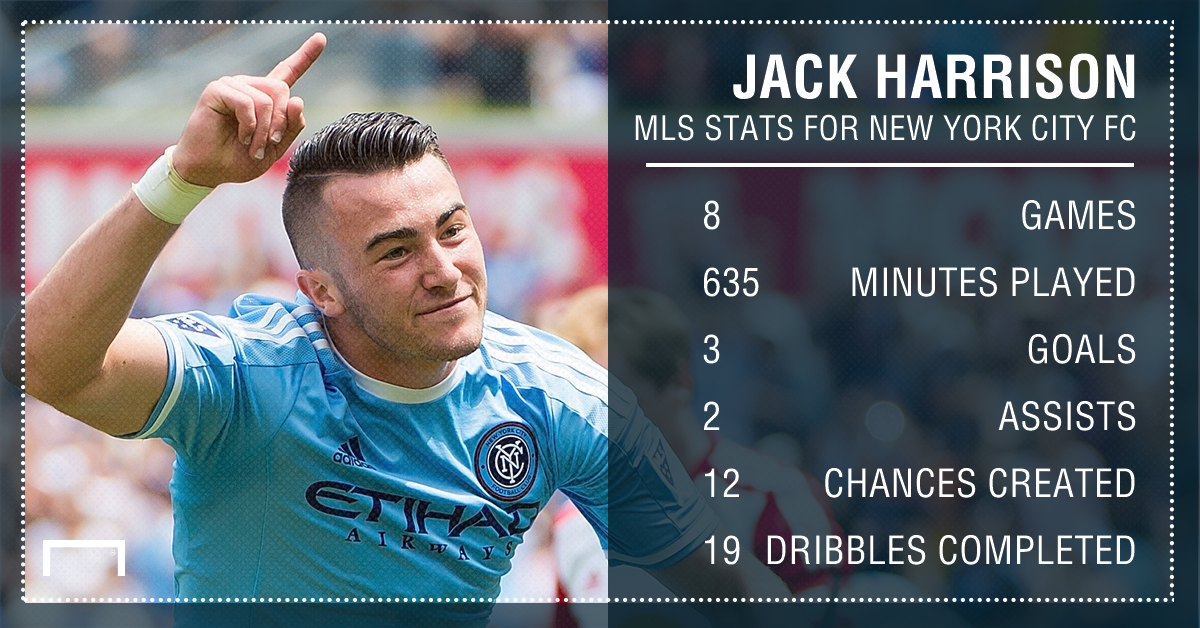 Harrison didn't come into the 2016 season overburdened by high expectations, in part because, early on this season, all eyes were on Vieira and how he was handling his first season in charge of NYCFC. While the club went through a roller coaster ride of results in the early months of the season, Harrison was in the background preparing to take advantage when an opportunity came.
"I wasn't quite sure what to expect really because the professional level is completely different and I knew I had to adapt to that at some point," Harrison said. "Obviously watching guys like Khiry (Shelton), Tony (Taylor) and all these guys, I knew it was going to be a challenge coming in to earn your spot on the team."
Harrison has taken that spot with both hands, and is a key factor in his team's recent surge into first place in the Eastern Conference. As impressive as Harrison has been, Vieira thinks the rookie can be even better.
"I still believe the best is still to come," Vieira said of Harrison. "I'm really pleased, I think he's playing really well. Don't forget that he was out for four months with the injuries, and we know in our football, to get back you need another three or four months to get back to your best.
"He's still young, and he's going to make mistakes," Vieira cautioned. "Today he went well, yesterday he went well, but even he will go through a difficult period, and we will give him the support that he needs. We have a young, really talented player in our football club."