It may not feel like it, but the 2016 Major League Soccer season is already fast approaching the quarter pole, and what may have been seen as simply being early-season trends just might be what many fans can come to expect from their teams this year.
The New York Red Bulls are one team hoping that isn't the case. Currently sporting the worst record in MLS, the one-win Red Bulls are a far cry from the Supporters' Shield winners of 2015, and face a daunting challenge this weekend as they take on an improved Orlando City side at Red Bull Arena.
The Colorado Rapids and Real Salt Lake will be hoping to keep their surprise runs going, and each has done enough at this point to suggest neither's start is a fluke. Keeping those runs going won't be easy though, as each faces a perennial Western Conference power in MLS Week 8.
Several teams stopped slumps with much-needed victories last week, and will look to continue reversing some early-season trends. The Columbus Crew registered their first win of the season last week, and take on a struggling Houston Dynamo for a chance to climb closer to the pack in the East. Out West, the Seattle Sounders will try to halt Colorado's momentum when they visit Dick's Sporting Goods Park.
This weekend could also see the return of several stars who had been sidelined by injuries. Javier Morales hasn't started a match in more than a month because of a rib injury and illness, but could feature in Sunday's high-profile clash between unbeaten Real Salt Lake and the LA Galaxy.
Bruce Arena will be eager to see if Gio Dos Santos and Steven Gerrard can build on their outstanding performances in last week's route of the Houston Dynamo. They will need to if the Galaxy are going to hand RSL its first loss of the season.
Here is Goal's guide to the major stories to watch for in MLS Week 7 ...
---
IT'S A BIG WEEKEND FOR ... THE NEW YORK RED BULLS
---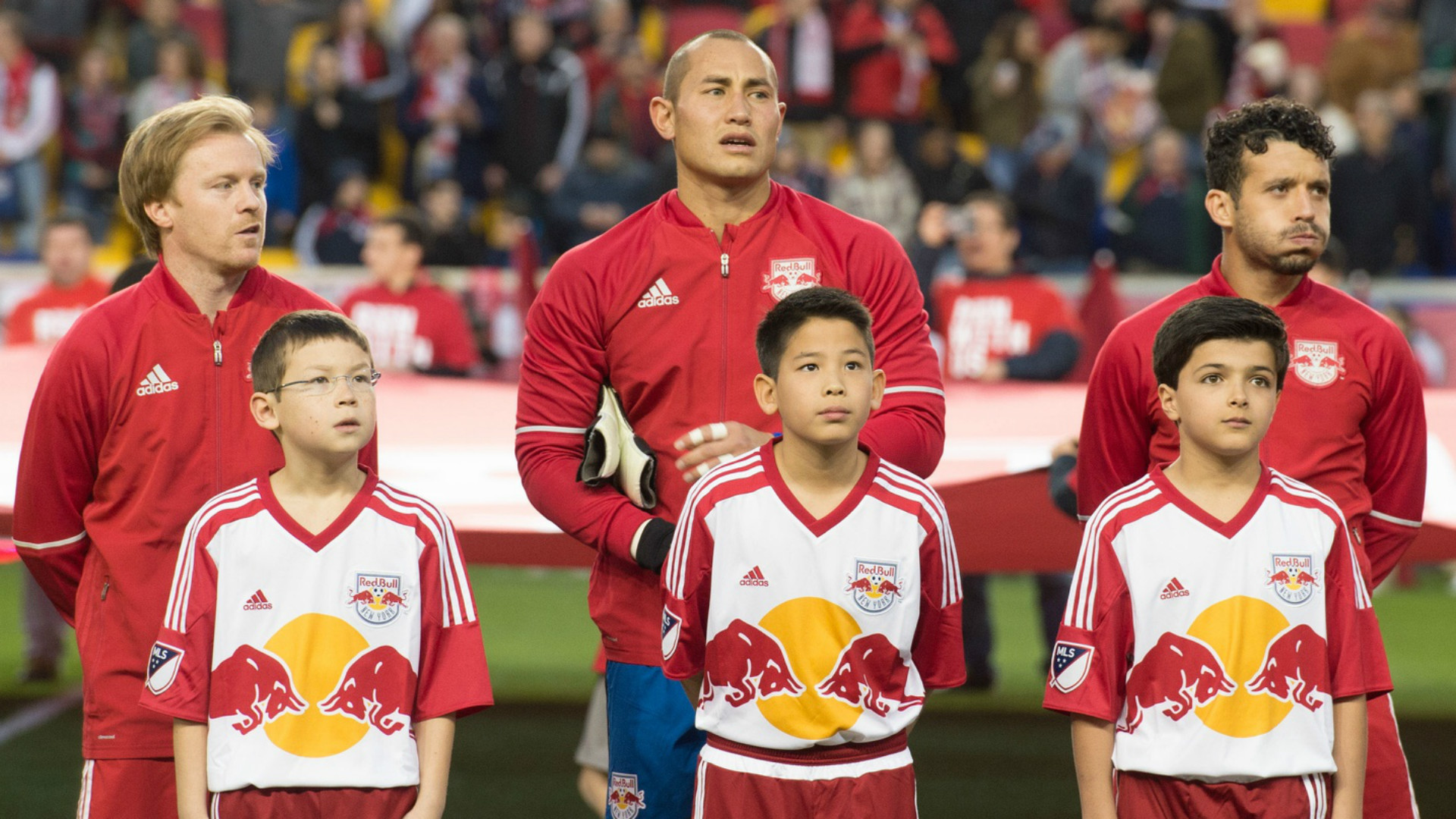 There aren't many stats you can point to in search of a silver lining to the New York Red Bulls' woeful start to the season. They have scored the fewest goals, and allowed the most. They have lost suffered two more losses than any team in the league, and have amassed the fewest points.
How is a team that finished with the best record in the league just last year in such a slump? You name it, and it's gone wrong. The attack has failed to click anywhere close to the way it did last year, in part because of Bradley Wright-Phillips inability to finish and the midfield's considerable dip in form compared to last season. The team's wingers, Mike Grella and Lloyd Sam, were vital to the team's attacking success in 2015 and neither has come anywhere close to last year's form. Gonzalo Veron's early injury has definitely hurt since he would have grabbed a starting role away from Sam or Grella by now, but without him the attack has had few options.
Things are even worse defensively, where injuries have taken their toll. Sal Zizzo is the only preseason projected starter to be healthy through the first seven matches of the season, but even before injuries kicked in the Red Bulls defense was looking shaky. Matt Miazga's transfer to Chelsea obviously played a part in the team's defensive regression, but Damien Perrinelle's absence due to ACL surgery has been just as significant.
The early-season results might be enough to have some teams panicking, but Red Bulls coach Jesse Marsch insists it is too early to get crazy about a bad start.
"You're going to have moments in seasons where you don't get breaks, and sometimes things aren't as clean as they need to be," Marsch said. "For us, right now it's the beginning part. If we start freaking out now then we build in a lot of anxiety to our team. We don't have anxiety. We have confidence in who we are, and now it's just about getting better every day so that next game we'll be improved."
Can the Red Bulls regroup this week? Ronald Zubar and Kemar Lawrence returned to the lineup last week, but couldn't help the Red Bulls avoid defeat in Colorado. Orlando City boasts more dangerous attacking weapons than the Rapids, and if Cyle Larin is healthy enough to start, the Lions could have a field day much like they did last year, when they posted a 5-2 victory in their only visit to Red Bull Arena in 2015.
The Red Bulls midfield must step up, particularly the central trio of Sacha Kljestan, Dax McCarty and Felipe Martins. They must not only contend with Kaka, but also try to create chances against a Lions midfield that has done a good job of making things difficult for opposing playmakers. Antonio Nocerino's suspension for entering the field of play in last week's match with New England will hurt Orlando City, especially if Cristian Higuita remains sidelined with a groin strain.
Even if the Red Bulls do create chances, they will need Bradley Wright-Phillips to convert. He has yet to score a goal this year, and is the only player among the league's top 15 in shots taken who doesn't have a goal yet. If that doesn't change on Sunday, the Red Bulls could wind up in an even deeper hole in the Eastern Conference.
---
DON'T MISS ... LA GALAXY vs. REAL SALT LAKE
---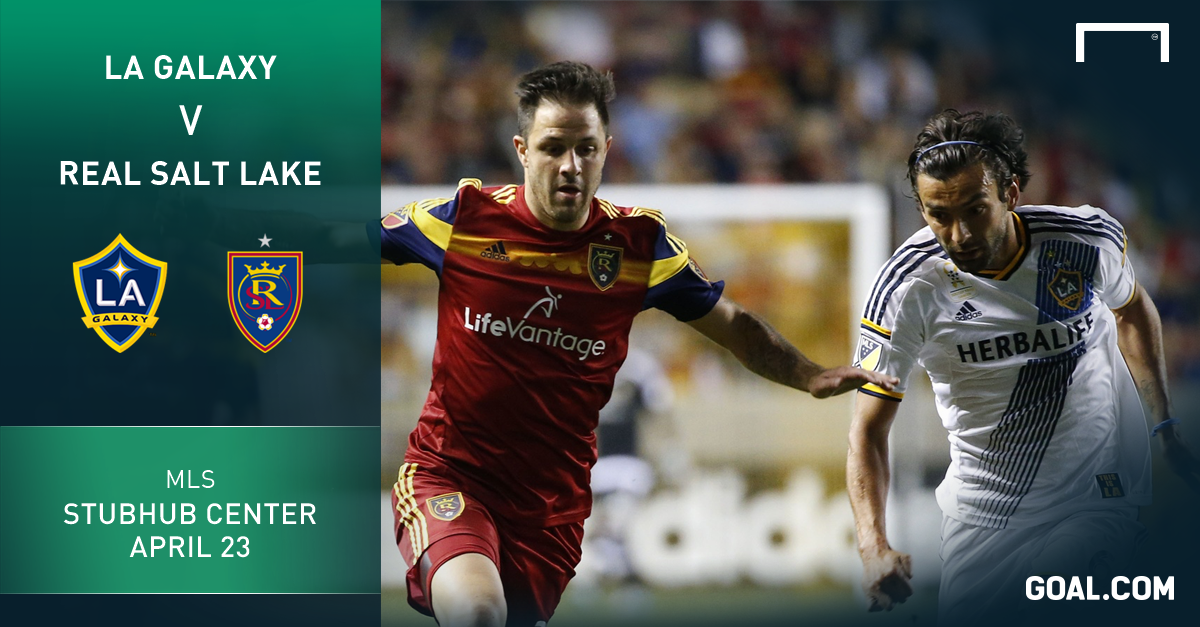 When the 2016 season began, the LA Galaxy might have been most people's pick as the team most likely to still be undefeated, while few would have had Real Salt Lake as the league's lone unbeaten team. As they prepare for their first meeting of the year, it is RSL which has avoided defeat and exceeded expectations to start the campaign.
The Galaxy stand poised to halt that unbeaten run, especially after playing their best game of the year in last week's 4-1 win at Houston. Gio Dos Santos and Steven Gerrard were excellent in that win, and will be key to breaking down an RSL defense that has exceeded expectations this season.
The RSL midfield tandem of Kyle Beckerman and Stephen Sunday have done well to neutralize opposing playmakers this season, and will be key to keeping Dos Santos under wraps, while Aaron Maund will look to keep his stellar season going by containing Gyasi Zardes.
Defensively, the Galaxy are catching a break with the absence of RSL standout Joao Plata, who is set to miss the match with a hip flexor injury. His absence comes just as Robbie Rogers is back to full health for the Galaxy. RSL still boasts Yura Movsisyan and Juan Manuel Martinez, and the Martinez-Ashley Cole clash should be one of the best of the weekend.
Though RSL won't have Plata, Argentine playmaker Javier Morales is healthy once again, and is expected to feature in the match. His creativity will be key to RSL's chances, whether as a starter or sub, especially with Nigel de Jong still suspended.
---
QUOTE OF THE WEEK ... PETER WALTON
---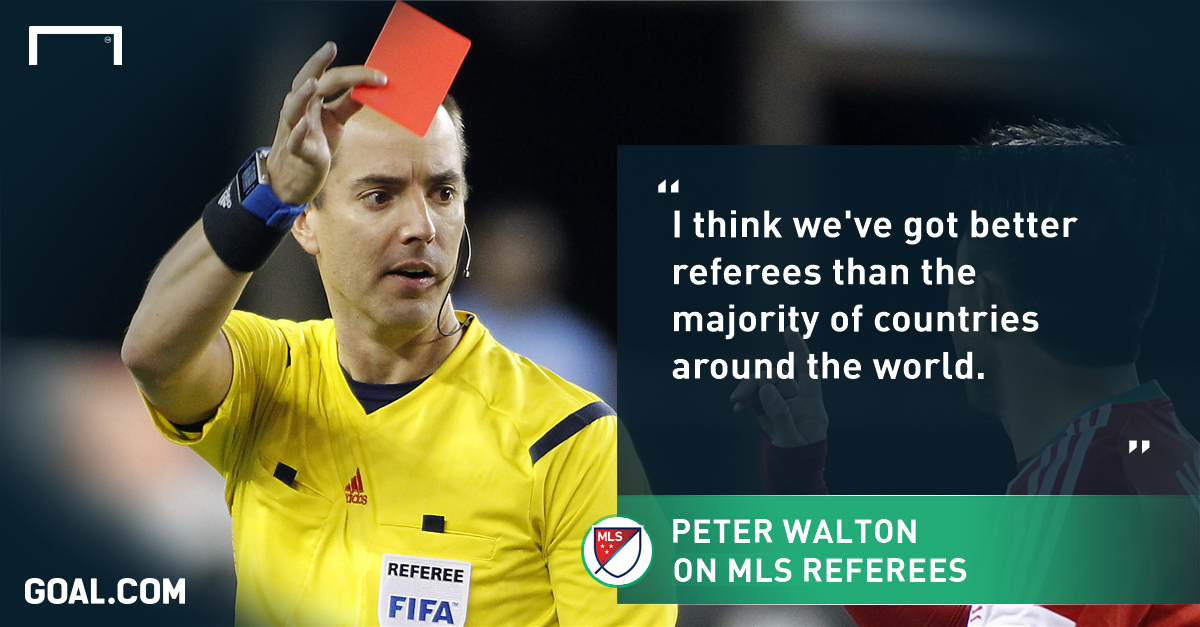 Peter Walton, general manager of the Professional Referee Organization — the governing body that oversees match officials for MLS — has been extra busy this season backing MLS referees. He has had to defend the early-season rash of red cards and dispute claims that officiating overall in MLS has gotten worse.
Walton took that defense to a new level this week. Appearing on the ESPN television program ESPN FC, Walton said MLS' officiating is among the best on the globe.
"I think we've got better referees than the majority of countries around the world," Walton said when asked if MLS should consider bringing in officials from other countries. " I don't see why we bring foreign referees in here.
"They'll still make mistakes, just look around the world, they still make them."
Walton's defense of MLS referees came in the same week where MLS acknowledged that referee Ted Unkel issued a red card to the wrong player (Columbus Crew defender Michael Parkhust), and then followed up with a ruling that the red card in question never should have been given (it was meant for Tyson Wahl, but was eventually rescinded). Walton's comments also came shortly after last week's controversial ending to the Orlando City-New England Revolution match, which saw referee Baldomero Toledo miss a key call and then make a bad call that paved the way for both teams to wind up with goals they shouldn't have been allowed to score.
It has not been a banner year for officiating in MLS, and while it may be in Walton's job description to defend his officials, his defenses of MLS referees are starting to ring very hollow.
---
KEEP AN EYE OUT FOR ... THE BATTLE FOR CANADIAN SUPREMACY
---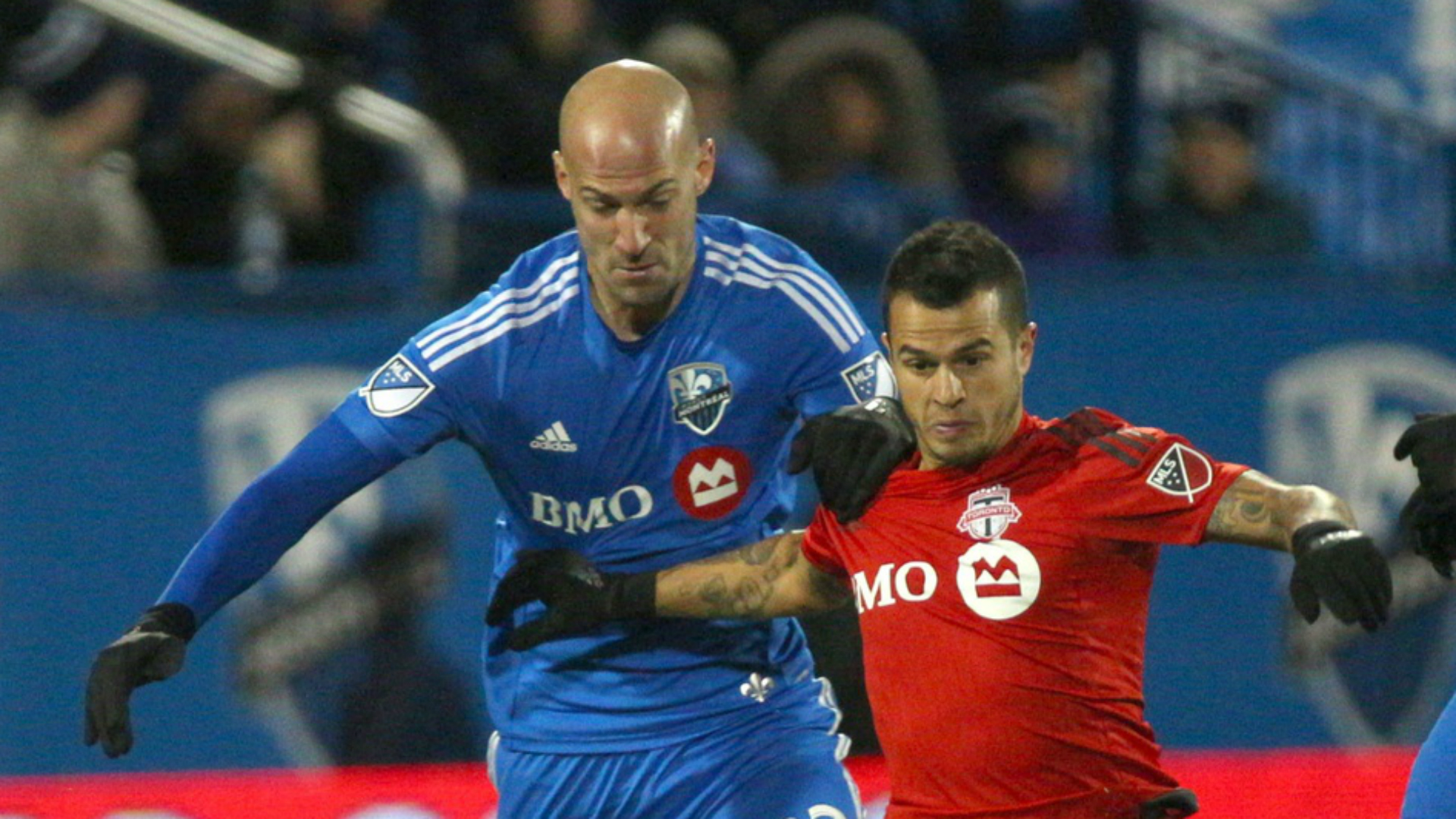 The Montreal Impact and Toronto FC came into 2016 with high expectations, and as they prepare for their first meeting since last year's playoffs, they each still have realistic aspirations of being the best team in the Eastern Conference.
Montreal plays host to TFC on Sunday at Stade Saputo in the first clash between the two sides since the Impact eliminated TFC from the playoffs last season. Both teams have different looks entering Saturday's meeting, especially Toronto FC, which underwent a major overhaul shortly after being embarrassed by the Impact in the playoffs.
Didier Drogba made his return last week, and could make his first start of the season against a TFC side that is a much better defensive unit than the one Drogba faced in 2015. Conversely, you can argue the 2016 Impact attack is more versatile this year with the addition of Harry Shipp and improved play of Ignacio Piatti.
TFC is playing the final game of a grueling road stretch before returning to a renovated BMO Field, and that homecoming would be made all the sweeter with three points earned in Montreal. Toronto's attack will need to be better than it's been so far this season though, with Jozy Altidore a player Greg Vanney needs to step up to help Sebastian Giovinco break down Montreal's stingy defense.