Portland Timbers midfielder Darlington Nagbe left Sunday's draw between his side and LA Galaxy in a wheelchair after suffering an ankle injury following a tackle from Nigel de Jong.
In the 73rd minute, the Dutchman, who the Galaxy added in the off-season, came over the ball and made contact with the United States international with his studs. Nagbe went to the ground and had to be helped off the field.
In a post-match interview with the Galaxy's official website, De Jong said he was sorry for injuring Nagbe, who left the playing area in a wheelchair.
"In a game like this, it's never the intention to hurt anybody, as well with my foul. I apologize to the kid, I mean, he's a great kid. But it was never my intention to foul him. Yeah, we'll see," De Jong said.
After the match, De Jong spoke directly with Nagbe.
"I just [caught] up with him and said that it was my never my intention, it was a 50-50 and I went over the ball instead of on the ball," De Jong said. "I [caught] the ball a little bit, but also his ankle unfortunately. I hope it's not too bad. It's a young kid, great player. What I said before, that's football. Sometimes you get in too hard or too soft, but, what I said before, it was my never intention. He accepted that, and it's all good."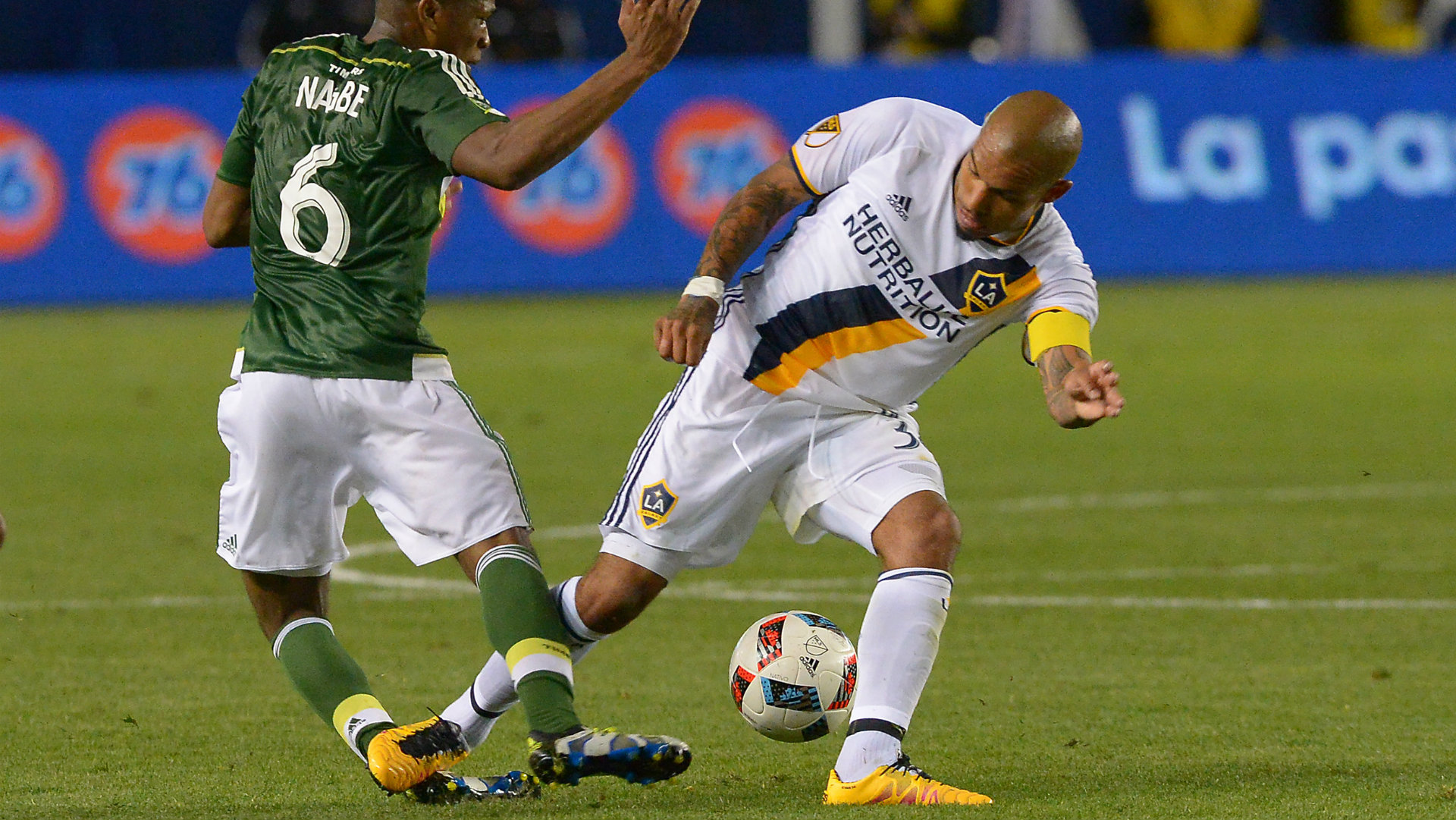 Despite the heavy nature of the tackle, referee Allen Chapman saw fit only to give De Jong a yellow card, though the MLS Disciplinary Committee could later suspend the Galaxy player. It seems De Jong's team-mate Mike Magee will not be surprised if a ban does follow.
Good on Mike Magee, saying on the post-game show: "I'd love to defend him [De Jong] but the game could do without those kinds of tackles."

— Seth Vertelney (@svertelney) April 11, 2016
The incident clearly rankled the Timbers, whose social team got into it with the Galaxy on Twitter after the match. The Timbers referenced a June 2015 incident when Timbers defender Liam Ridgewell was sent off for a tackle on Alan Gordon. The Galaxy responded by asking if Timbers owner Merritt Paulson, an avid Twitter user, was controlling the account: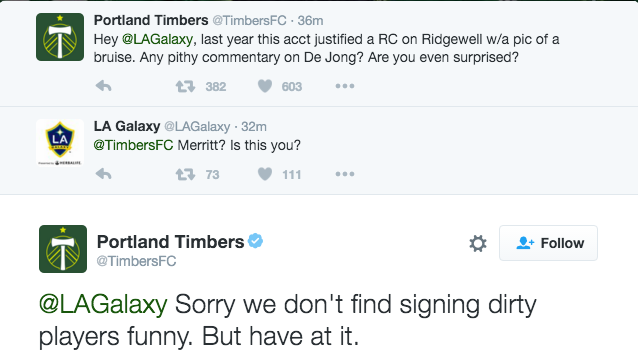 De Jong has become infamous for his rough tackles, with a flying kick on Xabi Alonso in the 2010 World Cup final and a late challenge in a 2010 friendly that injured United States midfielder Stuart Holden among the other incidents he has been involved in.