The futures of
Didier Drogba
and
Nicolas Anelka
at
Shanghai Shenhua
could hinge on a boardroom battle that is threatening to boil over, according to Chinese media.
A report in
China Daily
claims that chairman Zhu Jun, who retains a 28.5 per cent stake in the club, is prepared to continue backing the side, providing his demands for greater authority are met.
Zhu assumed control of Shenhua in 2007, and is one of six shareholders at the Hongkou Football Stadium, along with five state-owned enterprises.
He purchased a stake on the grounds that an
€
18 million investment over two years would enable him to extend his ownership of the outfit to 70%.
The injection of money was then used to hire such star players as Drogba and Anelka, however other shareholders have now complained that they were not involved in the buying of the players.
Oriental Sports Daily
has revealed that while Zhu has spent almost
€
70m during his five-year reign in Shanghai, no other shareholder has spent any money.
"It is annoying and has had a bad effect on many of our tasks," a club official told the publication.
"The biggest problem is that the operation and financing work of the club cannot be carried out normally.
"The equity stakes issue has become the biggest bottleneck for the development of Shenhua."
The dispute now means that Zhu may only be willing to finance 28.5% of Shenhua's expenditure, leading to player salaries potentially being affected.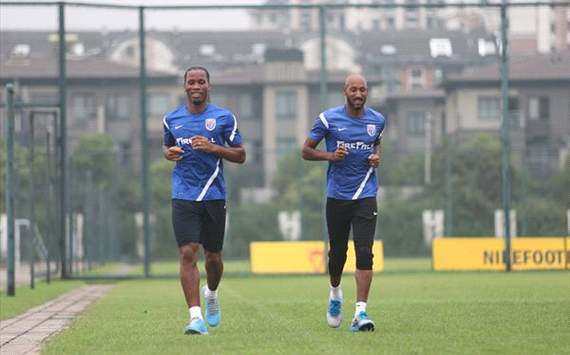 "Drogba and Anelka could be culled from the squad, as their reported €240,000 contracts may prove unsustainable"
Some reports also suggest that Zhu Jun may now face cash flow problems, after poor financial performance by his The9 online game company, which is behind the Firefall and PlanetSide 2 video games.
Nevertheless, Shenhua executive Zhou Jun has stressed that the situation will not affect the future of Drogba and Anelka.
"We don't understand why people link this situation with Drogba and Anelka's future. It is completely unrelated.
"The club has always paid Drogba and Anelka's salary in time.
"The relationship between Zhu Jun and the remaining five shareholders is just fine. They're like a family."
Furthermore, there is speculation that Shanghai Shenhua might even combine with another Shanghai football club - Shanghai East Asia, a Chinese first division club.
According to Chinese media outlet
Sina
, if Shanghai East Asia is promoted to the top division, the Shanghai Shenhua brand may be sold off.
Colombian midfielder Giovanni Moreno missed the weekend's fixture against Shandong Luneng, fuelling speculation Shenhua had not yet paid Argentine outfit Racing Club in full for his services.
So far, Drogba and Anelka's salaries have been paid 100%. Also, some believe that should the two stars face the exit, the local government may step in to help foot the bill and avoid any humiliation for the popular football club, so the club may yet survive.
Despite heavy investment earlier in the year, Shenhua are 10th in the 16-team Chinese Super League on 27 points from 23 matches; some 20 points behind leaders Guangzhou Evergrande.