Sato Hisato is a native of Saitama, a blue collar town located north of Tokyo and characterized by its passion for football. A product of JEF United's youth system, Sato played for the Chiba club along with Cerezo Osaka and Vegalta Sendai, before arriving at Hiroshima in 2005.
Since then, the 29-year-old has been one of the most representative players at the club and now wears the captain's armband, making him the symbol of today's Sanfrecce.
In his six-and-a-half seasons in Hiroshima, Sato has so far scored 119 goals and he is one of the few players who has netted more than 100 goals in the Japanese top flight.
Sato, who has also been selected for the Japanese national team on 31 occasions and has so far scored four goals for the Samurai Blue, spoke to Goal.com.
Goal.com: You and your twin brother [Yuto Sato, now at JEF United Chiba] grew up in Saitama, one of Japan's "soccer towns." As kids, did you support the local club, Urawa Red Diamonds?
Hisato Sato: I actually liked Verdy Kawasaki (now Tokyo Verdy), because of 'Kazu' Miura. When I scored, I imitated his goal-dance. I often went to watch soccer games at the stadium. Our dad liked baseball, but he always took us to the soccer Emperor's Cup final, at the National Stadium in Tokyo.
Goal.com: You and Yuto are twins, but don't look much alike.
HS: That is true, our characters as well are quite different.
Goal.com: He seems to be a 'cool guy,' while you are more emotional and extrovert. Were you like that as kids as well?
HS: Indeed so. For example, when Japan lost that famous game in Doha, in 1993, Yuto just said goodnight and went to sleep, but I cried all night! However, a few years later when Japan defeated Iran in Johor Bahru and qualified for the 1998 World Cup, I went to buy all sport newspapers and pasted the first pages on the walls of my classroom (laughs). I really loved soccer since I was a kid!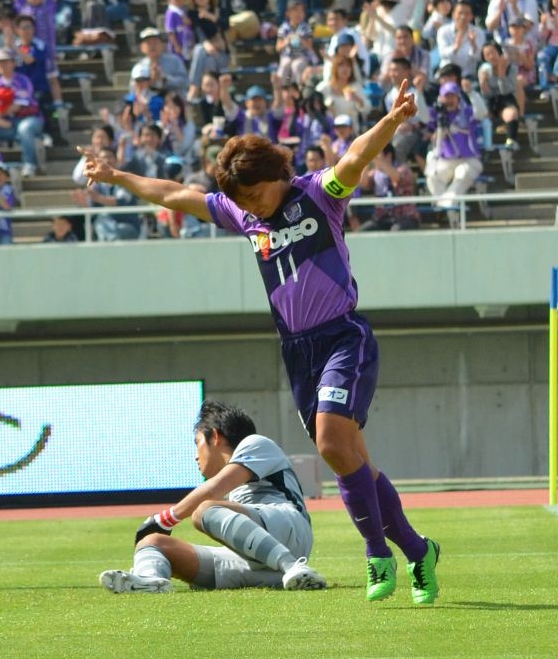 Goal.com: You both made it into the top team at JEF United as youngsters, but while Yuto stayed there, you moved over to Cerezo in 2002.
HS: Cerezo that season had Akinori Nishizawa, who had just returned from Spain and Yoshito Okubo as strikers. So I couldn't play much, but it was indeed a very important step in my career. For the first time I left the Tokyo area and moved to Osaka. A lot of things were new for me, and even if I didn't see the field much, it was a great experience.
Goal.com: Then, the following year you were transferred again, this time to Vegalta Sendai. Were you promised a spot in the starting eleven?
HS: Actually not, I was clearly told that I would have been the third striker, but I thought it was a good chance, so I accepted the offer. I actually ended up playing and doing ok, but – sadly - we were relegated. I really felt responsible for the team's failure, thinking for example of goals I had missed. So I decided to stay in Sendai and play in J2. After we failed to be promoted, in 2004, I was informed by the club that I was welcome to stay, but the team needed a huge restructuring, and the plan was to return to J1 in two or three seasons.
Goal.com: So, you asked to leave?
HS: It was actually the hardest choice in my professional career, because I was in the team that was relegated the year before, and I felt it was unfair to leave Vegalta still in the second division. Sendai has some really fantastic supporters. In all honesty, the first time I played in a home game, the fans and the atmosphere at the stadium up there gave me chicken skin!
Goal.com: But in the end you accepted Sanfrecce's offer...
HS: Takeshi Ono, a former national team's coach, invited me to Hiroshima, and in the end I decided to go. I was twenty-two years old, and at that age it would have been hard to stay in J2 for more seasons...
Goal.com: And 2005 in Hiroshima was a great year...
HS: Indeed, but the beginning was hard. It took me a while to get used to Sanfrecce's play style, at least until I scored my first goal. Then it became much easier.



"I promised them [the fans] that we would return in J1 in one season. All players were united and decided to stay."






- Hisato Sato

Goal.com: In 2007, the unexpected happened. Despite having many good players, Sanfrecce was relegated, after losing the promotion/relegation play-off games to Kyoto Sanga. What happened that time?
HS: The whole season was problematic. I played up top with Brazilian Ueslei. The team relied on us, but we were always a bit isolated on the field and marked very strictly. (Tomoaki) Makino, (Yosuke) Kashiwagi and (Toshihiro) Aoyama got picked for the olympic national team and were away for a while and that surely did not help. We got into a very negative mood, lost a lot of games in J1 and ended in 16th place. On the other hand, Sanga had a good final in J2 and made it to third place. They had momentum, we did not. In those days, the atmosphere within the team was really heavy, we all felt the responsibility, and in the end we failed.
Goal.com: You were also rather unlucky, in the second game I think you hit the woodworks three times, when you needed just one goal to stay in J1. So the game ended, and you grabbed a megaphone, and went to talk to the supporters...
HS: I promised them that we would return in J1 in one season. All players were united and decided to stay. Only (Yuichi) Komano moved to Jubilo Iwata. He was also with the national team, so he needed to play at top level.
Goal.com: The year in J2, in 2008, was perhaps the year in which a "new" Sanfrecce Hiroshima was born. The team really seemed to enjoy playing football, games were spectacular and the results were great.
HS: Indeed. We started to have a lot of fun that year. There was this time a positive pressure to do well, and we answered to expectations.
Goal.com: Surprisingly, with the same team that just got promoted, the trend continued in J1 in the following year. You won the first game in Yokohama, and went on playing your entertaining football and winning games...
HS: Well, it seems a trend in J-League now. The year after [, in 2010,] Cerezo did the same, and now it is Kashiwa Reysol.
Goal.com: In 2010 Sanfrecce qualified for the AFC Champions League, but more than that, perhaps, by then the team and the club had succeeded in creating a special relationship with your supporters and the community in Hiroshima.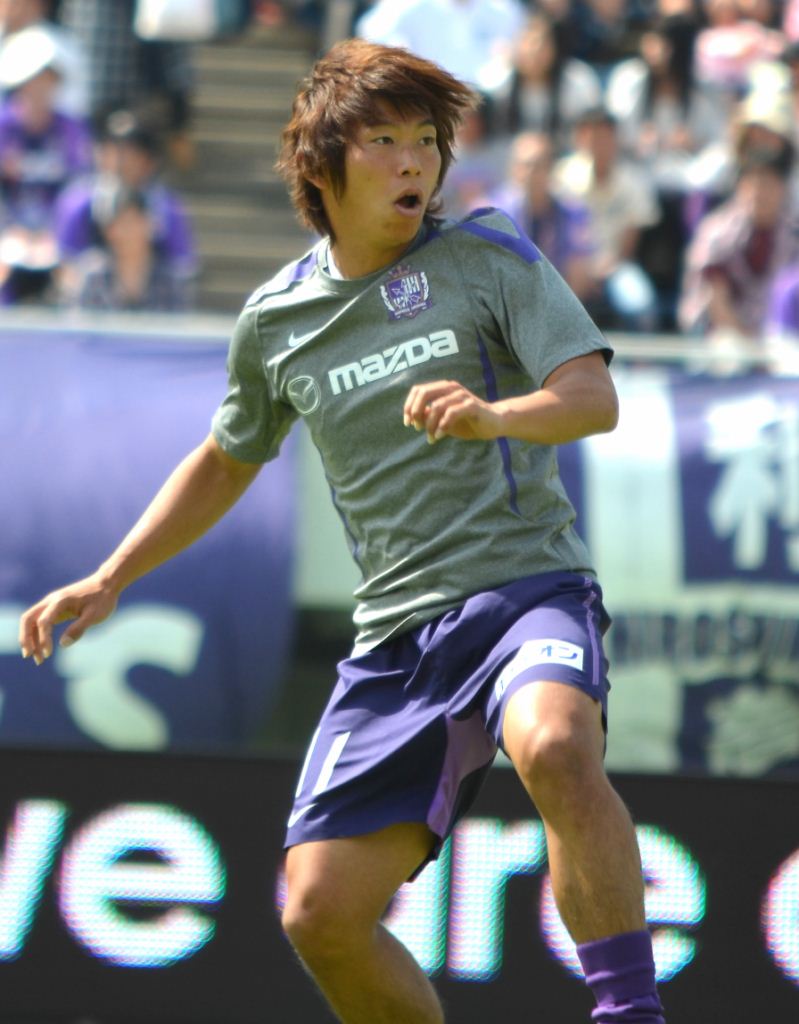 HS: Sanfrecce is not a big club, in Italy you would call us "provinciale." There are no big stars, but a lot of identification with the city and its people. Players and supporters all belong to the same community. If we were a big club, it would be difficult for example to do our post-goal celebrations (laughs).
Goal.com: Well, those celebrations have made it around the world on YouTube, who is organizing them?
HS: Makino was the main person responsible, but we are keeping up the tradition.
Goal.com: Do you practice them?
HS: Not really. Sometimes, after practice, we just discuss what to do after the next goal. Now golf is very popular among us, so in the game against Yokohama Marinos we celebrated by re-enacting a golf hit [in which Ryota Moriwaki impersonated the golf ball] but Chunson (Tadanari Lee) messed up (laughs).
Goal.com: Yosuke Kashiwagi and Tomoaki Makino have left Sanfrecce to play at Urawa Reds and FC Koln. Any bad feelings?
HS: Not at all. Each player should make his own decision. I often speak with them, and I really hope one day they will return to Sanfrecce. Can you imagine how good we would be with those two? (Laughs). I have played with them many seasons, I really hope they will return...
Goal.com: Will they?
HS: I actually think so. Makino in particular is a native of Hiroshima. Still, I think he is learning a lot in Germany.
Goal.com:
He was supposed to become "Mr. Sanfrecce," but it looks as though that spot has now been taken by you! Will you be in Hiroshima when they eventually return? Or you hope to play somewhere else, one day...?
HS: I would really like to play in Italy. I am a big AC Milan supporter, but I won't mind playing in a small club, such as Cesena or even in Serie B.
Translation Supervisor: Hisashi Munemasa