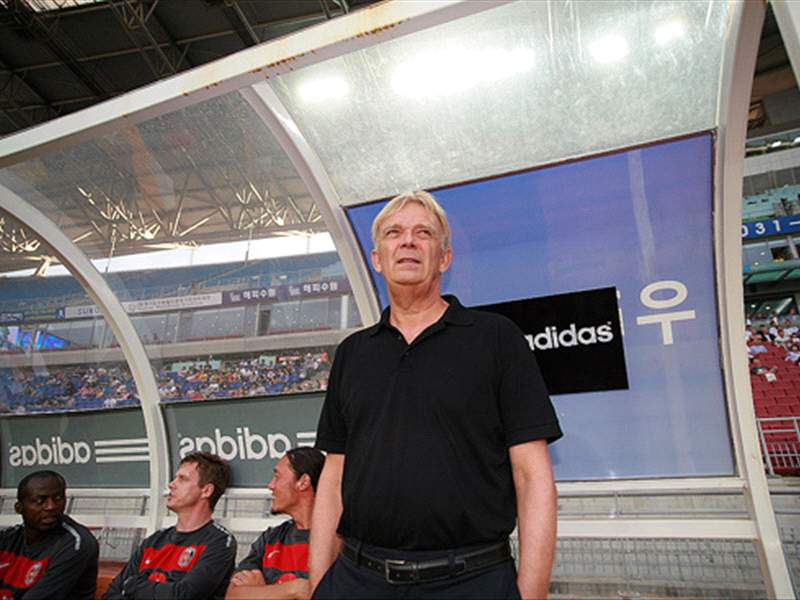 After Sanfrecce Hiroshima defeated the visiting Urawa Red Diamonds 2-1 on Sunday, Urawa manager Volker Finke underwent his ritual post-match interview for SkyPerfectTV.

Dressed in black and looking like a character from a Wim Wender movie, the German coach listened patiently to a few questions journalist Yasutaka Yoshida candidly posed to him, before snapping when asked:

"The Reds seem on their way to becoming a better team. So, what is one more thing they need to further improve?"

After blowing his white hair out of his eyes with a puff, Finke replied, "To begin with, we need to get penalties when we deserve them... If it would have happened in Germany, [referee Yoshiro Imamura's mistake] would have been shown repeatedly on TV and judged by many.

"Nobody will in this country [Japan] but I want to do it [because] in my career I have never seen a more blatant penalty foul."

Finke was referring to an episode that took place about one hour into the game when at 1-1, Sanfrecce's goalkeeper Shusaku Nishikawa tripped Wilfried Sanou with an arm, clearly denying a chance for the Burkinabé to score.

It is hard not to sympathize with Finke, who after the interview sailed from Hiroshima after receiving a lot of compliments but also carrying home a third defeat in a row.

He is perfectly right when he says that in Japanese domestic soccer, controversial cases are usually ignored and whenever possible erased from collective memory.

In fact, during the game SkyPerfecTV showed only a quick reply of the foul on Sanou from behind the goal, in which a post covered most of the scene and the commentators abstained from judgement. Ditto for Yoshida, even after Finke's direct answer.

In the evening's "J.League After-game Show," Keiji Hirahata (otherwise a very entertaining anchorman) completely ignored the episode; as was the case on Yabecchi FC, the popular Sunday night show about Japanese soccer run by frisky TV personality, Hiroyuki Yabe.

On Tuesday, it was the turn of the two most popular soccer magazines published in Japan. Soccer Digest carried a report on the game though the whole focus was on how brave the Sanfrecce players were, playing until the last minute and eventually prevailing after their extra-time exploits in the Nabisco Cup.

Soccer Magazine transcribed Finke's interview with some minor editing but no commentary whatsoever.

I do not disagree with the Japanese media focusing purely on the football played. And of course one must keep in mind that acceptance of unfortunate events is a trait of the Japanese character, culturally influenced by centuries of Sino-Indian fatalism.

However, I also agree with Finke that such blatantly unfair decisions need to be showed and discussed by the media.

I don't condone half-hour debates among screaming "journalists" that one sees on Italian football shows. However, a concise and straightforward analysis such as those seen on Match of the Day, would only do good.

First of all, referees need to feel more responsible for their mistakes and not unequivocally protected by the system.

Secondly, discussing without prejudice contentious episodes would dissipate that feeling of censorship which, understandably, disturbs Finke and those who are not afraid of seeing controversy as an unavoidable aspect of the game.