Former France international footballer Samir Nasri appeared to have his Twitter account hacked as a number of bizarre NSFW updates were posted from his account.
The claims began when Nasri's official verified account quoted a seemingly innocuous update from Los Angeles IV Therapy clinic Drip Doctors, who had provided the 29-year-old with some medical assistance in America.
Inside the mind of a PL footballer
We provided @SamNasri19 a concierge Immunity IV Drip to keep him hydrated & in top health during his busy soccer season with @SevillaFC pic.twitter.com/bfDNeM5vQu

— Drip Doctors (@DripDoctors) December 27, 2016
Things took an usual turn in Nasri's first Tweet, where he shared the Drip Doctors post with this expetive-laden update: "U also provided me a full s****l service too right after. So guys make sure you get this service. This w***e comes and f***s the same night."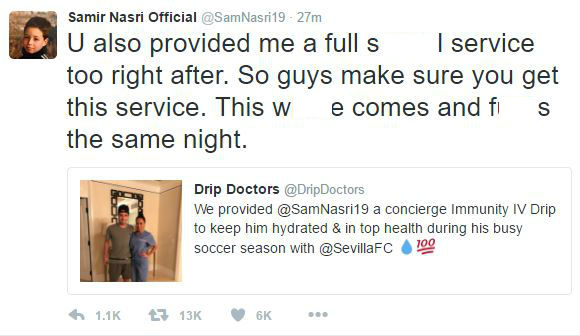 A series of updates followed where the alleged encounter was described in more detail.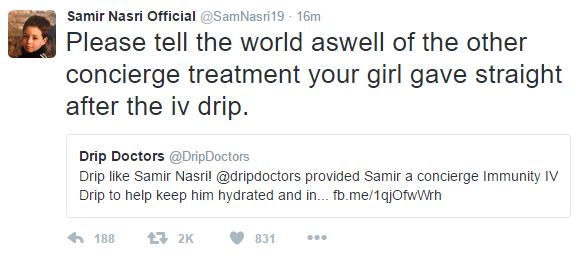 During the stream of Twitter updates, a different version of events was posted, stating "Someone hacked my account and tried to spread rumors which is fake I am sorty for all the ppl involved in that i apologies"

However, the story then continued with further updates about the alleged liason.


The Drip Doctors account also weighed in to dispute the allegations, claiming Nasri's account was indeed hacked.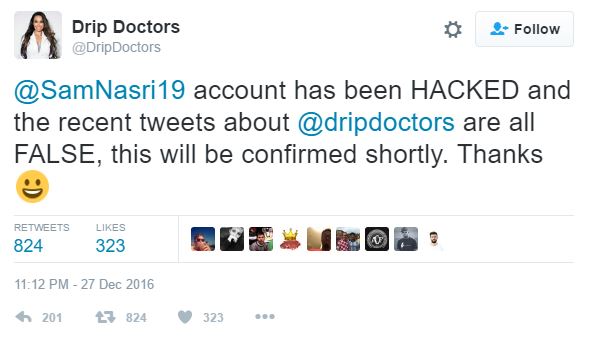 But the updates continued from Nasri's account - starting a dispute with Drip Doctors' denial.



While the Tweets, and Nasri's official account, appear to have been deleted, it is expected that an official statement will emerge on the Twitter allegations.