---

EXCLUSIVE
---
For those who follow the U.S. national team, the narrative was inescapable. When it came to projecting a breakout star at the 2015 Women's World Cup, one name surfaced time and time again: Christen Press.
A dynamic attacking talent in the prime of her career, Press started 9 of 10 matches in 2015 during the buildup to her first World Cup. She scored the lone goal in the Algarve Cup final against France that March, catching the soccer world's attention with a darting 40-yard run and finish. And she carried the momentum to Canada, netting a composed winner in the Americans' tournament opener against Australia.
Press promptly earned another start for a draw with Sweden — but it turned out to be her last of the World Cup. With Alex Morgan rallying from a left knee injury, it was Press who made way in the group stage finale. As the U.S. found its groove, her role diminished.
While Press ultimately claimed her piece of history, adding "World Cup champion" to her resume, she did so having logged just 44 minutes in the knockout round — none of which came in the semifinal or final.
"To stay connected to the group and to do your best service to the team while trying to deal with maybe your own disappointment was really tough," Press told Goal USA. "But it was great to be a part of a team where we really felt like it was 23 players, and I know that I had a huge role and a huge value for what I was contributing. At the end of the day, it was such an amazing experience for all of the things I learned, good and bad."
A year later, Press finds herself crossing another lofty achievement off the bucket list: representing her country at the Olympic Games. And once again, the 27-year-old is well positioned for a breakthrough tournament — only this time, she's entering the fray with the know-how of a World Cup veteran.
"I think it's a huge confidence booster for her," U.S. midfielder Megan Rapinoe said. "You can prepare all you want, but it's just different in a major tournament — the stresses are different, the limelight is different and there obviously is much more riding on it. I think it's where you cut your teeth as a player."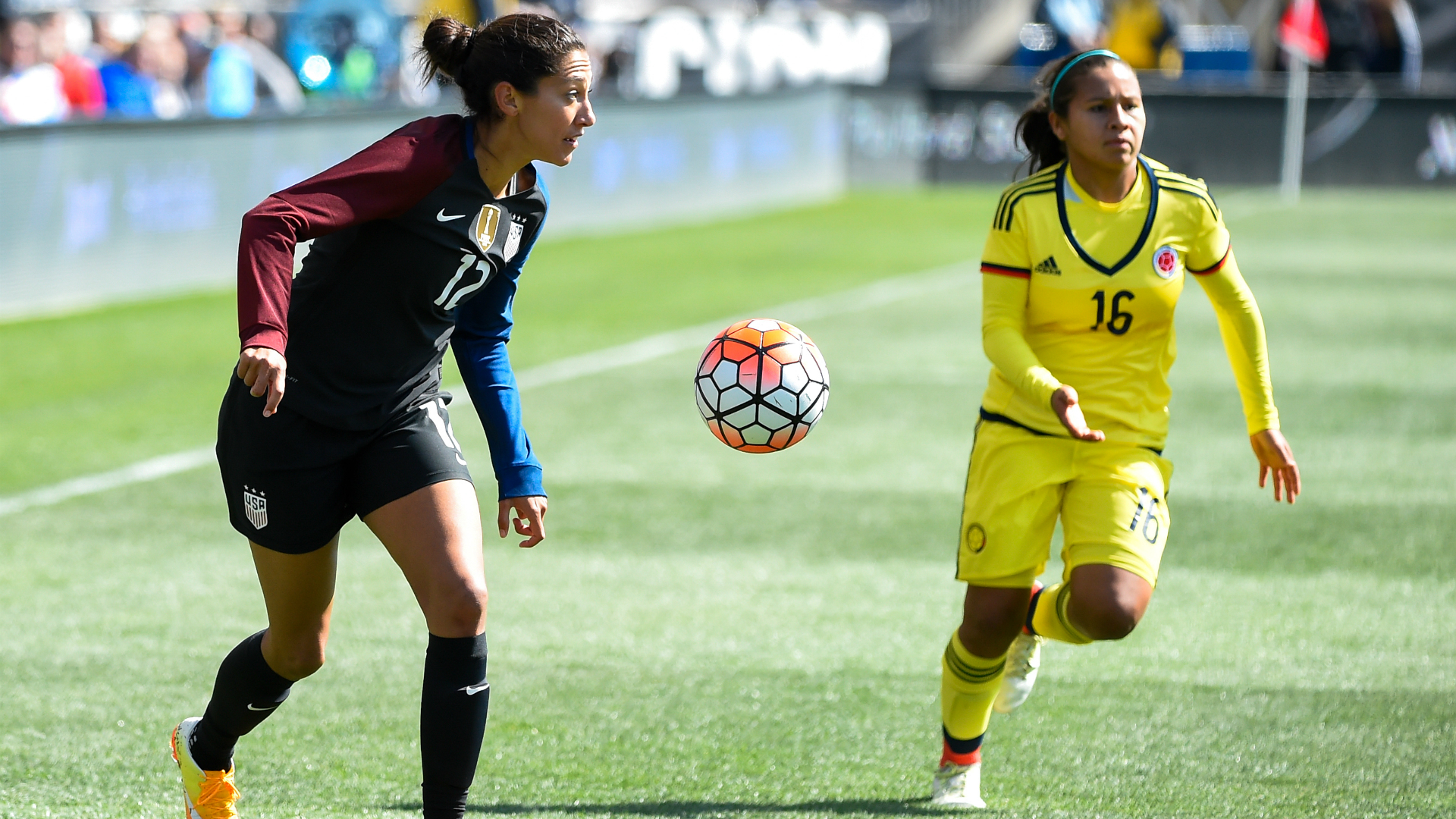 Press likely will fill a reserve role when the U.S. kicks off against New Zealand on Wednesday in Belo Horizonte, Brazil. But with just 18 players at her disposal and the potential for six games in 17 days, it's safe to say U.S. coach Jill Ellis will be leaning on the versatile forward in some fashion.
With 13 goals in 21 matches since the World Cup, Press has established herself as perhaps the Americans' most consistently lethal finisher. In switching from a 4-4-2 formation to the 4-3-3, Ellis cultivated a system that further accommodates her skill set.
Press may prefer to play as a traditional striker — where she is poised to back up Alex Morgan — but the Los Angeles native also has shown her prowess on both flanks and in an advanced midfield role.
"I've always preferred a 4-3-3," Press said. "It's a more fluid and dynamic system, and I think it plays to my strengths better. I think the team looks great in it and we're a lot more sophisticated than we were a year ago, and even a few months ago when we were in a 4-4-2."
Ellis added: "She can play certainly in the 9, where we're looking for a lot of penetration. I actually think she's stronger this year, she's really committed to her fitness. She's done actually really well in wide areas as well. I think playing a three front helps her because that wide player can stay wide and look to get in behind without the ball."
READ MORE | Megan Rapinoe rallies from injury to fulfill Olympic dream
Although Press was the only one of five forwards on the World Cup roster who entered without a major tournament under her belt, that veteran group has changed dramatically over the past year.
Sydney Leroux and Amy Rodriguez are sitting out the Olympics because of pregnancies, and U.S. legend Abby Wambach retired last fall. Suddenly, Press' 70 caps make her the second-most experienced player in a forward corps that also features 18-year-old Mallory Pugh and 24-year-old Crystal Dunn.
"I don't really know when that happened or how, but it's a lot of fun actually," Press said. "I often look at soccer and I think, 'What am I doing outside of my sport? What am I doing for my life at large?' I think sharing your experiences with younger players is something that's hugely valuable for your team, for your program. It kind of gives me a sense of self outside of just connecting your passes, scoring your goals — it's being a part of the larger picture."
The abrupt shift from newcomer to trusted veteran has been an unexpected but natural facet of Press' evolution. A self-described spiritual figure, Press is a believer in the "integrity of your mentality" ultimately paying dividends on the field.
While the past 14 months haven't gone exactly as scripted, Press feels those obstacles have left her better equipped for the challenges that await on the way to Olympic gold.
"If I look at the last year of my career, I am really proud of how far I've come, especially mentally," Press said. "The hardest thing to do is to fail and keep pushing at the same time. In the last year I've done that over and over again, and I think that has given me a great sense of achievement in itself.
"From the World Cup through until this point, I haven't necessarily been in the position that I would have wanted if I could paint this myself — but what I've learned and what I've gained from the position I'm in is invaluable."