Two games, seven days apart, with two legends in Thierry Henry and Landon Donovan as the opponents in what just might be the final matches of each of their storied careers. For some, such a task might seem overwhelming, but for New England Revolution defender Andrew Farrell, the opportunity is a blessing that he feels more than ready to take on.
When Donovan takes to the field for his final match on Sunday in the MLS Cup final, it will be Farrell who has the task of trying to contain a player in search of a record sixth trophy. A player who, though he is about to retire, has shown very recently he is still capable of terrorising defences.
The challenge isn't likely to overwhelm Farrell, just days after he held his own against Thierry Henry in a thrilling semi-final.
"It's pretty special to share the field with players like that, who have done so much for the league and the sport," Farrell told
Goal
.
"You always want to go against the best and challenge yourself against the best. Obviously they're not in their 20s and in their prime, but they're still pretty darn good and it's still a tough task because even at their ages you aren't going to completely shut those guys down."
Farrell knows first hand what players like that can do. His welcome-to-the pros moment came during his rookie year when Henry dealt him a brutal lesson in a 4-1 defeat.
"I learned the lesson that you can't lose focus because guys like Henry will make you pay," Farrell said. "That's an important lesson, knowing that you have to be focused for 90 minutes, especially when you're talking about games like playoff games and finals because if you slip up then guys like Robbie Keane and Landon Donovan will make you pay."
The No. 1 overall selection in the 2013 MLS Draft, Farrell has followed up an impressive rookie campaign with an even better second season, showing a combination of versatility and maturity that has helped the 22-year-old University of Louisville product develop into one of the best young defenders in MLS.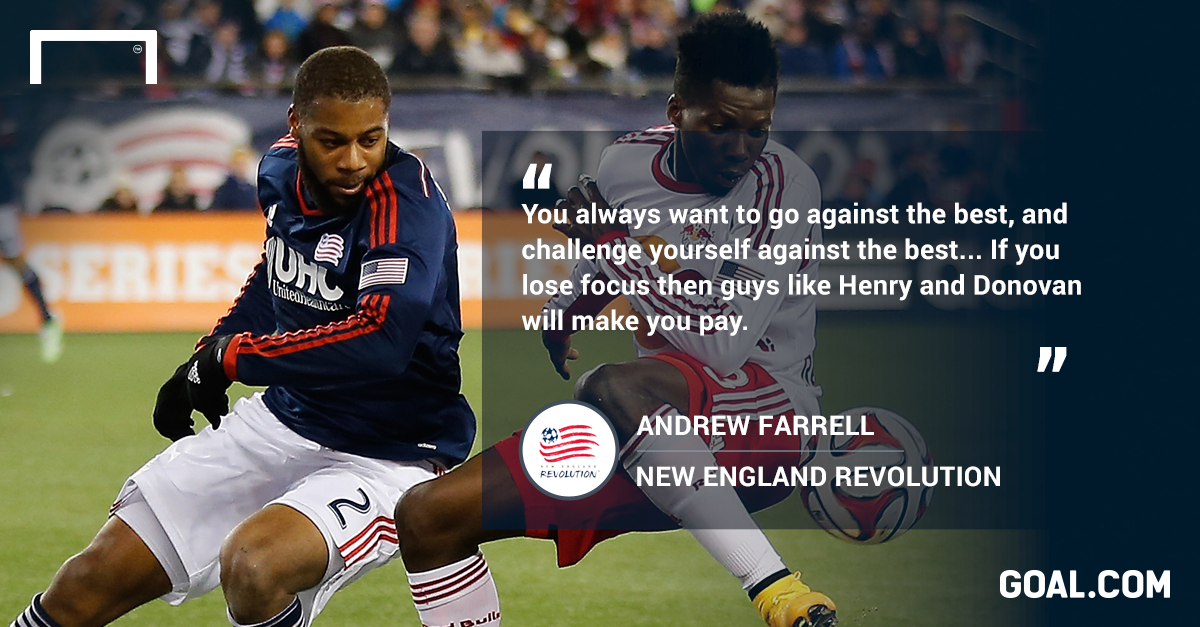 "You could see it from day one," Revs goalkeeper Bobby Shuttleworth said. "The guys really like him and he does have that veteran presence. He's a young kid and you feel like he's played a lot of years in the league already."
"He came in pretty ready. He's as good a rookie last year as I've seen, and as good a complete player," said Revs head coach Jay Heaps. "Farrell's been excellent since day one. I really enjoy how much he competes. That's what gets lost in it. He's a roll-up-your-sleeves kind of guy. He loves training, he loves practices, he loves games and you love seeing that from a player."
Farrell's love for the game was forged on the grass and dirt fields of Lima, Peru, where he lived with his adoptive parents from the age of five to 15 while they were doing missionary work. Farrell spent a large part of that decade playing in Parque Mariscal Ramon Castilla in Lince, a central Lima neighbourhood, where Farrell recalls playing football every day until his parents called him to come home.
When he attempted to take on Henry himself outside the Red Bulls area in the semi-final, it was proof that his simple love of the sport has not diminished in his professional years.
"I think it's important to still enjoy the game," Farrell said. "When you get to the next level it's more of a business, but you can still enjoy it. I was just having fun out there [against Henry], but then I didn't know what to do in that situation because I didn't want to disrespect him and I didn't want to lose the ball either."
Having held his own in Henry's final MLS outing, Farrell is now confident he can do the same against Donovan.
"I find it easier to defend [against Donovan] when you get up on him, as opposed to having him run at you, kind of like Henry. He's not as big as Henry, and if Henry gets by you he's gone. Getting up on him and being more physical with Donovan is going to be crucial for me so I don't let him get a head of steam going.
"Galaxy like to interchange, so I'm sure I won't just see Landon. You get those different match-ups, like [Gyasi] Zardes coming at you and getting balls in behind, or Keane checking in and running in behind. It's not easy to key in on one guy because they just keep on changing over and over again."
Whoever he faces on Sunday, it seems clear that Farrell is up for the challenge.
"Farrell's a confident kid," Revs midfielder Lee Nguyen said. "I don't think there's any match-up he's going to back away from. I think he's looking forward to this game, and looking forward to this challenge. Come Sunday we'll see who gets the better of it."