Singapore
13 winners of the Ultimate Football Family contest will be announced today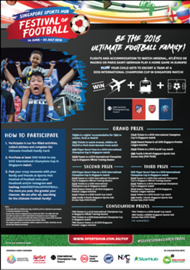 The Singapore Sports Hub will be announcing 13 lucky winners of the Ultimate Football Family contest today. Of which it will then be narrowed down to five families to vie for the coveted title of the Ultimate Football Family and receive the top prize. For those of you who are unaware, the top prize includes flying to either London, Madrid or Paris to watch Arsenal, Atlético de Madrid or PSG play a home match with flights and two nights' accommodation covered for two. The child of the winning family will also get the opportunity of a lifetime to escort a football star onto the pitch at the ICC matches in Singapore this July.
Those who participated had to complete the Ultimate Football Festival Card, post their experience at the Singapore Sports Hub Festival of Football on Facebook and/or Instagram, and purchase a 2018 International Champions Cup in Singapore match ticket to participate in the campaign. Participants could complete the UFF card by taking part in various activities at Sports Hub such as:
-Catching the live World Cup screenings
-Attending meet-and-greets with local football heroes
-Participating in the 4-versus-4 football tournament and football friendlies
-Attempting the Penalty Shoot-Out challenge
-Visiting the museum to view the official 2018 World Cup match ball
-Playing Pool Football at Kallang Wave Mall
-Participating in Experience Sports FIT-sessions (Glow DanceJam)
We wish all the participants the best of luck but more importantly for football and non football fans out there, do come down  and show your support to the biggest celebration of the beautiful game in Singapore; the Festival of Football. The festival is taking place till the 30th of July and includes footballing, fitness and family activities. So bring your friends and family, and spread the love the beautiful game has to offer.