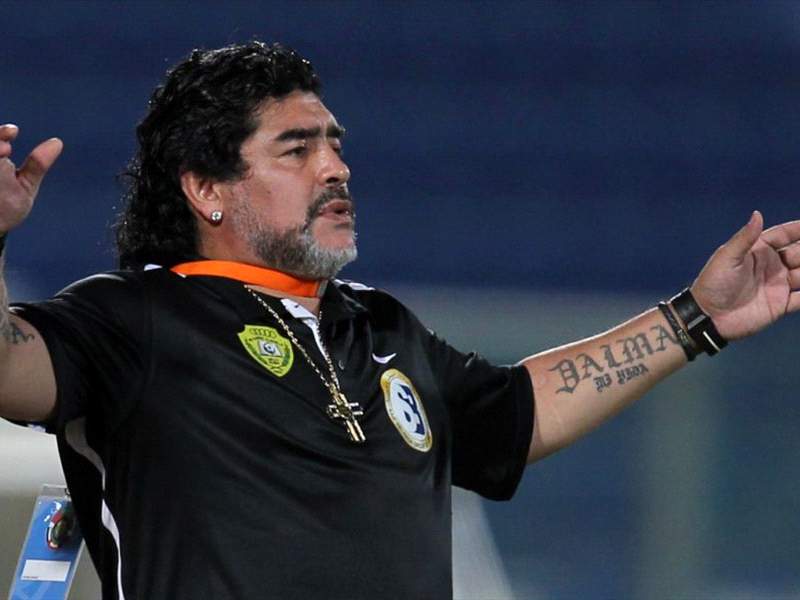 Indian football fans are awaiting the arrival of Diego Maradona after the
Argentina
legend agreed to visit the Kerala region of the country.
The 51-year-old, who was sacked as coach of Al Wasl in the United Arab Emirates in July, will be touring the region and giving his backing to a number of new local businesses.
After the officialties are over, the 1986 World Cup star will then celebrate his forthcoming birthday by being presented with a massive, football birthday cake from a local bakery.
"
We plan to hold a small dribbling and ball-kicking session by Maradona. We also expect him to interact with a students' club too
," Shaji P.S., an official of the Chemmanur International Jewellers, told reporters ahead of the former Barcelona striker's visit.
Maradona will visit the Kannur Municipal Stadium via helicopter and will kick a ball into the stadium whilst he is being lowered onto the playing surface. The organisers also hope to honour the 1986 World Cup winner's birthday on October 30 with a giant football-shaped cake.
N.V. Subair, the president of the
Nainanamvalappu Football Fans Association
, explained his excitement at the arrival of one of their footballing heroes.
"
Soccer fans from every nook and corner will be there to get a glimpse of the legend," he said.

"We have only seen him on television and here is a chance to see him up close. We do not want to miss this opportunity and 200 of our fans will be going to Kannur hoping to get a sight of Maradona
."
The owner of the bakery responsible for creating the mammoth cake also gave his opinion on proceedings, in which he will serve his first ever internationally famous customer.
"The base of the cake is five feet long and three feet wide and it looks exactly like a football field. We are also baking a cake which will look just like the World Cup which he won," explained Shabin Kumar, of Sheen Bakery.
"Certainly we are all excited because this is the first time we are catering to a renowned world personality."