---

EXCLUSIVE
---
Carles Puyol once said, "I don't have Romario's technique, Marc Overmars' pace or Patrick Kluivert's strength. But I work harder than the others. I'm like the student who is not as clever, but revises for his exams and does OK in the end."
In that context, it is easy to understand why the former Barcelona defender has nothing but admiration for Diego Simeone and Atletico Madrid.
The Rojiblancos have neither the strength in depth nor the financial resources of Barca or Real Madrid, yet on Saturday they will face the latter in the Champions League final in Milan. It will be Atleti's second appearance in three years.
Of course, they are not everyone's cup of tea. Xavi infamously claimed that Atleti's defensive brand of football was not befitting of a "big club" - but Puyol disagrees with his former team-mate.
In an exclusive interview with Goal, the former Spain international explains why he sees some of the criticisms aimed at Simeone's men as virtues.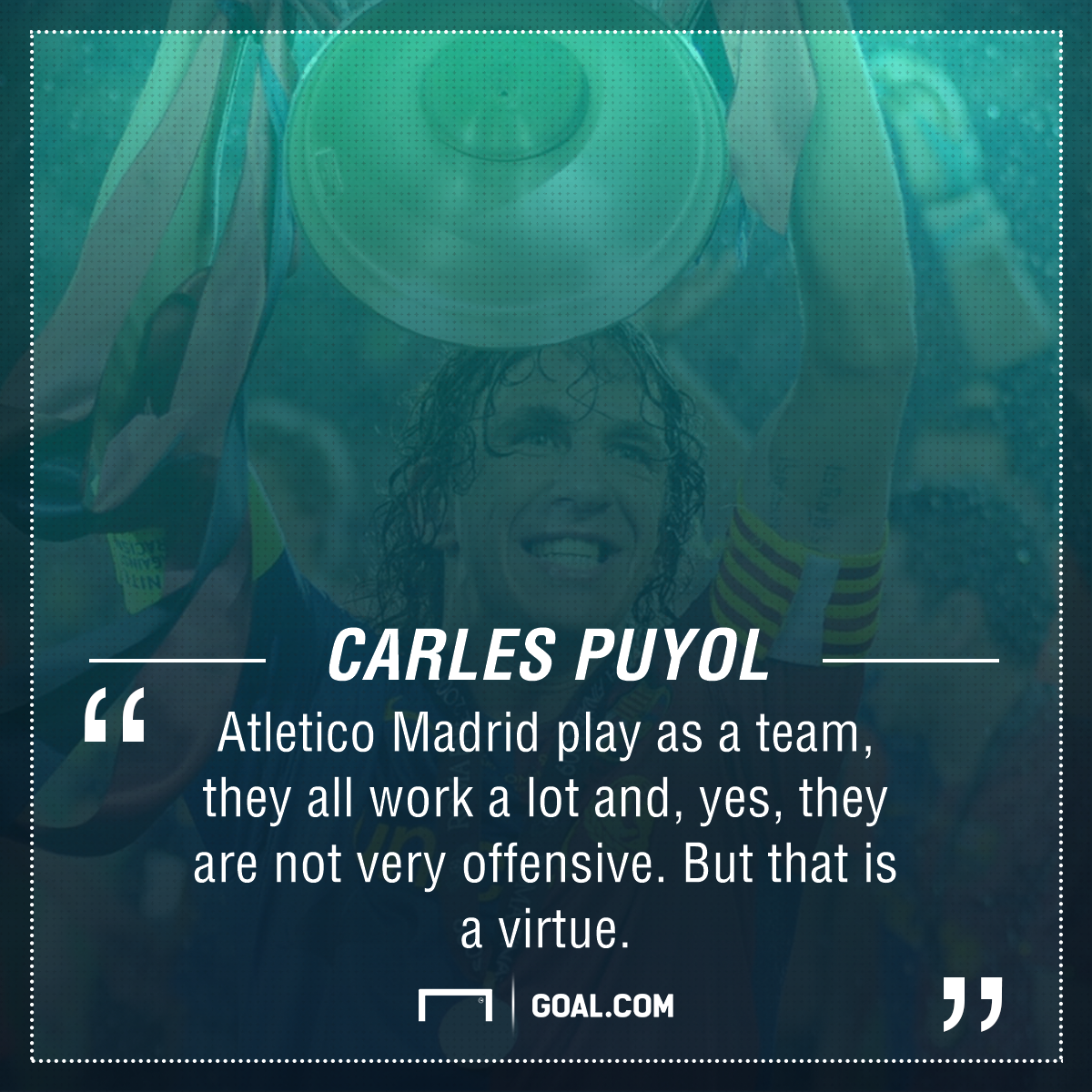 Goal: You won the Champions League three times with Barca. Which triumph meant the most to you?
Puyol: "I prefer the first one because it is always special living out your dream. It was also the only one my father saw before he died. However, I also like the last one because Eric Abidal raised the trophy and he deserved it more than anyone."
Goal: Who will win this year's Champions League?
Puyol: "I think it's hard to pick a favourite. Atletico has won more matches against Real of late but a final is another thing and it is always very difficult to predict a winner."
Goal: What do you think of Atletico Madrid's style of play?
Puyol: "They play as a team, they all work a lot and, yes, they are not very offensive. But that is a virtue. They have quality throughout their team, but particularly at the back."
Goal: Do you agree with Xavi's criticism of their tactics? What do you think of Simeone?
Puyol: "Not at all. I respect Simeone a lot because he knows how to make the most of the weapons at his disposal. Their opponents really need to study them to find a way past them. Since he was in Argentina, Simeone has done well. At Atleti, his work speaks for itself: fighting it out with Barcelona and Madrid and still winning titles - that's amazing."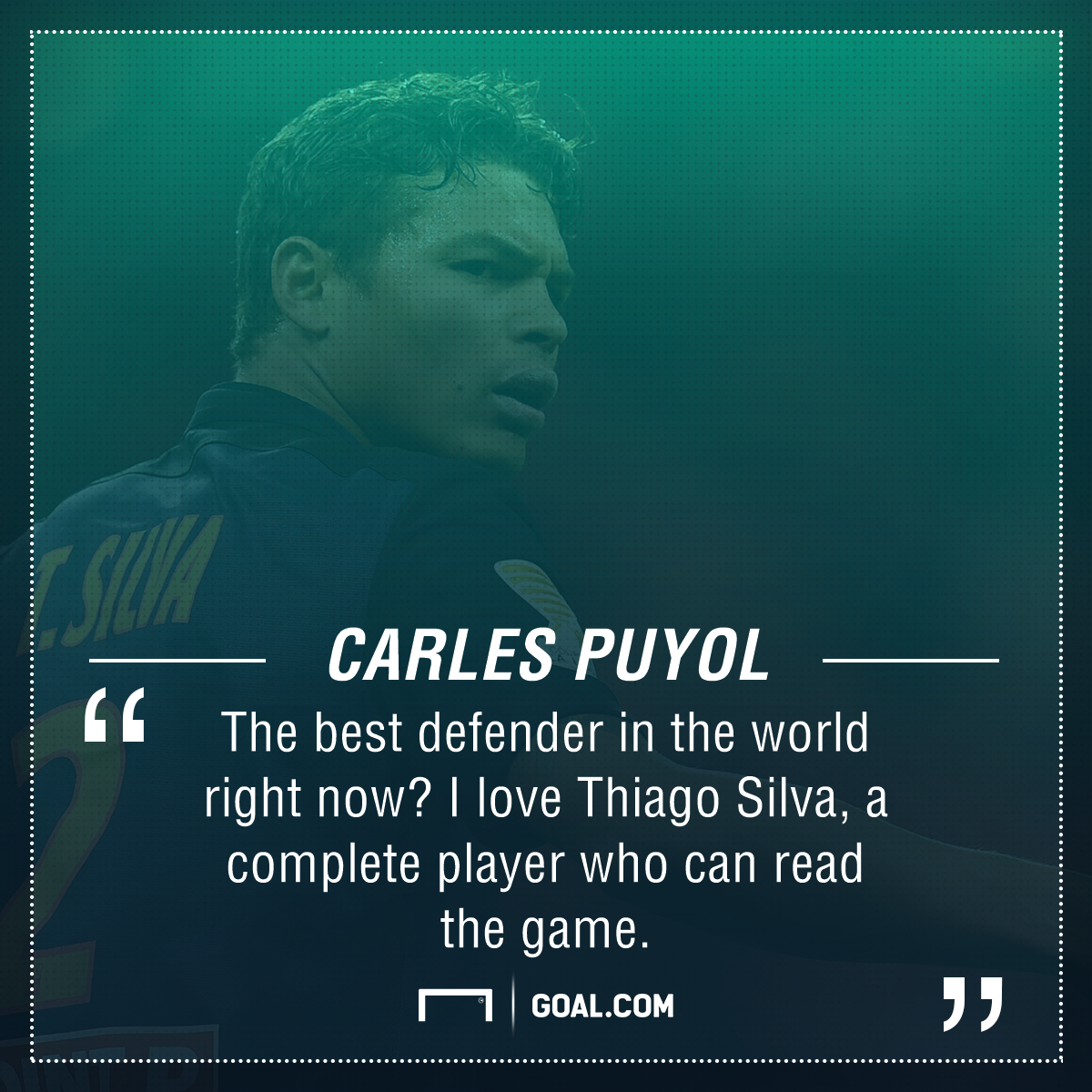 Goal: Who do you feel has taken over your mantle at Barcelona and for Spain? Who is the best defender in the world right now?
Puyol: "Gerard Pique is the best at Barca and is a very important player. I was so fortunate to play alongside him for many years. We understood one another very well and I think we were well matched. But the best defender right now? I love Thiago Silva, a complete player who can read the game. He is fast and has a great range of passing. I like when people say that we are similar."
Goal: What did you make of the online arguments between Pique and Alvaro Arbeloa?
Puyol: "In the end, they are colleagues. I think things work better when you remain silent but if you must speak, do it in private and not on social networks."
Goal: Javier Mascherano effectively took your place at Barcelona after starting out as a midfielder; what do you make of the Argentine?
Puyol: "He has been a very important player for Barca in recent years. How many players do you know that can adapt to other positions like central defence?"
Goal: Just as Mascherano essentially filled the void left by you, Ivan Rakitic took over from Xavi. How do you think the Croat has done?
Puyol: "Ivan is a player that I love. I was very surprised at how well he did because at Sevilla he was the star yet he has adapted very well to Barcelona's style. He balances Barca's game, provides assists to his team-mates and also scores goals."
Goal: Your former Barca team-mate Pedro endured a difficult first season at Chelsea; do you think he can still come good?
Puyol: "Changes are always difficult. When he was at Barcelona, he just didn't get many chances. It sounds obvious but what a player wants is to play. However, there is a lot of competition for places at Chelsea; you have three of the world's best players fighting for that same spot. Pedro is a great player who always gives everything, he has a great attitude. He made a decision and now he has to face the challenge head on. Whenever you move to another league, adapting is not easy. But I think that next year he'll be luckier."
Goal: Speaking of the Premier League, Leicester stunned the world by winning the title. Would such a Cinderella-like fairytale be possible anywhere else?
Puyol: "It's amazing, I'm happy for them, they've done a terrific job. They started very well and, in the end, they believed in themselves and managed to win a league that is so hard to conquer because of the presence of so many big teams. In Spain, someone could also 'do a Leicester'. Football is about dynamism and self-belief. Of course, it's almost impossible to compete with Barcelona and Madrid but look at what Atletico are doing."
Goal: Turning to the international scene, what are Spain's ambitions for the Euros?
Puyol: "We have a very good team with good players. Of course, generational change is the law of life. Iker Casillas, Pique, Sergio Ramos, Sergio Busquets, Andres Iniesta, Cesc Fabregas, David Silva - they all have spent many years with the national team and they are leaders. But you also have youngsters like Thiago Alcantara, Saul, Isco. I hope that Spain reaches at least the final and wins. But, as always, it depends on the players' physical condition because most of them will be arriving in France on the back of a long, hard season."