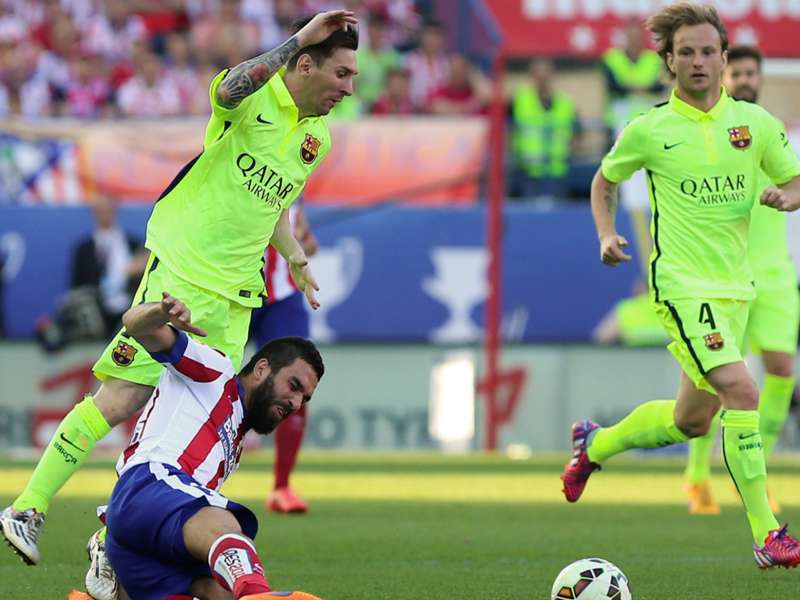 Arda Turan admits he will be honoured to play alongside Lionel Messi at Barcelona - especially after years of "suffering" as an opponent.
The Turkey international sealed a move to Camp Nou on Tuesday after four years with Atletico Madrid, in a deal which could total €41 million.
Having battled against Messi, Neymar, Luis Suarez and his "idol" Andres Iniesta during his Liga career so far, the 28-year-old says he cannot wait to experience life alongside them.
"It's incredible, I've always had a dream of playing for Barca," he told Mundo Deportivo.
"Having grown accustomed to suffering against players like Messi, Suarez, Neymar, Iniesta, now I have the honour of playing alongside them. Messi is the best in the world and Iniesta is my idol."
Arda, who was linked with a handful of Europe's top clubs after telling Atletico he would not extend his stay at Vicente Calderon, admits he could barely contain his excitement when he learned of Luis Enrique's interest.
"Once I heard of Barca's interest, I couldn't sleep until yesterday, when the signing was made official. I was on holiday but I called my agent every day to ask if the deal was closed," he said. "I couldn't get Barca out of my head.
"Luis Enrique called me yesterday to welcome me. It was a great gesture, I'm very happy."
The former Galatasaray winger's move contains a clause which would allow the next president of Barcelona - to be decided on July 18 - to sell him back to Atletico for a 10 per cent loss should he be considered surplus to demands.
Arda, however, is not worried by the prospect.
"I respect all the candidates. All I'm thinking about is that Barca are my dream and, if they want me and I want them, there's nothing to talk about," he added.
Arda is due to be unveiled officially at Camp Nou on Friday, when he will sign his contract and be presented to the media.
addResponsivePlayer('1wn75vfostk4e1313yu1kkgfaz', '90c3f911c1684c4f96b53843751b4bb7', '104y84yo6mgkz18r14pujekc05', 'perf1wn75vfostk4e1313yu1kkgfaz-104y84yo6mgkz18r14pujekc05', 'eplayer40', {age:1429631048000});